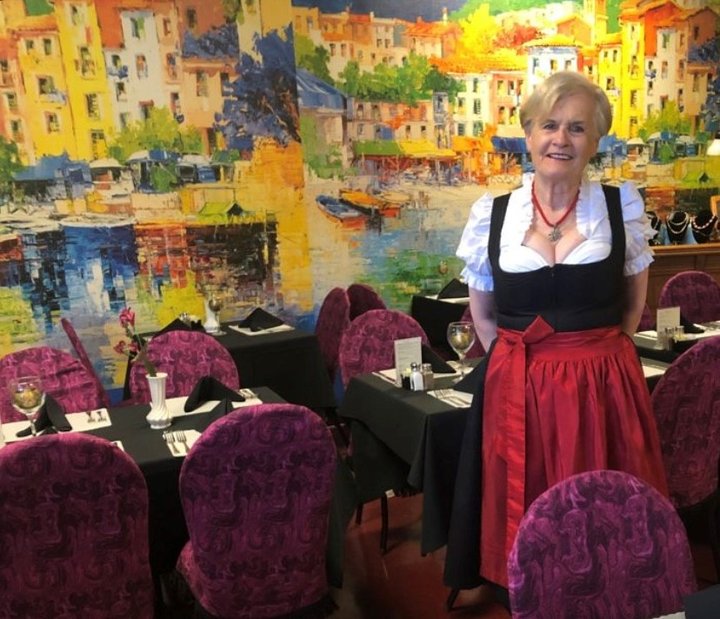 Helga 'Ivonne' Morgan
April 4, 1940 - April 20, 2021
Helga "Ivonne" Morgan was born April 4, 1940 in Krimml, Austria but she had happily made her home here in Eureka for more than 10 years. Ivonne was the well-known owner of the Stuft Potato restaurant (later called Vienna Bistro) and was a cherished friend and neighbor many of whom she called family.
Ivonne was a culinary artist and a business owner. She started her lifelong culinary career at the age of 14, when she was employed as a student intern at a restaurant. She embraced this culinary path and continued as a gifted chef and a shrewd business owner. She gained her US citizenship and also earned a Bachelor of Arts Degree. She owned several restaurants, one of which was the successful Café Vienna in Sacramento. It was there that she refused Governor Schwarzenegger a Wiener schnitzel to go. He had eaten at her restaurant several times, but she refused his staff one that he wanted to take with him on a trip. She told them that she would gladly bring her frying pan and make it for him but she would not put one in a box to get soggy. He swore he would "be back."
Ivonne came to Eureka in about 2009 to open "Stuft Potato" in the former Henderson Center location of Coney Island. It began as a potato and breakfast restaurant and later she added her signature Austrian and German recipes and gradually outgrew that location. She moved the restaurant to the Victoria Place Shopping Center (near Big 5). She later changed the name to Vienna Bistro. Her food was made with love and from scratch, even the delightful little rye loaves served with the meals, and Ivonne's personal favorite Sauerbraten. She could often be found wearing traditional Austrian Dirndl costumes. Everyone was welcomed in and treated as family. She and her food will be cherished in the memories our hearts and stomachs and spoken of at tables for years to come.
In her spare time Ivonne could be found in her garden, walking her devoted dog Milo, spending time with friends or traveling. After her retirement she taught herself to paint and painted beautiful rocks for people. She also was a skilled jewelry artist and only ever made one-of-a-kind pieces. She would often walk and speak to neighbors or walk by her dear friend Mike Kearse's house and give him a friendly hello. Even though she was retired from the restaurant, she still cooked for friends and neighbors and brought them special treats that they had chosen as favorites. She made many batches of delicate Crème Brule for Sunnie and her husband Taylor who were fond of it and several Buche Noel cakes at Christmas for specially chosen friends. If you knew Ivonne, you knew the power her cooking had to soothe the soul, and with her sharp wit and intelligence she was a fabulous friend and conversationalist.
Ivonne passed away quickly after a brief struggle with cancer and is survived by her niece Andrea from Hallstatt Austria whom she regarded as a cherished daughter. Ivonne's dearest wish for her recent birthday was that her niece would be allowed to visit her before her death, and this was miraculously granted by the embassies in time. Andrea would like to thank the nurses and doctors at St Joseph's Hospital who cared for Ivonne in her time of need, and all the friends and neighbors who helped Ivonne and her niece upon her arrival. Ivonne especially appreciated all her customers, especially her regulars and those who came to her aid, like the Pine Hill Fire Department, who came to her aid while dining at the restaurant.
If you knew Ivonne and would like to donate in her memory donations can be sent to the Breast and GYN Health Project at 987 8th St, Arcata, CA 95521.
###
The obituary above was submitted on behalf of Ivonne Morgan's loved ones. The Lost Coast Outpost runs obituaries of Humboldt County residents at no charge. See guidelines here.