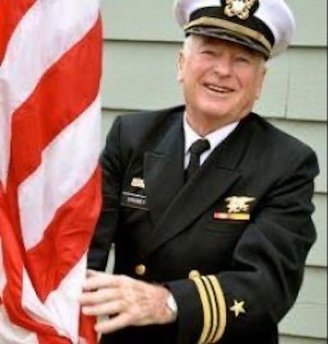 John Henry Grobey, loving husband and father of eight children, passed away on Tuesday, May 18, 2021, at the age of 89. He was born to Henry and Selma Grobey, both of Norwegian descent in Everett, Washington, one January 30, 1932. He was raised in a small farmhouse built by his father, every board sawn by hand, with only one bathroom.

Being the fifth child of seven, his feisty spirit carried him through much of his life. He had a paper route in which he was often in fist fights with the kids at the paper shack. Even though he was the smallest of them, he learned to fight and win, and eventually became invincible in his neighborhood. This grit also pulled him through getting hit by a car when he was only six years old while on a family outing, picking blackberries by the side of the road. In 1942, his eldest brother Alver, a Navy pilot, was killed in pre-war training in Florida. This had a profound effect on the family, especially John, who admired Alver as his hero. It was Alver who not only taught him many of the things he continued to enjoy throughout his life such as swimming, fishing, and skiing, to name a few, but helped instill great confidence in him.
He had straight A's all of his life in school and saved every one of his report cards to prove it. As he neared his high school graduation in 1950, he entered a heavily contested competition for a full college scholarship, courtesy of ROTC and the Navy, which would eventually be repaid with a three year tour of enlistment, although he stayed for seven. Against a crowded field, he won and enrolled at the University of Washington in a double degree program where he studied Naval Science and Forestry. During his four years there, he was a member of Alpha Delta Phi and a leader in the fraternity chorus, in which he sang tenor. They won many contests. He is lovingly remembered for his great joy while passionately singing, often stealing the show at family gatherings around the piano. At UW he was also a member of the Nordic combined ski team, excelling in ski jumping, downhill and Nordic racing, with his death-defying longest jump being well over 300 feet. One of his favorite times ski jumping was at Holmenkollen in Oslo, Norway with a group of Norwegians training for the Olympics.
His father, Henry, owned a 26-ft commercial salmon gill netter that he and his boys would fish out of the port on the Snohomish River in Everett, which eventually helped supplement his college expenses. At one point in high school, he begged his dad to let him pursue fishing full time, but his father convinced him of the importance of finishing his education. He also spent a summer atop a mountain in Washington as a fire lookout tower watchman for the Forest Service, where his love for backpacking in the mountains flourished. In 1952, working part-time at the home of one of his forestry professors, Dr. Donald H. Clark, he met and later married Clark's daughter, Carol, in 1953. Their first child, Johnny was born that same year. They would eventually add three more children to their family: Karin, Kristin and Carl.
Upon completion of his degree in 1954, he was commissioned into the Navy in Coronado, California. Initially, he was part of the Navy's new project, the Underwater Demolition Teams (UDT). Postwar they added Commando training to the teams, making them an elite tactical attack force under the Naval Special Warfare Command. As a standing officer of rank, he was the squad leader of UDT 11 and 12, a 6 man team, which then became the phalanx and pattern for the U.S. Navy Seals, officially formed in 1962. The rigorous training programs including BUDS (Basic Underwater Demolition School) were all developed and extended into the program that became the elite Sea-Air-Land warriors who today are known as the Navy SEALs. He was the squad leader of UDT 11 and 12. A few months after leaving active service, his demolition team disbanded and most of his former team members made up Seal Team 1, with a blend of other UDT teams.
He had many exciting assignments overseas as a Naval navigator, even keeping his cool navigating through a typhoon. The first ship he was assigned to was the USS Eldorado where he served as the communications watch and signal officer. He was in charge of communicating command's orders to the other ships of the fleet using Morse code, semaphore, and signal flags. He served on ships patrolling the Formosa Strait, also known as the Taiwan Strait, doing underwater surveys to predict where Chinese communist forces would land if they invaded the west coast of Taiwan. During this time the Chinese nationalist forces that he and the Navy helped evacuate from China to Taiwan were mistakenly firing on him and his team on the beach thinking they were communists. This wouldn't be the last time that he took refuge in or underwater. He served during the Korean War, and had also been involved in a scientific project in the northern Cook Islands in 1959 to observe a solar eclipse. This included the blasting of a channel in the atoll to allow research vessels and equipment to enter. This also was to the benefit of the natives, who showed their gratitude with a festive party, since it allowed for easier passage of goods and services to their island. The trench on the island of Puka-Puka was named "Grobey Gulch" in his honor.
In 1961, John left the Navy, joined the reserves, and returned to the University of Washington where he took advantage of the GI Bill. He finished his masters degrees in forestry and economics in 1964 and later earned both PhD's. Sadly, his first marriage ended in 1967. That same year he moved to Arcata, California where he accepted a position as an economics professor at Humboldt State University. Later in his career he would do consulting as a forensic economist, with the most notable of his projects being a grant received from the Timber Association to perform an economic analysis of the statewide timber industry. He continued to teach at HSU for 34 years, thoroughly enjoying his colleagues and students. He formed special bonds with his students; many of them becoming lifelong friends. He would open his home to them for parties, and even treat them for beers after finals. He was proud of his students for many of their great successes. In those early years at HSU, he and two of his friends started a scuba diving class. It was there he met his second wife, Jeanne, a student enrolled in his scuba class. They married three months later in December, 1968. He had four more children with her: Heidi, Shandra, Rachel, and Rebecca.
In 1971, he and Jeanne bought property along the Mad River on Warren Creek Road and began to build their family home by hand in 1972. The demands of building the house, teaching, and being a busy father to a growing family led him to retire from the Navy reserves in 1972 as Lieutenant Commander. John designed and over-engineered the octagonal home centered around a massive tree using "available materials" milled right from the property. John engaged Jeanne's help, together bravely and cleverly pulling massive logs into place with levers, rope, pulleys and the family Dodge Colt station wagon. In true grit Grobey fashion, he used high explosives leftover from his underwater demolition days to create the well on the property, gifting the entire neighborhood with clods of dirt and flying mud spread from the blast. His work and perseverance on the house eventually became the beautiful gathering place that The Grobey Family call home to this day.
In his retirement, he enjoyed going to Humboldt Crabs baseball games, visiting family who lived out of the area, fishing, playing Texas Hold'em at the casinos, and keeping up his home. He devoted eight years of his life to Mad River Community Veterans Honor Guard, and commanded the Veterans of Foreign Wars Arcata Post at the Arcata Veterans Hall until 2017 when he suffered a major stroke. He is remembered for his love of berry picking, supplying Jeanne with infinite raspberries and blackberries for his favorite almost nightly dessert, pie and ice-cream. He was an unrestrained dancer at parties, a serious poker party host, a reader of classic literature to his children (The Hobbit and Alice in Wonderland amongst his favorites), not to mention his incredible memory for reciting poetry, especially Robert Service. He loved betting at the Humboldt County Fair horse races, roasting a whole pig for neighborhood picnics and the Repubican Central Committee annual party, passionately debating politics, yodelling, playing harmonica, mimicking of bird calls, taming his beloved horned goat Duchess, and leading many high-mountain expeditions for family members of all ages throughout the years. But his fondest memories were those that included all 8 of his beloved children. We will always remember Christmas of 1992 in Leavenworth, Washington. We sang around the piano and he brought his college wooden jumping skis. Although the ski jumping slope had been closed down, he packed the landing slope all day by himself, tore down the closed sign, and attempted a jump at age 59, in which his dry ski snapped in half at take off and dangled as he flew through the air. We all thought we were going to witness his death, but he stood up laughing. One of his favorite reunions was his surprise 75th birthday party in Bend, Oregon. He also loved the family trips to Yosemite in the summers, hiking, fishing, and rafting the river.
Dad was a spiritual, passionate, tender, scholarly, sometimes hot-headed, not-perfect man, but his protective loving spirit trumped all of those qualities, especially when it came to his wife, Jeanne, of 52 years. Their communication became particularly challenging in his post-stroke years, as dad lost his ability to speak clearly. He loved her so, and longed for her always, especially when they were apart due to his medical condition. He was a very protective, devoted father always willing to help his children in any way that he could provide. He would tell his children that if we ever got into trouble he would come wherever, whenever if we needed help. We have gained a new very protective loving guardian angel that will be missed by many.
He is survived by his wife, Jeanne Grobey; his oldest sister, Barbara Kinnee; his eight children: John Alver Grobey (Kathy), Karin Young (Sandy), Kristin Grobey, Carl Grobey, Heidi Tiso (Allan), Shandra Nutter (Matt), Rachel Robinson, and Rebecca Christian (Gabe); 27 grandchildren, and 14 great-grandchildren. He was welcomed to Heaven by many people dear to him, including his parents, Henry and Selma Grobey; his brothers, Alver and Harold; and his sisters, Norma, Alice, and Joanne. The family would like to express their deepest gratitude to the staff at Timber Ridge and Hospice of Humboldt for all of their loving care to make the end of his life as comfortable and peaceful as possible. We would also like to thank his longtime family doctor, Chris Lee and nurse practitioner, Charmaine Moser.
A Veterans Honor Guard Memorial service will be held on Tuesday, June 1, 2021 at 11:00 a.m. at the Arcata Veterans Hall, 1425 J Street, in Arcata, California. In lieu of flowers, please send donations to Mad River Community Veterans Honor Guard, P.O. Box 215, Bayside, CA 95524. John will not soon be forgotten. He will live eternally in all of us. We will miss him dearly. Rest easy, and have fun at the party in Heaven, Dad.
###
The obituary above was submitted on behalf of John Grobey's loved ones. The Lost Coast Outpost runs obituaries of Humboldt County residents at no charge. See guidelines here.