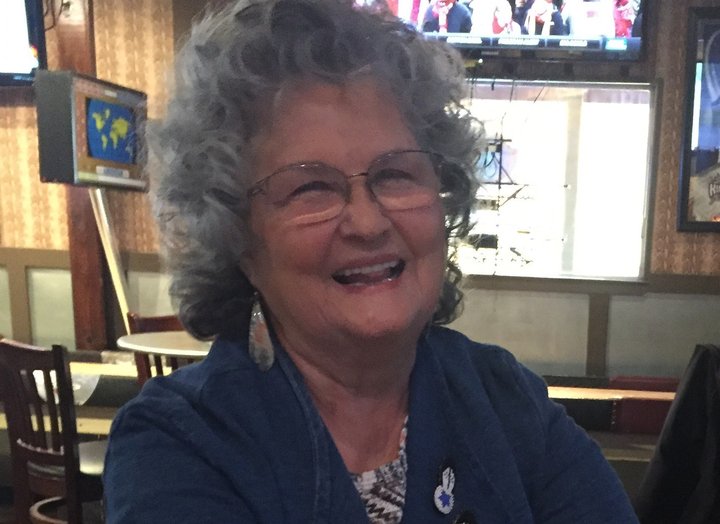 Helen Genevieve Pole left us on the evening of April 30, 2021 after losing a brief battle with a naturally occurring illness that proved impossible to overcome.
Born at the Hoopa Valley Hospital on Dec. 1, 1939 at 4:45 p.m. to Sherman Wilbur and Mary Marie Roberts of Weitchpec. A studious student throughout she would be the high school prom queen and later attended Heald Business College in Sacramento.
Helen, at all of five foot tall, would return to Hoopa working at Humboldt Fir and Masonite on the green chain before transitioning to a career position with the Bureau of Indian Affairs, a job than in time would lead her to Redding then Sacramento, where she would retire.
In the late 1960's and 1970's she could be seen running around the valley in her red 1968 Shelby GT500KR. Some would wonder with her height, or lack of, how well she could see over the dash of her hotrod.
Always one for fashion, Helen had a sense of style, love of sparkle and a definite love for the red, white and blue. She did have rather unique way of blending traditional Native culture with fashionable dress while adding a touch of patriotism when in the mood which was often.
She, along with husband Clifford would raise two sons — Carlton, who currently resides in Yerington, Nevada with wife Chris, and her youngest son, Jeffrey, who resides in Hoopa.
Helen was very proud of her native heritage. She maintained a respectable basket collection and owned much jewelry collected from all tribes across the west.
She enjoyed world travel and the experiences of other cultures as evidenced by the many times that she traveled overseas. At one point she sailed the Panama Canal on a cruise ship unaccompanied. A gutsy endeavor for sure that would intimidate many.
Being a breast cancer survivor was a source of pride for her.
Helen was preceded in death by her bothers Kenneth and Wesley. She leaves her brother Glen along with wife Bonnie of Hoopa, Sister Wilma of Hoopa and her two sons Carlton his wife Chris, and Jeffrey. She also survived by numerous nieces and nephews and her group of very devoted friends
There will be a family viewing at Pauls Chapel 1070 H St., Arcata Friday May 14 from 4 p.m. to 5 p.m. followed by a public visitation from 5 p.m. to 7 p.m.
Burial services will be Saturday May 15 at the family cemetery at Martins Ferry at 12 noon. Following will be a luncheon at the Yurok Tribal Facility. Food will be provided. Please bring your stories!
###
The obituary above was submitted on behalf of Helen Pole's loved ones. The Lost Coast Outpost runs obituaries of Humboldt County residents at no charge. See guidelines here.