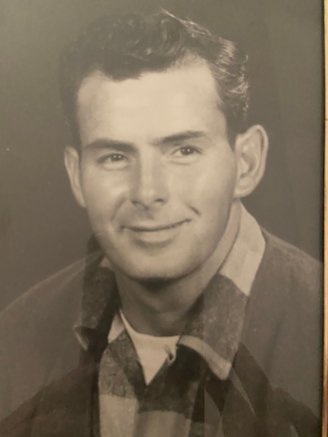 Alfred William Roderick
December 25, 1931 - April 30, 2021
Dad was born at the family ranch on Christmas morning 1931 in Elma, Wash. and he passed away the morning of April 30, 2021 surrounded by his loving family. Dad passed after a courageous battle with lymphoma.
He moved to California at the age of 24 and met the love of his life, Virginia (Ginnie) Brown, They married May 25, 1960, and had four children: Linda, Steven, Tracy and Angela.
Dad began his logging career after moving to California eventually starting his own logging company, Klamath River Tree Pullers, in 1974. He was known as the best "High Climber" around. Dad really put on a show for the small town of Klamath when he topped and created the famously known "Drive Through Tree" at the Klamath Glen.
In his younger years dad loved to buck hunt with his brother in-law Ted Brown. Dad gave up hunting years ago, but enjoyed the love of hunting his grandkids have.
Dad was preceded by his son Steven Roderick, parents Alvin Roderick and Evelyn LeGarde, and his sister Lauragene Roberts. Dad is survived by his ex-wife and best friend Ginnie Lawson, his special niece Cathy Wilcox, his children Linda (Vern) Paine, Tracy (D'Ann) Roderick and Angela (Wiley) Stapp. He is also survived by his grandchildren whom he loved beyond words — Kelli Carr, Bryan Paine, Andrew Paine, Jessica Roderick, Lindsey Roderick, Carly Wiley, Lane Stapp, Ryder Stapp and Hunter Stapp. His great-grandchildren Kennedy Myers, Smith Paine, Hudson Paine, Maggie Paine and Ellis Roderick Wiley.
At dad's request there will be no formal service. His family will gather at a later date and lay him to rest at Sunset Memorial Park.
And think of him as living in the hearts of those he touched…
For nothing loved is ever lost and he was loved so much.