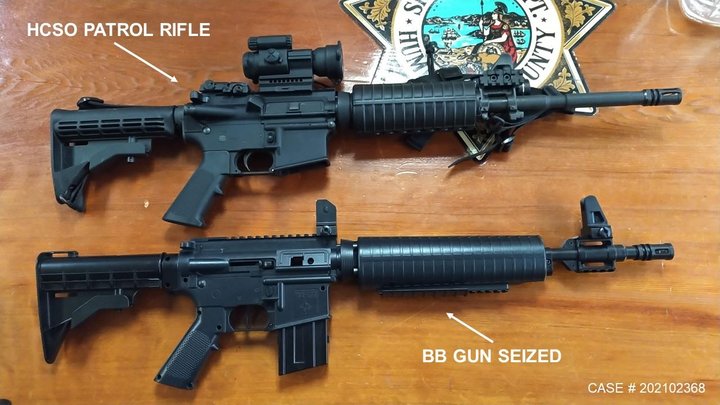 Press release from the Humboldt County Sheriff's Office:

On May 6, 2021, at about 3:27 p.m., Humboldt County Sheriff's deputies were dispatched to the beach in King Salmon near Cod Street for the report of multiple juveniles being shot at with a BB gun.

Deputies arrived at the location and contacted the juvenile victim. The victim told deputies that a 13-year-old male suspect had shot multiple metal BB's from a BB gun at the victim and his friends. One juvenile was struck with a BB and sustained a minor injury. Following the assault, the suspect reportedly hid the BB gun inside a nearby residence.

Deputies contacted the juvenile suspect and retrieved the hidden BB gun. Deputies seized the gun, and the juvenile was admonished and released to a guardian. This case will be forwarded to the District Attorney's Office and Juvenile Probation for review and prosecution.

Upon inspection of the BB gun, deputies observed a striking resemblance of the BB gun to a real firearm. The BB gun did not possess an orange tip or other immediately distinguishing factors to separate it from a real firearm.

The Humboldt County Sheriff's Office would like to remind the public that California law prohibits changing, altering, removing, or obliterating any coloration or markings required for any imitation firearm in any way that makes the imitation firearm or device look more like a firearm (PC 20150(a)). Openly displaying or exposing any imitation firearm in a public place and exhibiting an imitation firearm in a threatening manner are also prohibited (PC 20170(a), PC 417.4). These laws were enacted to reduce confusion between real and imitation firearms. Displaying or brandishing an imitation firearm that does not meet these standards is dangerous and could result in a deadly situation.

Anyone with information about this case or related criminal activity is encouraged to call the Humboldt County Sheriff's Office at (707) 445-7251 or the Sheriff's Office Crime Tip line at (707) 268-2539.