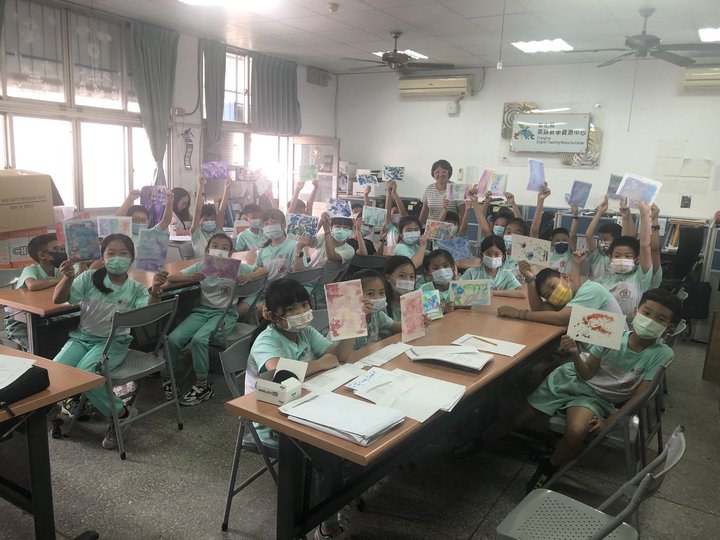 ###
After 20 years in education, grammar and semicolons just don't excite Union Street Charter School fourth grade teacher Greg Gaiera anymore. "While that's important," he says, "I really, really strongly believe that it's going to be important that we all have agency to help contribute to solving the problem."
He's talking about big problems in general, like climate change, or domestic and global social unrest. Gaiera is a big believer in exposing his fourth graders to those realities, and also in guiding them toward solution-oriented thinking patterns.
"We have to learn and know about other cultures, and we have to tackle these problems together, because it can't be solved by one country alone."
That's one reason Union Street, a charter elementary school of about 100 students in Arcata, is engaged in a schoolwide partnership with a school in Taiwan — Chiao Hsin Elementary. Throughout this school year, classes at Union Street and Chiao Hsin have been developing relationships with each other, and specifically building student-to-student penpal-like connections in the older grades.
They've mailed each other art! Sent letters! Filmed video recordings for their friends across the Pacific! (It's very sweet — in a video celebrating the Lunar New Year, one Union Street kindergartener wished his Taiwanese pals "a buncha hearts." If that made you smile, click the vid Greg Gaiera put together to find out what else Union Street kindergarteners wished for their friends, as well as some other neat info pertaining to this project.)
"A lot of kids in our school — and in Humboldt County — don't really get out and see the world, necessarily, and they're not exposed to a lot of international travel," Gaiera said. "In a small way, I think [the project] kind of makes the world a little bit smaller."
In addition to the friendships, the educational perks of the partnership are valuable, Gaiera said. "Now when they see Taiwan on a map, they'll have specific people and experiences to pull from." He's noticed his students become more naturally inquisitive. They ask about the Lunar New Year, and about why students are wearing uniforms in the videos they send back and forth. With specific people to interact with, getting a conversation started about cultural similarities and differences is easy.
This sister school project "is part of a larger exchange happening between Taiwan and Humboldt County," Gaiera noted.
The partnership blossomed a year and a half ago, after Colby Smart, assistant superintendent of educational services at the Humboldt County Office of Education, went to Taiwan for an education conference. Smart was the only United States representative at that conference. "One of the primary goals for the education system in Taiwan is to develop more meaningful relationships with US schools — K-12 schools and also universities," Smart told the Outpost recently. During his time on the island, he met a lot of folks in education.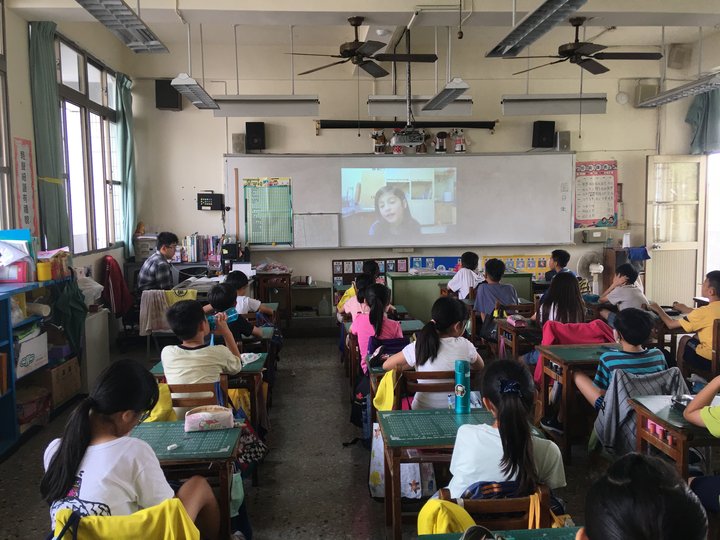 When Smart returned, he shared his new Taiwanese contacts with schools in Humboldt, and the friendships were born. There are a few connections around the county similar to what's happening at Union Street.
Klamath-Trinity Joint Unified School District is keen to get in the mix. Starting this month, some Native students enrolled at Klamath-Trinity are going to start a virtual exchange with Native kids in Taiwan. "They're going to be sharing things like language, sharing things about basketry, music, dance — just general cultural sharing," Smart said, adding that Taiwan has a "really rich and diverse Indigenous population."
Margo Robbins, Indian education director at Klamath-Trinity, is thrilled about the new relationship. She works to ensure that Klamath-Trinity students — 87 percent of whom are Native American (primarily Hupa, Yurok and Karuk) — have a culturally appropriate education. In the past, she helped develop the district's K-12 curriculum, which includes lessons based on the history and culture of local tribes, and is aligned to Common Core English language arts standards. She also helps provide professional development about cultural sensitivity and how to implement that curriculum, and is involved in efforts to improve student learning outcomes.
Robbins is excited for students at Klamath-Trinity to explore connections between their respective cultures. "I think that it's important for students to meet people that are different than them," she said. "In that meeting, we learn to accept each other's differences and also discover similarities."
For instance, they'll discuss fishing and hunting, Robbins said. "They do that over there, and, of course, Native [American] people also fish and hunt." The students will also talk about agriculture, which dates back to ancient times in Indiginous Taiwanese history. "Here we don't really plant crops traditionally, but we do harvest crops from the forest," Robbins said. "And so it is similar yet really very different."
Further in the future, Smart says, Humboldt and Taiwan might do a teacher exchange in each country over a couple of summers. And while that's exciting, the virtual connections — especially during COVID — have been powerful. "It's about cultural exchange," Smart said. "It's about building friendships. It's about leadership development among students, and ultimately it's about building community. You know, a worldwide community."
Smart anticipates that Humboldt County is at the beginning of a long-term educational relationship with Taiwan. "Taiwan's an incredibly beautiful, complex, welcoming country," he said. "The opportunity for Humboldt County kids to be exposed to other cultures is so, so important for their development as global citizens."
International education generally is up-and-coming in Humboldt schools — especially for teachers seeking it out, like Gaiera. He actually had plans to visit Morocco last year on a Fulbright teacher exchange, but it was postponed because of COVID. When he does go, Gaiera hopes to learn about if and how Moroccan schools teach their students about alternative energy and climate change. (He's an active environmentalist — his class will be planting trees in Eureka later this month, and one former lesson of his included mitigating the oceans' plastic problems.)
Smart is thankful to be involved in partnerships like this one, and welcomes teachers interested in potentially getting involved with a school in Taiwan to reach out to him at csmart@hcoe.org.
"One thing that I've really noticed in my years as an educator, and just as a person, is that 99 percent of people on this planet are very similar. They care about the communities, they want to have strong families, and they want to share what's good about their cultures," Smart said. "And so given that opportunity for kids in elementary through 12th grade really gives them an opportunity to not only learn about other cultures, but really get an opportunity to celebrate their own."