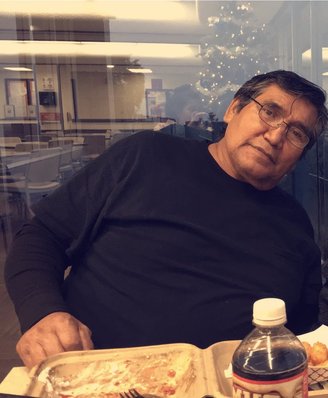 Loren Harold Aubrey Sr. was born in Happy Camp on December 12, 1947 and entered into Heaven on April 22, 2021. Loren peacefully passed away at home with his wife and grandkids, where he wanted to be — in Hoopa.

Loren was born to Eli Whitney Aubrey and Ruby Mae Aubrey. Loren is preceded in death by Viola Aubrey, Brenda Aubrey, Loren Aubrey Jr, Arliss Goodman, Margarette Lee Moon, Little Shelly Moon, Johnny Reb and Nikki Metcalf.
Loren served in the navy for four years (USS Ranger). He worked for the Hoopa fisheries for 16 years. He very much loved the worked he did. Not so much the hours but anything he could do to keep the lights on and bellies full for his family.
Loren was a very prideful man. He did everything a man does for his family and more. His favorite was getting wood on the weekends with his wife and grandkids. He also was a volunteer firefighter — that, too, was something he liked too do for the community. His most precious treasure is his wife, Vicki. He loved her fearlessly, more than anything. There wasn't a place where you didn't see them together and if you did it was rare. He would tell her every day how much he loved her and how stubborn she was. He loved to surprise her with gifts. He would always ask "You think she would like this?" He wouldn't leave until he got something he knew she would love and enjoyed. He loved putting a smile on her face. That's just the type of man he was.
Also very important to him: Loren was a God-praising man. He loved to talk about the the Lord to anyone would listen. He was a preacher at A.F.T. He also taught all his grandkids how to pray. Another thing he loved was cutting wood and setting net. He'd get excited about catching fish — that meant smoked salmon. He had a speciality for flavor. Anything he made left you wanting more. He was most famous for his chili beans. If you tried them you know how mouth-watering they can be. Loren enjoyed car shows. He loved Hot August Nights in Reno.
Loren was a very active man. He had to be doing something, no matter how big or how small. If you knew Loren, you'd know that man wouldn't sit for nothing. You'd have to tell him a couple times "relax," but he didn't know what that meant. He enjoyed phone calls from his sisters or kids, grandkids anyone who would call just to catch up brought a smile to his face. Loren would tend to other needs before his own at times. He would help out anyone that asked.
He's survived by Donna Aubrey, Diane Aubrey,Scott Aubrey, Kristen Aubrey, Lori-ann Aubrey, Jodi Aubrey, Geraldine Moon, Shelly Moon, Cassandra Moon, Monique Wilson, Annette Moon, Edmund Moon, Jaymie Noneo, Windy Noneo, Eagle Moon, Loren and Vicki and many many grandchildren and great-grandchildren
Loren's heart was made of pure gold. His smile could light up any room. He gave the best advice, the best shoulder to cry on, because he would reassure you everything was going to be OK or to pray about whatever he couldn't help with. But he would still listen. He will be dearly missed his laugh, his smile, his caring heart, his prayers. May his soul rest with Jesus for eternity.
Officiating the service: Pastor Guy Ziegenbein. Honorary pallbearers: Scott Aubrey, Edmund Moon, Eagle Moon, Riley Aubrey, Billy (Paul) Aubrey, Brian Lee Aubrey.
Loren's services will be held May 8, 2021 in Happy Camp from 12 p.m. to 4 p.m. Please feel free to bring a dish and pictures to celebrate this amazing man's life.
###
The obituary above was submitted on behalf of Loren Aubrey's loved ones. The Lost Coast Outpost runs obituaries of Humboldt County residents at no charge. See guidelines here.