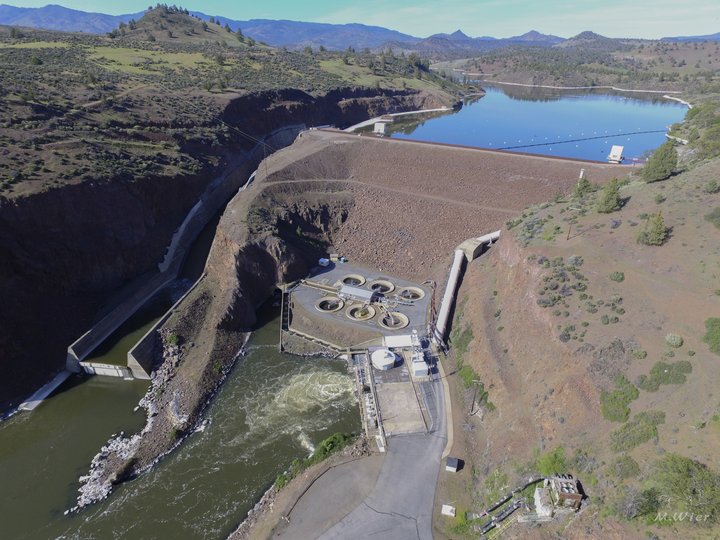 ###
After more than a decade of painstaking negotiations — of deals made and broken, of well-laid plans crumbling under the weight of conflicting goals, corporate greed and bureaucratic inertia — the largest river restoration project in American history is once again moving forward, and stakeholders are optimistic.
"We are really getting close," said Amy Cordalis, a Yurok Tribal fisherwoman and attorney who serves on the board of the Klamath River Renewal Corporation (KRRC). "It's kind of that sprint at the end of a run, that little kick, and that's it. Our contractors are ready to go; the permits are coming in line; so it is time. It's time for these dams to be removed."
At a press briefing this past Friday, Cordalis and other key stakeholders offered an update on the remaining regulatory hurdles in the decades-long effort to remove four hydroelectric dams on the lower Klamath River.
The target date to begin dam removal is now early 2023, according to KRRC CEO Marc Bransom. His organization, which was formed explicitly to take over the federal licenses for the dams and oversee their removal, has seen significant progress over the past year, he said.
In the summer of 2020, the Federal Energy Regulatory Commission (FERC) threw a wrench in the works by approving only a partial license transfer to KRRC, requiring utility company PacifiCorp to remain a co-licensee.
When the company hinted that it might walk away from the historic dam removal agreement, elected officials and activists from the Yurok Tribe (and elsewhere) launched a pressure campaign aimed at PacifiCorp parent company Berkshire Hathaway and its billionaire leader, Warren Buffet. These efforts proved fruitful, eventually leading to a new pathway forward thanks to contingency funding and shared liability, with California and Oregon stepping in to assume PacifiCorp's role in the decommissioning process.
This past June, FERC finally approved KRRC's license transfer application. Shortly thereafter, the agency announced that it would begin work on the scoping document under the National Environmental Policy Act (NEPA).
"They've indicated to us that we should expect to see a draft of the Environmental Impact Statement sometime in the early part of 2022," Bransom said. The federal agency's timeline would see the Final Environmental Impact Statement the following fall, but Bransom said that's not soon enough. In order to meet the 2023 target date to begin dam removal, all necessary permits and approvals need to be in place "no later than late spring or the middle of 2022," he said.
"We're adequately funded. We're raring to go," he added. "We're just waiting for these final authorizations to come through."
Cordalis, whose family is from the community of Requa, near the mouth of the Klamath, said there's no time to waste. The Klamath River used to be the third-largest salmon-producing river in the continental United States, and current salmon runs are a mere one percent to three percent the size of those historic runs.
"If we don't take drastic measures on the Klamath River [and] throughout the Klamath basin — to change our management practices, to heal the river, to support ecological environmental restoration — those salmon will go extinct in our lifetimes," Cordalis said. "And there's no other way around it. Dam removal is critical and absolutely necessary to healing the river."

In recent years, 80-90 percent of out-migrating baby salmon have died after contracting a parasite known as Ceratomyxa shasta or C. shasta, which appear in poor water conditions such as low flows and high temperatures, she explained.
These same conditions lead to toxic cyanobacteria, aka blue-green algae.
"Some of our elders are refusing to eat fish from the river when the toxic blue-green algae are active," Cordalis said. "My own grandma would refuse to eat fish because she's worried that toxic blue-green algae is going to make her sick also."
Kelley Delpit, a second-generation cattle rancher in the upper Klamath basin, said agricultural interests on the river dovetail with those of ecologists and tribes.
"I won't speak for everybody, but it really does come down to 'What's good for fish is good for farms,'" said Delpit, who serves as Klamath Basin manager for the nonprofit Sustainable Northwest.
And it's not just about fish in the Klamath. Glen Spain, member of KRRC board and Pacific Northwest regional director at the Pacific Coast Federation of Fishermen's Associations, said fishermen up and down the coast, from Monterey to the California-Oregon border, are bound by "weak-stock management constraints," which means that when stocks are critically low in the Klamath, as they are this year, it can close the salmon fishery along 600 miles of northern California coastline.
"It costs our communities their economic survival in a lot of ways because it constrains us from all harvests, including harvests from the California Central Valley," Spain said. "When those runs are good and the Klamath's are poor, we can't catch any of them because they're intermingled. That's called 'weak stock management.' It's not only required by law, but it's required by the laws of biology."

It's the proper way to manage the fisheries, he said, but it also means fishermen are motivated to see the Klamath return to health.
If you take care of the fish, the fishing will take care of itself," agreed Brian Johnson, California director for Trout Unlimited and vice-president of KRRC. "The opportunity, bang for the buck on the Klamath, starting with the dam removal program, is as good as it gets anywhere in the country."
Johnson noted that many people are under the misunderstanding that these dams store water for irrigation or municipal supplies. Others think they serve a flood safety purpose. But none of that is true. Their sole function has been production of electricity.
When they come down, he added, there are likely to be short-term impacts to water quality from construction activities and the release of built-up sediment behind the dams, bu the material has been studied extensively and none of it is toxic. More analysis can be expected during FERC's environmental review process.
Craig Tucker, a natural resources policy consultant who has worked extensively on the dam removal effort with the Karuk Tribe, Sustainable Northwest and others, said the environmental review process has been extensive.
"We've gone above and beyond the basic legal requirements for the science, the research, the justification, really every step of the way," he said. "We think our technical record on Klamath dam removal is robust. It may be one of the largest dockets in the history of FERC."

Cordalis said the Klamath river is currently on life support and dam removal is critical for restoration. "One of the things that I always say is, 'I want my great grandma's river back,'" she said. That is to say, the river as it was before the dams.