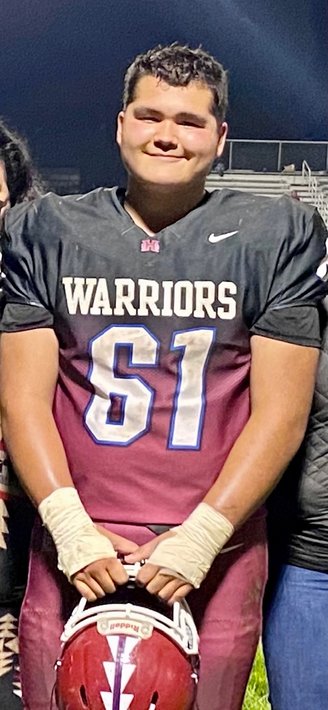 Press release from the Hoopa Valley Tribe:

Everett "Bronc" Colegrove, a senior at Hoopa High School with academic honors, was selected to play in the Third Annual Indigenous Bowl on Sunday, Dec. 5, 2021, in Minneapolis at U.S. Bank Stadium — where the Minnesota Vikings play their home games.

Bronc is the son of Everett "Muss" and Keduescha "Josie" Colegrove. The Grandson of Everett "Tweet" and Majorie Colegrove, Walt "Blacksnake" and Callie Lara. Bronc is a great student, and the family is very proud of his accomplishments both on and off the field.

This season the Hoopa High School Warriors football team struggled and was short-handed at the start of the season because of COVID protocols. Bronc often had to play on both offense and defense, but a powerful protective instinct makes him a force on the field. He displays excellent leadership and is an outstanding blocker in running and passing situations.

Colegrove, a member of the Hoopa Valley Tribe, helped the Warriors football team bounce back from a few early losses and incredibly post three shutouts in just eight days to earn an NCS playoff spot.

"Just being able to represent my tribe and community means so much to me," said Colegrove. "And I am taking this wonderful opportunity very seriously."

The Indigenous Bowl creates opportunities for the next seven generations of Native leaders through education, athletics, culture, and real-world support.

This year's event is created by a partnership between the NFL, Minnesota Vikings, and the 7G Foundation.

"The NFL is pleased to support the third annual Indigenous Bowl, and we thank the Minnesota Vikings for hosting this year's game. The game of football provides important life skills of teamwork, leadership, and hard work that will benefit these young men for years to come. Working with the 7G Foundation to build upon these values, the 2021 Indigenous Bowl will provide an opportunity for these players to showcase their skills as they become the next generation of Native American leaders," Brian McCarthy, NFL Vice President of Corporate Communications, said in a statement.

First played in 2017, the Indigenous Bowl is open to high school seniors of Native American descent who have not yet enrolled full-time in college. The event is an opportunity for young indigenous athletes to showcase their talent on the football field, compete at a high level, work with coaches and mentors, and develop the skills necessary to move to the next level of competition.