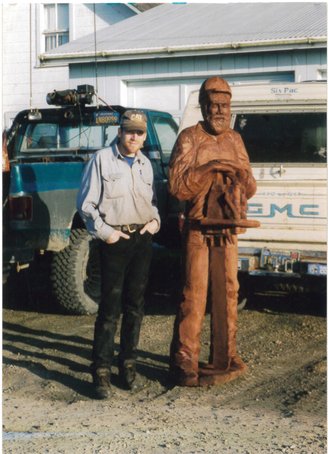 Fredrick Donald Richardson passed away October 8, 2021, following a long and courageous battle with Crohn's disease. Fred was born in Fortuna California on January 4, 1979, to Don and Dianna Richardson. A lifelong resident of Ferndale, he attended Ferndale schools where he made close friends, and excelled in art and woodworking.

Naturally quiet and inquisitive from an early age, Fred liked to take things apart to see how they worked. Not prone to idle chit chat, he would however, enjoy talking about how different machinery worked. Fred was an extremely talented artist, and natural born craftsman. If not painting or sketching he could be found tinkering with his vehicles, even taking them apart and putting them back together again. Such was the case with his old Chevy pickup, which he converted to a boom truck in order to bring home large chunks of redwood for carving. Fred loved old cars, old trucks, and his motorcycles.
As an artist, Fred worked in pen and ink, acrylics, and watercolors, but might be best remembered for his wood carvings. Fred created life sized, detailed sculptures, of loggers, cowboys, Indians, angels, and bears. Watching him carve a piece of redwood that he had picked up at the beach was amazing. Fred said, "all you have to do is carve away the wood that doesn't need to be there."
As a young man Fred worked for many of the local dairymen, and later enjoyed summers logging. Fred's best years may have been those spent living in the Bear River Valley, where the small, close community suited him. He enjoyed his large workshop there, where he always had several projects in the works.
Fred was already an independent, contemplative soul, when at just 17, he was diagnosed with Crohn's disease. He faced this with great strength and courage, and never complained. Fred was preceded in death by his father, Donald Richardson, his grandparents, Claude and Peggy Richardson, and grandparents Cliff and Joan Matyshock. He is survived by his mother, Dianna Richardson, sister Annie, and brother-in-law Scott Dougherty, uncles Bill (Laura) Richardson, and Leon Matyshock, aunt Jan Richardson, and great aunt Jane Laddusaw, as well as numerous cousins and friends.
Donations may be made to: Mission Hospice and Home Care 2028 Maryland St., Redwood City, CA 94061, the Ferndale Fire Department, or a charity of choice. No service is planned at this time.
###
The obituary above was submitted on behalf of Fred Richardson's loved ones. The Lost Coast Outpost runs obituaries of Humboldt County residents at no charge. See guidelines here.