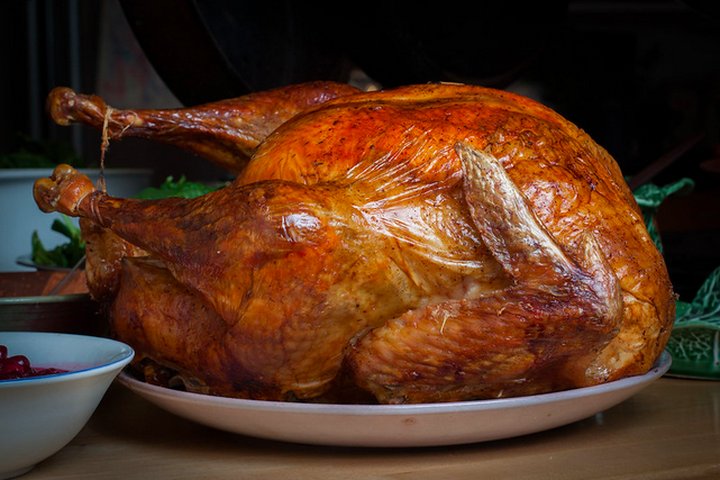 ###
Thanksgiving is nearly here and if you don't have any plans lined up, or you're in need of a meal, several of our hardworking local nonprofits will be serving up free home-cooked turkey dinners this week to help fill hungry bellies. And with a large need for free food this year, there is also a need for donations or volunteers to help get people fed.
So, whether you're looking for a meal, or wanting to give back this year, here is a list of places that will be serving up the free grub this week:

(Update) Manila Community Resource Center — 1611 Peninsula Drive, Arcata
The Manila Community Center will be hosting a drive-through or dine-out meal on Wednesday, Nov. 24 from 2 to 3 p.m. Outdoor seating will be available, weather permitting and there is also a delivery option. Meals will be provided by Arcata House Partnership and there will also be crafts available for the kiddos.
Availability is limited, so you are asked to RSVP to reserve your meal by calling (707) 441-9771 or emailing esthermcrc@gmail.com

Eureka Rescue Mission — 110 Second Street, Eureka
With several other meal options available on Thanksgiving Day, the Eureka Rescue Mission will be serving its free meal the day before, on Wednesday, Nov. 24 from 11 a.m. to 1 p.m.
Food will be served on a first come, first served basis and dining will be held outside in the parking lot.
(Update) Humboldt Area Center for Harm Reduction (HACHR) —1522 3rd Street Eureka
HACHR will be serving up Thanksgiving plates to-go style on Thursday, Nov. 25 from 11 to 2 p.m. A staff member said that the nonprofit will also have some chairs set up outside for outdoor dining.
Although HACHR already received all the food donations it needs for Thanksgiving, the nonprofit is currently asking for donations of anything warm, including blankets, sleeping bags, pants, coats, sweaters, socks, beanies and gloves. You can drop off new or gently used items at HACHR's building on Mondays between 10 a.m. and 1 p.m. or Tuesday and Thursdays from 10 a.m. to 2 p.m.

Betty Kwann Chinn Foundation —133 Seventh Street, Eureka
Usually Betty Chinn does her Thanksgiving meal-giving early and doesn't cook for Thanksgiving Day. And although Chinn and her team have already been busy handing out pre-packed meals this week, Chinn told the Outpost that the need has been so great that she plans to give out free meals on Thanksgiving Day as well.
Chinn will not have any onsite dining, due to COVID, but will be giving out pre-packed meals on Thursday from 3 p.m until about 5 or 6 p.m. "We're not going to stop until everybody who needs it has a dinner," Chinn told the Outpost.
St. Vincent de Paul — 35 West Third Street, Eureka
The St. Vincent de Paul Society will be serving up its free Thanksgiving meal on Thursday from 11 a.m. to about 2 p.m. Dining will be taking place outdoors, but participants will need to go inside the dining facility to get their food. So be sure to bring a mask!
If you would like to help, Mary Price, of the St. Vincent de Paul staff, told the Outpost that the nonprofit is still very much in need of food donations — including yams, potatoes, green beans, pies, whipped cream and fresh fruit.
If you don't have extra food to contribute, Price said the nonprofit is also looking for donations of warm blankets to hand out to people on Thanksgiving Day. Blankets should be new or in clean, good condition. You can drop of donations at the Third Street location any time until 6 p.m. on Wednesday, Nov. 24.
St. Vincent de Paul is also in need of a few (but not many) volunteers to help serve food on Thanksgiving. If you would like to volunteer, call (707) 445-9588.
The River Life Foundation — Fortuna Veterans Hall, 1426 Main Street, Fortuna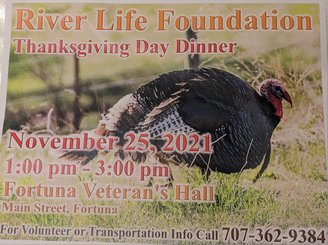 For the fourteenth year, the River Life Foundation will be putting on a huge dinner on Thanksgiving Day from 1 to 3 p.m. This year the nonprofit is offering dine-in, curbside and delivery options.
Indoor seating will be limited, River Life founder Sean Swanson told the Outpost, and masks will be required except when you are sitting down to your meal. Delivery can be reserved for those who are immune compromised or unable to leave their home. And for those who are elderly or immobile, but would prefer to leave their home, the nonprofit can arrange for transportation.

If you're looking to help out, Swanson said that the nonprofit is still in need of volunteers to help cook, serve or drive deliveries. To volunteer, reserve a delivery meal, or to arrange transportation call (707) 362-9384.
###
Do you know of a free Thanksgiving meal that the Outpost missed? Drop us a line at news@lostcoastoutpost.com and we'll add it to the list!