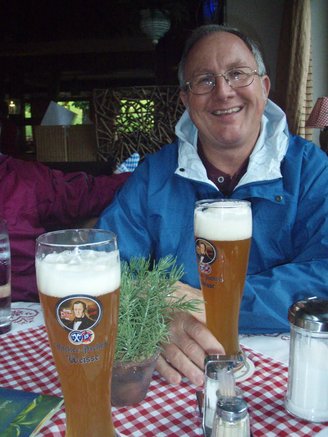 Douglas William Lane came into this world on December 2, 1948, on a crisp fall day in Los Gatos, CA and left the same time of year, due to an unexpected blood clot following a routine ankle surgery at UCSF. He was welcomed by his parents Richard and Berget, as well as his older sister and brother, Berget and Rick. As a child, the family moved throughout the United States, to places such as Pocatillo, ID, Grants, NM and Stamford, CT, with Richard's aviation career, before permanently returning to the Bay Area in the early 1960s. He graduated from Mills High School in Burlingame, where he was able to attend all four years at the same school and ran track and cross country.

Following in the footsteps of his beloved older brother, he moved north to attend Humboldt State University, after studying at both Monterey Peninsula College and Santa Rosa Junior College. He used to laugh about the time he lived in a mortuary while attending SRJC, because the rent was cheap and it was quiet! He graduated from Humboldt State in 1971, with a degree in Wildlife Management. He loved telling stories about his animal taxidermy skills and participating in Lumberjack Days, racing beds down the hills and other fun campus shenanigans. He remained an ardent supporter of his alma mater, attending years worth of football, basketball and softball games, as well as providing a warm home space for student athletes without family in the area.
In 1968, Doug was introduced to the love of his life, Doreen Kennedy, on a blind date in Santa Rosa, courtesy of their respective best friends, who were also dating. The instigator of this date was his dear friend Walter, whom he met as an elementary school student while living in New Mexico in the early 1950s. Doug and Doreen were married on a sunny March day in 1970 at St. Bruno's Catholic church in Whittier, CA where everyone in her family had been married, baptised or eulogized. Upon Doreen's move to Humboldt, they settled first in a small apartment in Eureka, before buying their lifelong home.
Their first daughter, Stacy, arrived in 1974, shortly after the untimely deaths of both his brother and father in separate airplane crashes. Daughter Stephanie followed in late 1980. While Doug had many accomplishments of which he was proud, he was most proud of his two girls and didn't mind sharing that fact with everyone!
Doug started his career working for his mentor John Flynn at Eureka Aero at Murray Field Airport, where he helped manage airport operations and often flew medical and mail runs to other Northern California airports. From a family of aviation enthusiasts, he loved flying, but hung up his wings for good in the early 1980s after the death of a friend on a foggy day in Crescent City. However, his love for flying was evident and when he traveled, he always insisted on a window seat, not over the wing, so he could enjoy the view from above, even if it was dark and you couldn't see anything. He spent time working at Wright Schuchart & Harbor Company and Trombetta and Cavagnaro Distributors, before beginning his dream job as a rural mail carrier with the US Postal Service in 1992. He loved spending time in his truck listening to a Giants game and enjoying both the domestic and wildlife he encountered daily on his Elk River and Freshwater mail runs. A lover of all animals and nature, he often took the family on drives after church to see the latest baby calf or to see if he could find a doe with her new fawns. This practice continues today with us often taking peaceful drives through the woods to look for animals.
He worked hard his entire life to provide for his family, teaching his girls the value of a dollar and how to save for later. Retiring in 2015, he enjoyed trips with his daughters and with his wife, making many memories and friendships. They traveled to many countries, mostly with Overseas Adventure Travel, and were proud to be members of the Sir Edmond Hillary club. From a Zodiac landing with penguins on the ice in Antarctica to safaris in Africa, tours of Europe, swimming with sharks in the Galapagos, and seeing lights in the Arctic Circle, he made it his mission to see as much as he could. Disappointed by Covid thwarting his travel plans, he was looking forward to his 2022 trips to Australia, New Zealand, a river cruise from Amsterdam to Budapest and another venture by ship deeper into the Arctic Circle to see firsthand the walrus and polar bears. His travel magazines were never far from his side, and he was always looking for his next great adventure.
An unselfish man of God, with a servant's heart, Doug was always the first to help out a friend or volunteer for any chore at the First Presbyterian Church of Eureka, where he was a member for the past fifty years. He took particular pride in his close friendship with Dave and Carol Dillon, church friends and neighbors, as well as acting as the unofficial neighborhood mayor with good friend Kent Lende. It's said a man's friendships are one of the best measures of his worth. In this regard, Doug was blessed beyond compare.
Dad was preceded in death by his parents, Richard & Berget Lane, his brother USAF Cpt. Richard Lane, grandparents Ernst and Elin Bern, grandparents John & Rose Lane, father and mother-in-law Frank & Lena Kennedy, sister-in-law Maureen Kennedy, brother-in-law Bruce Atherton and good friend and college roommate, Jim Burke. He is survived by his wife of 51 years, Doreen, daughters Stacy (Joe) and Stephanie, sister Berget, nieces Michelle (Paco) and Erin (Jason); sister-in-law Eileen, great niece and nephews Charlotte, Wyatt and Alexander, his lifelong friend, Walter, and a large extended network of Lane cousins. He flourished with a strong group of friends and enjoyed many other close relationships throughout the community.
A private graveside burial was held on Saturday, November 20th. A community celebration of life, open to anyone who would like to attend, will be held at 3pm on his birthday, December 2nd, at the First Presbyterian Church of Eureka. Masks are required and the service may also be viewed live on the church's Facebook page. The family would like to thank his surgeon, Dr. Kirsten Olsen at UCSF, and acknowledge the incredible empathy and kindness of the ER and ICU doctors and staff at St. Joseph Hospital, during his final hours. Dad would have wanted us to encourage you to help others by registering as an organ donor: www.organdonor.gov. We all take solace in knowing while he is no longer with us, he lives on in those who received his final gifts.
###
The obituary above was submitted on behalf of Doug's loved ones. The Lost Coast Outpost runs obituaries of Humboldt County residents at no charge. See guidelines here.