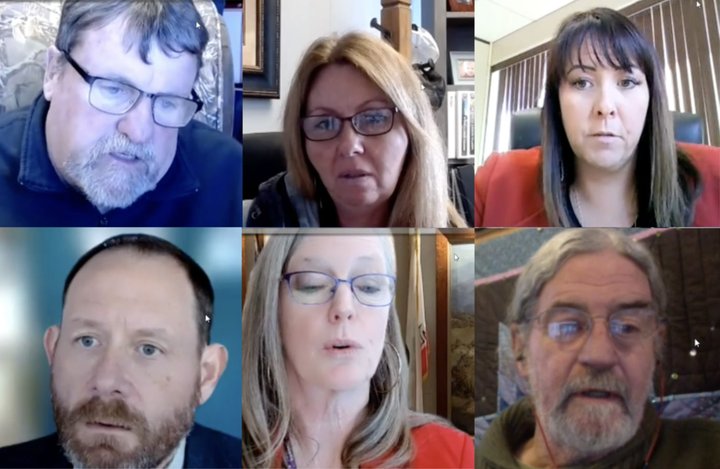 ###
At yet another anguished meeting about ongoing issues with Auditor-Controller Karen Paz Dominguez, the Humboldt County Board of Supervisors on Monday narrowly passed a vote of "no confidence" in the elected official, signaling their increasing alarm over fiscal management problems tied to her office.
While there was unanimous agreement among the board that the county's fiscal mess has reached dangerous proportions, both Fifth District Supervisor Steve Madrone and Third District Supervisor Mike Wilson voted against the "no confidence" vote — the former because he didn't see how the vote would resolve any of the problems and the latter because of concerns about the procedure and timeline leading up to the vote.
Paz Dominguez did not call or Zoom in to the meeting, which seemed to disappoint some of the supervisors. County Administrative Officer Elishia Hayes said Paz Dominguez had been notified about the meeting, along with all county department heads, but not specifically invited to participate.
The morning session of the meeting was marked by confusion as the board went in and out of closed session to discuss certain items on the agenda. A bit of public comment got squeezed in between these closed-session hearings, though much of it was questioning what was going on.
In the afternoon, the board got down to the public business at hand: considering the vote of "no confidence" in Paz Dominguez. Fourth District Supervisor Virginia Bass, who brought the item to the board with Second District Supervisor Michelle Bushnell, said the vote wasn't about last week's payroll problems but rather a series of unfulfilled tasks from the auditor-controller, some of them dating back two years or more.
"We're hearing every day more concerns [and] complaints from member agencies who haven't been getting their money and from members of the public," Bass said, adding that the county learned just today that the State Controller's Office plans to step in and complete the county's overdue financial transactions report. "That's not anything anybody wants," she said.
The state will also issue a $5,000 fine against the county, according to Hayes.
Bushnell said that since she took office nearly 11 months ago, she has frequently had trouble getting answers to inquiries sent to the Auditor-Controller's Office, as have outside agencies within her district.
Wilson said his understanding was that the board would be considering the "no confidence" vote after hearing a report from Paz Dominguez, "and that's not what we're seeing. That's not what we're doing today." He suggested that the matter be continued to the next Board of Supervisors meeting, on Dec. 7.
During the public comment period, half a dozen county employees called in to urge the county to pass the "no confidence" vote, as did the treasurer of a local community services district, one member of the public and Mary Ann Hansen, executive director of the early childhood support agency First 5 Humboldt.
A 15-year county employee who did not give her name said that while Paz Dominguez has "pretended to be a great crusader," in reality she has just created more problems, changing procedures in ways that require work to be done twice, failing to close the books on prior fiscal years and retaliating against departments whose employees speak out.
Kelly Hampton, deputy branch director of Social Services, said the county's fiscal problems are making it harder to hire and retain employees. Karen Baker, an administrative analyst with the Department of Health and Human Services' Public Health branch, said Paz Dominguez needlessly complicated a process for paying outside vendors working on a program called Housing Opportunities for People with AIDS, or HOPWA.
"These delays and confusions have inhibited our ability to help people in dire need," Baker said.
Hansen said this controversy isn't about departmental in-fighting, as some have portrayed it. (She pointed out that her government agency is not a county department.) "I feel that this boils down to whether your board as a group is willing to acknowledge the true depth of the fiduciary responsibilities and the fiduciary crisis," she said. "Respectfully, this isn't politics. This is a house on fire, and you all need to use every tool to get people to safety and put the fire out. The tools you used before haven't worked."
Jesse Anderson, treasurer of the Briceland Community Services District's board of directors, said the county's previous auditor-controller was helpful and communicative whereas Paz Dominguez is difficult to reach and frequently late in posting financial reports. A $1.1 million state grant to her district has yet to be journaled over into her agency's account, causing major problems, she said.
"There's still money from last fiscal year that has not been journaled over," Anderson said. "Come on. That is a simple procedure."
Habitual public commenter Kent Sawatzky said he considered it "rude and arrogant" to expect Paz Dominguez to be available all day for the meeting, adding that the board's "finger pointing" was getting old. Former Third District supervisor candidate Uri Driscoll defended Paz Dominguez — on procedural grounds, at least — saying she's an independently elected official and only a recall can remove her from office.
Connie Beck, director of the Department of Health and Human Services (DHHS), emphasized the importance of completing the single audit for past fiscal years. (Both the 2019-20 audit and 2020-21 audit remain incomplete.)
"Without this audit complete we face withholding, suspending or termination of our grants," Beck said, noting that such measures would impact the community's most vulnerable people by affecting homeless services, behavioral health, child welfare and other programs.
Marie Essig, business manager for the Public Defender's Office, said the office has been significantly impacted by the lack of prompt communication from the Auditor-Controller's as well as Paz Dominguez's byzantine and ever-changing requirements for documentation.
"It's almost like solving a riddle … ," Essig said. "I really strongly encourage the board to take a vote of 'no confidence.'"
When the matter came back to the board, First District Supervisor Rex Bohn thanked the people who spoke and urged his fellow board members to "at least give them some semblance of help or show that we're going to do something."
Wilson expressed mixed feelings. A vote of "no confidence" is more of a statement than an action, he said, but he acknowledged that problems need to be addressed somehow.
"We are really having some huge, huge issues," he said.
Bushnell asked Hayes to explain the purpose of a vote of "no confidence." The CAO first offered an overview of the alleged failures of the auditor-controller, which were spelled out in a lengthy list included in the staff report released Friday. She said a "no confidence" vote would amount to "a testament" that the board recognizes the "serious deficiencies within our organization" and supports staff who've voiced concerns.
Hayes later said that having the State Controller's Office intervene is "a little embarrassing" for the county, and she said the very public nature of these ongoing issues has negatively impacted the county's credit rating.
"The county is a high-risk county at this point in time," Hayes said. "So that's most definitely going to impact our credit rating and our ability to secure good financing for the very large projects that we're going to have coming up in the coming years."
Madrone spoke at length, saying everyone is trying to get things fixed and should focus on working together to solve problems. He agreed that the current situation is "untenable" but said he wasn't sure what a "no confidence" vote accomplishes.
The auditor-controller is micromanaging, Madrone said, adding, "We're way beyond micromanaging at this point. We're in a macro state, right? We're in the macro state, where we really absolutely need to get everything posted and caught up and dealt with."
But he also said other departments share some blame, noting that some, including DHHS, still use paper timecards. He also suggested that micromanaging has some virtue.
"If you want to fault our auditor-controller for something, you can fault her for trying to do her job way too good," he said. "But in doing things way too good, it has delayed things that absolutely should have been done a long time ago."
Wilson made a motion to continue the hearing until Dec. 7, and Madrone seconded the motion.
But Bohn wasn't having it, and he'd been irked by Madrone's comments. "Now I'm finding out that all our problems are because somebody is doing their job 'too good,'" he said, adding, "I've got to vote for this today." He said he's had well over a dozen people in his office crying about issues with the auditor-controller and said her job should be non-political rather than a frequent source of controversy and media coverage.
Visibly angry, Bohn said, "Sorry. I wasn't going to talk anymore, but when this — my god, she's doing the job 'too good' so we just have to deal with it." He sighed and added, "I can't even buy that car. Sorry."
A vote to continue the meeting until Dec. 7 failed 3-2, with only Madrone and Wilson voting yes.
Afterwards, Wilson said he thinks everyone on the board fundamentally agrees that the problems are serious and need to be addressed. "We're heading down a very, very bad path," he said, but he reiterated that he doesn't see how the resolution to vote "no confidence" would solve those problems. He suggested a censure motion might be a better approach.
Bushnell said the "no confidence" vote would be a way of recognizing the anguish people have expressed.
"I hope the Auditor-Controller's Office hears this — because she's not hearing it any other way," Bushnell said.
"Voting yes or no, I think we're all on the same page here," Madrone said. "This has gone on too long and needs to be fixed."

There's was a bit of back-and-forth about whether Friday's staff report was entirely accurate. (Madrone quibbled with the wording describing an issue related to IRS fines and liens; Bushnell and Hayes said the wording was accurate.)
Ultimately, Bohn said the conclusion is unavoidable. "I mean, you can't put lipstick on this. We've got a problem … ."
With the 3-2 vote, the board signaled its lack of confidence in Paz Dominguez. In a separate motion, the board unanimously passed a resolution directing her to post interest every fiscal quarter on monies deposited in the county's general fund.
###
PREVIOUSLY: