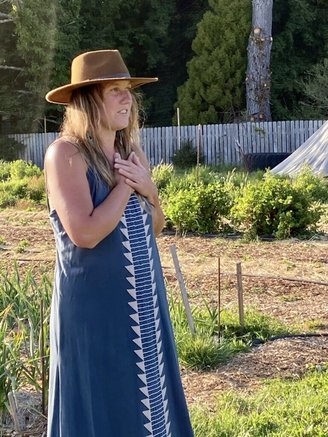 Amanda Lee Ring, mother, daughter, sister, partner, friend, farmer, doula, advocate for mothers and children, trailblazer, mystic, healer, story teller, music lover, light holder, truth seeker, community leader and world traveler, transitioned from this life the second week of August in California, her state of residence for over 17 years. She is survived by her five-year-old twin daughters, Maya Rose and Amira Chel. She leaves behind her loving mother Faith and husband Everitt, older brother Bobby and his wife Kelly along with their three children, Ryder, Charlotte and Quentin, and many aunts, uncles and cousins.

She also leaves her partner of many years Gabe Oppegaard and his family, Nancy, Rick, Kate and Joseph, who considered Amanda one of their own, and countless friends both close to home and across the world. Amanda knew life was a precious gift and lived each day with the drive to find and spread joy.
Amanda was born on February 26, 1982 and raised in Allentown, Penn., where she resided until her young adult years when Northern California called her name. She endured the difficult losses in her young adult years of her dear older sister Kelly and then her father, Robert Ring. It gave her an early opportunity to experience life in a deeper way that meant she appreciated the small and simple moments while also dreaming big. These losses and their anniversary dates were important to Amanda that each year she'd make a point to honor them by releasing her tears at her favorite site in nature, the dynamic Elk Head trail where windy cliffs meet the sea.
Amanda met Gabe Oppegaard in Northern California, where they spent 13 years together growing their family and building a life. Amanda always knew she wanted to have children. Amanda was made to be a mother and when she welcomed the twins into the world, everyone knew she would grasp motherhood with ease and integrity. She gave the girls the best start in life anyone could hope for with her skills and love for them. She was a mother of wisdom, grit, compassion and joy. The girls and their mom had a special bond that will never be forgotten. She often would tell the story of how she always knew she would have twins and when she welcomed Amira and Maya, it was what she had always dreamed about for her life.
Amanda was a woman with many gifts and had numerous success stories to show for it. After giving birth to her two daughters she found a new love of working with pregnant women before, during and after birth. This allowed her to keep her babies close while studying a new trade, but quickly started to offer her services to the community by becoming a doula. Shortly thereafter, Amanda became a facilitator for the national postpartum support group Motherwoman, providing a safe place of mutual respect and non-judgement for mothers to build community and support one another as they navigated the realities of motherhood. Amanda's natural caregiving abilities allowed her to succeed in supporting pregnant and postpartum mothers and their families.
Other activities Amanda held very close to her heart were studying ancient mysticism and the way of the medicine wheel, honoring the cycles of the cosmos and Mother Earth. She loved listening to music and attending live concerts, circling in sacred ceremonies, and traveling both nationally and internationally. Her favorite places to visit were Belize, Guatemala, the Hawaiian Islands, Mount Shasta, Chaco Canyon, N.M., Colorado, and Vashon, Wash. It was Gabe and Amanda's first visit to Belize that made way for the introduction of their mystical mentor and teacher and many other Belize and Guatemalan family friends, to whom they would grow very close as well. Her studies of the ancient Maya Rainbow Warriors coupled with the love for their Mayan friends are what brought Gabe and her back to Central America for nearly a decade to celebrate the Spring Equinox. Amanda was taken in by many in Guatemala as part of their family, especially the Ortiz family to which she had a special bond. Amanda also had a special friendship with a Belizean artist named Robinson who Amanda took in as an 8-year-old child and supported his artistry for over a decade. Gabe and Amanda brought their twin daughters, whose names were inspired from this culture, down to meet their Mayan family twice which was incredibly important to Amanda. The last trip that Amanda had to Guatemala, she was invited to participate in an elder Mayan equinox ceremony, something in which she regarded highly. It was a magical experience for Amanda and her family and something in which she always hoped to go back again as it was now a ritual for her.
Amanda was also a dedicated steward of the Earth and in her maiden early twenties she performed one of her first big acts of service work with Americorps. Amanda had a special touch with plants, growing food and/or plant medicines much of her adult life. This eventually led to her co-creating Mothership Farm, a community supported farm. This marked a great time for Amanda with a marriage of her love of gardening and working with mothers and children. Amanda's love for Mothership Farm in Fieldbrook allowed her to create a community of volunteers to come and grow food, learn farming skills and be able to teach their children the ways of the land. The motto of the farm was "community grown, mother made and children loved." Amanda poured her heart and soul and many hours of labor into the farm to make it a success. She had developed big dreams and goals for Mothership Farm and was seeing her vision through when this tragic accident came to be.
Amanda had a caring and magnetic personality. She had a way of quickly earning the respect of almost everyone who encountered her because she made them feel seen and heard. She also had a knack for entertaining people in her vicinity with her humor and fascinating travel stories. Amanda could be joined in her happiness easily with her contagious, big belly laugh. These qualities made it natural for her to build community around her. She loved her friends like family and would do anything for anybody. She was patient, kind and loving with all of her heart. She was always up for an adventure and enjoyed the beach, river days and the redwoods, and most of all having a bonfire (even if it was raining or windy- she would always make it happen).
Amanda left this earth as a loved and respected woman at the age of 39. She was at an immensely inspired time in her life where she had seen many dreams and visions come to fruition that she'd been cultivating for some years. She was loved by many in her community far and wide. She inspired many to move her work forward including farming, spending time enjoying nature and with the ones you love. She reminds us all to live life to the fullest and her community will miss her dearly.
###
The obituary above was submitted on behalf of Amanda Ring's loved ones. The Lost Coast Outpost runs obituaries of Humboldt County residents at no charge. See guidelines here.