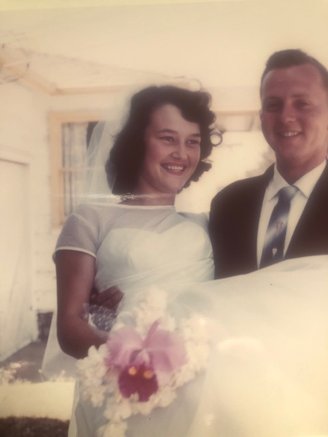 The world lost a beloved mother and wife, Bessie Jean Murray, on the evening of Monday, October 25, 2021 after years of suffering from dementia. Jean passed away peacefully at home with her devoted husband by her side.

Jeanie, as she was affectionately referred to, was born to Joseph Guieseppe Giacopazzi and his wife Sibyl on April 2, 1939 in Fortuna at the Ferrar Maternity Home; the same place of birth as her cherished husband. Raised in several locations throughout Humboldt County Jeanie, attending schools in Ferndale, Scotia and lastly at Fortuna High School. There she met her husband of 64 years, Jack Murray whom she married in 1957 at the Catholic church in Scotia.
The couple spent their early years residing in Fortuna until 1961 when the pair moved to North Carolina while Jack served in the military. Upon their return to Humboldt County, Jeanie's dream of becoming a mother came to fruition when the twosome adopted their fist child in the midst of the '64 flood. Soon afterwards, Jack and Jean discovered their son was born deaf. True to form, Jeanie began researching the best schools for the hearing impaired. The couple decided upon a school in Sacramento, subsequently moving there in 1968. While in Sacramento the duo completed their family with the adoption of a second child; a baby girl.
Jean was the epitome of a devoted wife and mother, earnestly supporting her husband throughout their marriage, modeling a beautiful illustration of loyalty, respect, devotion, and unconditional love. Equally ardent with her children, Jeanie selflessly spent her days aiding her son in his ability to read lips and use sign language as well as well as attending every school activity her children enrolled in: sports, music, and drama. Jeanie volunteered countless hours as a teacher's aid, fund raiser, den mother, and behind the counter in the snack shack at her children's sporting events. Jeanie helped to instill a sense of responsibility, dignity, humility, and motivation in her children. Undoubtedly, the importance of parenthood was perpetually in the forefront of her mind and heart, continually leading by example.
Jeanie had a fervor for the written word, spending hours in the thoughts and imaginations of others. One night as a child, Jeanie sat on a stool in her family home, reading by the light of the hearth. Immersed in her story, Jeanie failed to fuel the fire, forcing her to scoot closer and closer to the fire as its light slowly dimmed. When Jeanie at last closed her book, she discovered that she had moved the stool right into the middle of the fireplace. After several years of being back in Humboldt, Jeanie's children began their transition into adulthood, giving her the time to indulge her desire to become a journalist and author, joining a writers club in Fortuna. Through the years, Jeanie wrote numerous articles for The Humboldt Beacon, Northcoast View, and The Times-Standard as well as having three of her own books published.
Family was very important to Jean. Genealogy become a passion of hers. She loved discovering her ancestries and histories and those of her husband as well. Jean was especially proud of her Titus ancestry. They were a large and interesting family with many members still living in Ferndale and throughout Humboldt County. She had traced their lineage as far back as the 1600's. Unfortunately she was never able to take advantage of the DNA technology which became so prevalent.
Jeanie is best described as a woman of kindness, empathy, and consideration, always making herself available to friends and family, approaching life's situations from a place of love and forgiveness. Her nurturing nature revealed qualities of patience, attentiveness, and compassion towards both humans and animals alike, rescuing the stray and injured.
Jeanie is survived by her husband Jack Murray, two children: son Randy Murray and his wife Jenny, daughter Barbara Murray and her life partner Frank Leonardo, three grandchildren: granddaughters Katie and Karlie Murray, grandson Nathanael Murray, and sister Carmella Perdue, and several nieces and nephews. Jeanie is preceded in death by her sister Rename Bush and brothers: George and Jerry Giacopazzi.
Jean has blessed the lives of those fortunate enough to know and love her. Her presence in the world will be deeply missed but never forgotten.
Family and friends are invited to pay their respects on Friday, November 5, 2012. Viewing: 11 a.m. through 12:15 p.m. at Goble's Mortuary 560 12th Street, Fortuna. Graveside service: 1 p.m. at Sunrise Cemetery 3315 Newburgh Road, Fortuna, CA.
###
The obituary above was submitted on behalf of Jean Murray's loved ones. The Lost Coast Outpost runs obituaries of Humboldt County residents at no charge. See guidelines here.