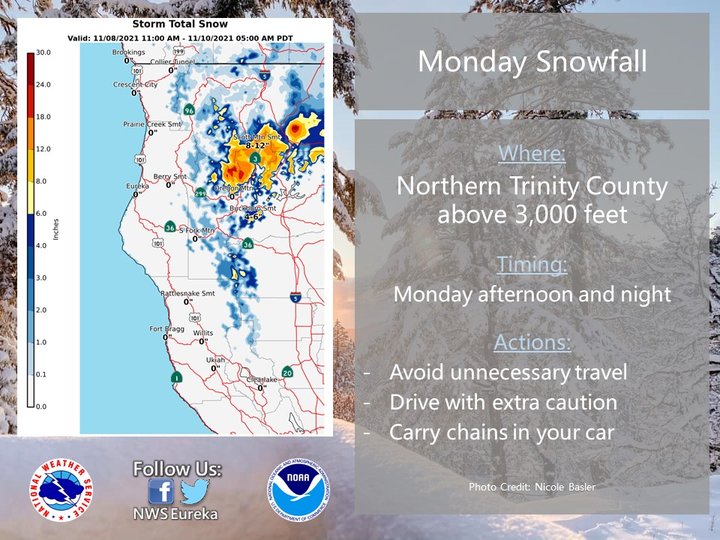 ###
LoCO ASMR:
trinity county forecast for significant snow dump
###
A major snowstorm is forecast to dump 8 to 12 inches of snow on the Trinity Alps Monday, which may also bring snow to higher elevation areas along Highway 299.

"Significant snow accumulation is expected late Monday for elevations above 3,000 feet in Northern Trinity County," Eureka's National Weather Service office stated. "A winter storm watch has been issued for some high-elevation passes. Use extra caution when traveling!"
About an inch of snow may also accumulate on roadways at elevations around 2,500 feet. Highway 299 is expected to most impacted by snow at Buckhorn Summit in Shasta County, where 4 to 6 inches of snow will be possible.
"If you must travel, keep an extra flashlight, food and water in your vehicle in case of an emergency," the NWS stated. "Prepare for possible power outages."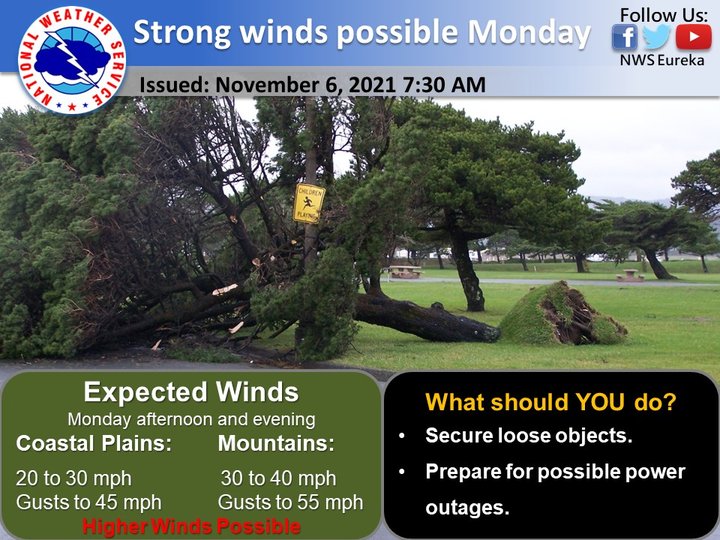 Strong winds and rain are forecast for the North Coast Monday. Coastal areas may see gusts up to 45 mph. Mountain areas will likely receive stronger gusts between 55 and 70 mph.
"A cold front will approach on Monday, with rain and snow expected to start Monday evening," the NWS stated. "Preceding the rain, southerly winds will increase through the day Monday, peaking in the evening or overnight."
The strong winds are expected to subside by Tuesday morning.
"Power outages are possible," the NWS stated. "People are urged to secure loose object that may be blown away by the wind."