Not long after Proposition 64 passed, legalizing recreational use of cannabis for adults over 21, Los Angeles indie filmmaker Chris Russo rolled into Garberville with a car full of camera gear, looking to capture what that historic moment would mean for California's cannabis capital.

Four years later, we have "Lady Buds," a Humboldt-heavy documentary largely about the challenges small growers are facing — often unexpectedly — with California's cannabis legalization and regulation rollout. The film is coming to its hometown for a special screening this weekend.
"I wanted to tell a story like we've never seen before," Russo told the Outpost. "All we see on TV are crime shows — crime shows around this plant. And that's so not interesting to me. And it's telling the wrong story — I mean, it is a story, but it's just not the whole story, you know?"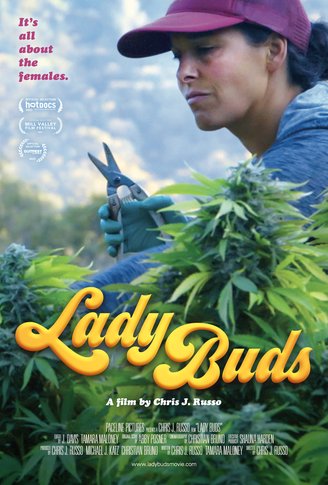 Shortly before coming here, Russo — a seasoned filmmaker dedicated to giving a voice to marginalized communities, women and LGBTQ folks — learned that women hold leadership positions in cannabis in higher-than-average numbers compared to other industries. So she came looking specifically for women in cannabis.

Folks were hesitant to talk to her. Stationed at a Best Western, Russo managed to start connecting with Humboldt and Mendocino's web of small farmers through word of mouth. She talked to people on the phone and was eventually invited to visit many of their homes and farms. She smoked a lot of weed with them and gained their trust. People liked her.
"I soon came to realize that women hadn't been given a voice in this area of cannabis, and they were the backbone of the industry. They were cultivators, they were entrepreneurs, they were activists," Russo said.
In preparation for the film, Russo interviewed more than a hundred people in cannabis throughout the state of California.
"I really wanted to embrace telling a story about cannabis that was filled with universal themes of reaching for your dreams. And these women — they have these dreams of making it and succeeding in a market they had been in for decades already."
She managed to narrow her focus to six women, who she followed for three years as they found their footing through the regulation of California's cannabis industry.
Three of them — Pearl Moon and Joyce Cenfofanti, who together are the Bud Sisters, and entrepreneur Karyn Wagner — are from Humboldt, and another, second-generation cannabis farmer Chiah Rodriques, is from Mendocino. The film also follows Sue Taylor, a Berkeley dispensary owner committed to educating seniors about the benefits of cannabis, and Felicia Carbajal, a queer-identifying Latinx activist from Los Angeles focused on helping marginalized communities gain equal access to medical cannabis.
As with much documentary-making, the film Russo ended up with is not the film she anticipated making. She used cinéma vérité, a fly-on-the-wall filmmaking style. "It's hours and hours and hours of filming, like in a corner when they're having dinner, or when they're on the phone, or doing their business," Russo said. "You hope to capture a little bit of what the story is." The crew recorded more than 500 hours of footage, which they ultimately edited down to 90 minutes.
From wildfires to raising a family on a farm, the stories Russo captured are a continuous string of challenges. Her subjects faced bureaucratic barriers, lack of access to medical cannabis in marginalized communities and anti-cannabis bias.
"The women in the film were up against all these obstacles. It was like, 'Wow, is there ever going to be a success story here?'" Russo said.
Paramount was what legalization actually meant for these women as they entered a new commercialized industry, which some anticipated would be a positive turning point.
"I started out as one of the biggest cheerleaders for legalization in Humboldt County," Karyn Wagner, one of the women followed in "Lady Buds," told the Outpost. After struggling with the regulations that came with Proposition 215, which exempted patients and caregivers cultivating or possessing cannabis from criminal penalties, Wagner welcomed the idea of a more regulated market.
But following the passing of Prop 64, "as time went on, and I was crushed over and over again, by either county regulations or state regulations or the marketplace, I realized that this was just something that is not going to be," Wagner said. "[Russo] caught on camera all of us being devastated by our county regulations, our state regulations and the big corporate interests that came into the industry."
It shocked Russo to see how little the rollout of recreational legalization and regulation of cannabis supported small, established farmers. "The way the government came in, and the policymakers and the lobbyists to support the bigger businesses…how could these little guys even get a chance?" she said.
"All of these injustices that were happening in front of our eyes were captured on camera."
Russo's producer, Michael Katz, the executive director of the Mendocino Cannabis Alliance, described the regulation rollout as a series of extinction events for small cannabis businesses.
"This process of transitioning from a medical system, that was a fully functioning economy, to a brand new undeveloped commercial economy has been a disaster for the folks who were operating previously, just across the board," Katz said.
"[The film] really shows what has been happening in a way that nothing else that's out there that I've seen does."
For Wagner, the process has been so challenging it's hard for her to watch "Lady Buds."
"The first time I watched the film, I had so much PTSD that I thought I would never actually be able to watch it again," she said. "I think consumers don't have an opportunity to understand the differences between legacy small farms, and big corporate interests that have come into the marketplace as a result of Prop 64."
Then, Wagner attended "Lady Bud's" first screening at Outfest Film Festival in Los Angeles. "The audience got it. And once the audience got it, then I was just so relieved that okay, someone else is hearing the story, someone else is understanding what's going on. And I became more at ease with the film," she said.
"This is the story of the little guys against the big guys. This is a David and Goliath story, and I really wanted there to be some inspiration and some hope," Russo said. "It could have been different, it still can be different."
Unintentionally, "Lady Buds" became an advocacy film.
"When you see the film, you can't help but ask, 'Well, what can I do to support these women, to support these various communities?" Katz said. "While they're struggling under their own challenges, they're unified in a major way by the plant, and by the community spirit of the plant. And it's that community spirit that's being directly challenged by the unfettered capitalism approach to cannabis commercialization."
They've partnered with Origins Council, a nonprofit supporting legacy cannabis, and The Social Impact Center, a nonprofit that helps folks access cannabis convictions legal relief, among other things.
After watching the film, Katz hopes people will be motivated to support organizations like those, and think about where their weed comes from.
You can see "Lady Buds" at the Minor Theatre in Arcata on Friday, October 1, and Saturday, October 2. Tickets are available here.
"Especially with how challenging these times have been for folks, it's really important to celebrate the wins, and to celebrate the victories whenever they come along," Katz said. For these women, sharing the film is a win, he added.
"I'm really grateful to the Humboldt community, and all of the people in the community that welcomed me in to tell their story," Russo said. "I'm really, really, really excited that the Humboldt community is going to get a first look at this film, because that's the community where it all started."