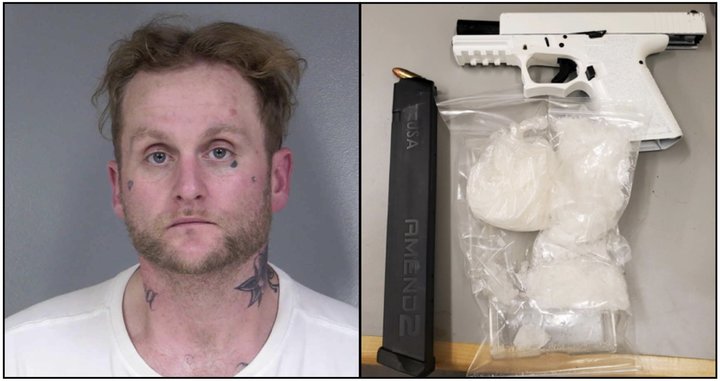 Humboldt County Drug Task Force press release:
On September 30th, 2021 agents with the Humboldt County Drug Task Force (HCDTF), with the assistance of the Humboldt County Sheriff's Office (HCSO), served a search warrant in the 100 block of Sunset Ave. in Samoa. This search warrant was written for suspected methamphetamine sale and illegal firearm possession by Kenneth Colin Hooper (32 years old).

During the service of the search warrant agents detained Hooper without incident. Agents conducted a search of Hooper's residence and located the following evidence:

1/4 pound of methamphetamine
Polymer 9mm handgun (ghost gun) with 34 round magazine
Digital scale
Packaging
1 gram fentanyl

Some of the methamphetamine located was unpackaged and within reach of Hooper's young children inside of the residence. Hooper was arrested and transported to the Humboldt County Jail for the following charges:

H&S 11370.1 Possession of controlled substances while armed
H&S 11378 Possession of methamphetamine for sale
H&S 11366.5 Operating or maintaining a drug house
PC 29800(a) Felon in possession of a firearm  PC 273a(a) Child endangerment
H&S 11350 Possession of a controlled substance
PC 29810(b) Illegal manufacturing of a firearm

Hooper's children were released to their grandmother and a report of this investigation will be forwarded to Child Welfare Services (CWS).

Anyone with information related to this investigation or other narcotics related crimes are encouraged to call the Humboldt County Drug Task Force at 707-267-9976.