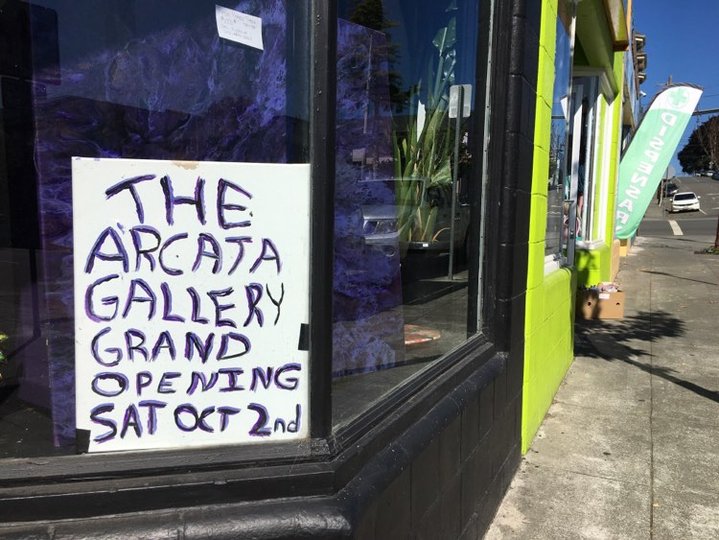 ###

Downtown Arcata will soon have a new place for artists to display their work and for art lovers to buy it (or at least gaze at it.) A small space with an apropos name, The Arcata Gallery, will open this Saturday with a show featuring works by local artists.

Both artists themselves, gallery owners Eli Grant and Matt Henderson said that they had found it somewhat difficult to find places to show their art in the area. One of the missions of The Arcata Gallery, they said, is to be accessible to artists who maybe don't feel like their work could be shown in other spaces.

"When I was starting out as an artist and looking at places to hang my work, it felt like a lot of places weren't my style or my niche," Grant told the Outpost earlier this week, as he and Henderson were readying the gallery for the grand opening. "We want to cater to everyone and all styles and just be totally community-oriented."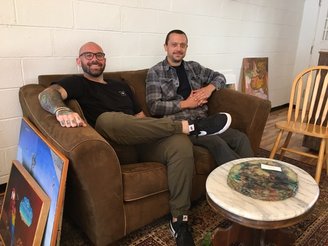 "[We want it to] just be a place for young artists to come in and feel like they belong," Henderson added.
But Henderson and Grant wanted to be clear that they're not only showing young people's work and they will be carrying paintings, sculptures, jewelry and pottery from artists of all ages and backgrounds.

For the opening, The Arcata Gallery will prominently feature five local artists — Henderson, who will display his vibrant splatter paintings; Grant, who does psychedelic resin pours; Julian DeMark, who will show his woodblock prints, sculptures, and and birchwood engravings, Rob Busch and Ceak Kytrell, who will both display their oil paintings.

You may recognize the work of Kytrell, who often paints and displays his work outside on the Arcata Plaza or next to the Old Town Gazebo. Grant and Henderson said that as soon as they started launching the gallery, they knew right away that they wanted to show Kytrell's work. "He's a hard-working painter and he's trying to go full steam ahead into the art world," Grant said. "And I just love his spirit. The moment we approached him he was just so ecstatic."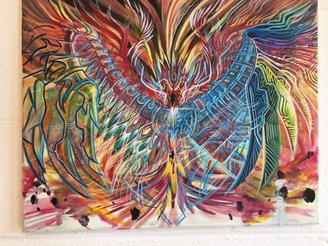 In addition to curating art shows, Grant and Henderson want the gallery to serve as a community gathering place (in a COVID-safe way, of course.) In the future they hope to hold classes and workshops led by local artists, artisans, writers and more.

When asked about the gallery's name, Henderson and Grant said they just wanted something simple and to the point, but also felt that it expressed their deep connection to the town and their desire to be community-oriented.

"We're just both such Arcata dudes," Grant told the Outpost. "We've both been hanging out in Arcata forever. We both grew up here. And we just felt like it would belong to the community. It's not 'the Matt and Eli Gallery,' it's 'The Arcata Gallery.'"

The Arcata Gallery — located at 1063 H Street, next to Arcata Pizza & Deli — will open its doors on Saturday, Oct. 2 at 10 a.m. and will stay open until 9 p.m. There will be live music, food and drinks starting at 4 p.m. Masks are required. Regular gallery hours will be Tuesday through Saturday from 11 a.m. to 7 p.m.
You can learn more or contact the owners by following The Arcata Gallery on Facebook or Instagram.