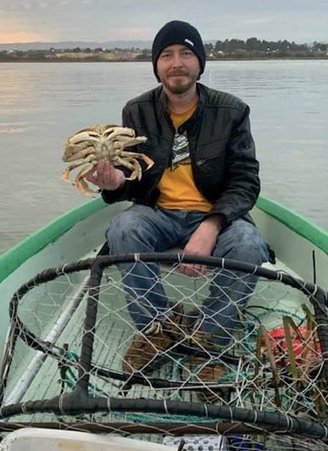 Joshua James "Josh" Dodson
January 14, 1983 – Sept. 20, 2021
Joshua James "Josh" Dodson left this world to join Jesus on September 20, 2021 at 38 years of age.
Josh, as known by his family and many friends, was born in Sacramento before moving to Fortuna at 12½ years of age. Josh took to Humboldt like a fish to water and a bear to tree as his favorite past-times were hiking, camping, fishing, fort-building and surfing every wave he met. Photos of him have been somewhat hard to come by as he was an avid photographer who preferred being behind the camera, honing his skills capturing local landscapes, friends, and family. He also never met a stranger and would literally give the shirt off his back to someone in need.
By vocation he was a commercial and residential painter around Humboldt for various companies and would work from the highest cranes in some of his work. He did some construction labor seasonally. The thing he loved most and did well was organic farming from Arcata to Southern Humboldt. He loved all things horticulture and dirt and would bring his family and friends a bounty of vegetables regularly.
Josh's love of travel took him many places. As a youngster he loved to go camping with Papa Jim, trips to Burney Falls with Granny Bear & Grandpa John, family trips to Gabbs, Nevada to see Grandpa Bill, aunts, uncles and cousins and weekends at any lake full of fish with "Daddy Jeff." He equally loved a trip to Burger King with PawPaw & Gramma Dodson or In & Out Burger with Aunt Judy or A Mart for Haagen Daz with Aunt Minnie and last but not least, Uptown Gabbs with Aunt Rita for Indian tacos. (Yes, Josh was a foodie in training). Also closer to home, Josh enjoyed hanging out with cousins Quinton and Brandon. He would play Super Mario Bros with Quinton and his Sissy or ride go-carts and carnival rides with Brandon. He spent a lot of time with his "cool" Uncle Jimmy with whom he shared a love of nature, music, and JEOPARDY.
As an adult he went to Mexico, Seattle, Oregon and San Diego to spend time with his Sis. In recent years, he traversed the U.S. to visit two of his three children in Louisiana and would come home to Humboldt full of tales of his experiences.
Joshua's most valued treasure in life is his love for Jesus and his family. He literally counted his kids as the jewels in the crown with which God gifted him. He had many adventures with Rhea Violet, Magnolia Mae, and James William; hiking, swimming & camping & attending arts/music festivities all over Humboldt. He shares a particular deep love for nature and photography with his oldest daughter Rhea. I'm sure he is bragging about them all as this is written. Little Sis, Morgan Justine, is not just his sister by birth. They were literally the best of friends and were indelibly connected since she entered his life by miracle and their mutual ability to over explain every joke and still fall off their chairs laughing. He loved his nephew and nieces, Max, Lily, and Lex and they always knew when "YaYa" was about as he'd be in his corner spot on the front porch.
Joshua James was salt of the earth in his character and kindness at his core. In life application he was Tigger. Always seeing the upside of things and ready for the next adventure. Safe travels my Sonshine.
"We are confident, yes, well pleased rather to be absent from the body and to be present with the Lord." 2 Corinthians 5:8 NKJV
Joshua was preceded in death by great-grandparents James P. Dodson and Ila Mae Dodson, great-uncle Fred J. Dodson, great-grandparents William E. Hanifen and Grace L. Hanifen, grandmother Athena Karamoudas Blesgraeft, uncle Albert Blesgraeft.
He is survived by his family: daughters Rhea Violet (15), Magnolia Mae (11); son James William (7); sister Morgan J. Dodson; nephew Preston Max; niece Lilyana Penelope; brother-in-law Jose "Joe" Mendez and daughter Alexis; brother Eric Blesgraeft and wife Elise; grandmother "Granny Bear" Hertha M. Langdon; grandfather "Papa Jim" James D. Dodson; uncle Jimmy Dodson; mother Susan "Suzi" Dodson and many more beloved aunts, uncles and cousins near and far.
###
The obituary above was submitted on behalf of Josh Dodson's loved ones. The Lost Coast Outpost runs obituaries of Humboldt County residents at no charge. See guidelines here.