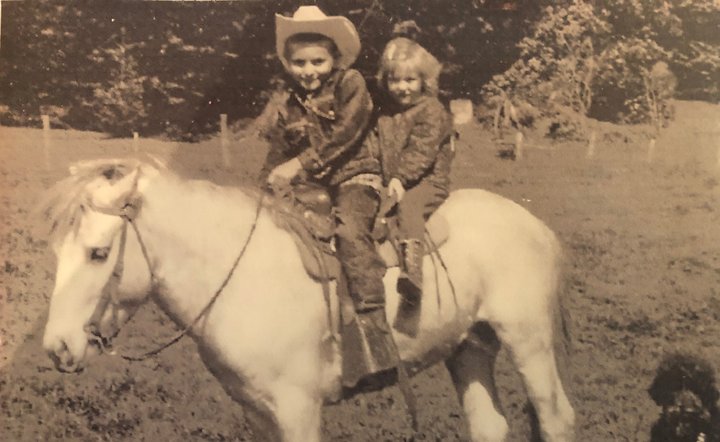 Let me spend a while telling you a bit about my sister, Nikki Lynn Moxon. Much of what follows is true, some of it's hearsay, but it makes a heck of a story nonetheless.
Nik was born to Clarence "Bud" Jones and Leota "Tokie" Jones in the spring of 1961, on the 11th of March. While she was born in Eureka, her first home was in a logging camp in Redwood Valley. Her brother Mike, all of 3 years old at the time, was happy to take on the task of teaching her how to get into mischief, but it didn't take long for the family to discover that Nik didn't really need much help in that area.
Unlike many young girls, Nikki wasn't one to play with dolls and such. She would rather be with her Dad, wherever he might be headed. Our Dad used to say that for the whole time she was a kid, he had a moldy spot in the middle of his back from her breathing on him while following him around. By far her favorite thing from a very early age was being around horses.
The family moved to Freshwater, then off to Blue Lake, before moving up to Aldergrove Road in Arcata in the mid-'60s. During that time, Dad got a couple ponies from a friend in Ferndale, and you couldn't get Nik off her pony with a stick, but there was a time it almost worked…
Nik used to tell a story of trying to get her pony, Sassy, to go when Nik was about five years old. We lived on Aldergrove at the time on a small ranch with a long gravel driveway. The ponies would get saddled up by the house, then Mike (8) and Nik (5) would go off riding with the neighbor kids. At that time, Aldergrove was littered with kids of all ages, all of them horseback. Nik was never large in stature, and when she was 5, she was particularly dainty. Sassy was a good size pony and Nikki's little legs barely reached over to the sides. Her pony saddle was still a little big for her and her feet barely reached the stirrups, but she didn't care… she was horseback. The problem was, Sassy was barn-soured. For those of you that don't know, a barn-soured pony travels really well as long as you are headed for the barn, but they are stubborn as a mule when you try to get them to travel any other direction. As our little barn was at the end of the driveway, they had a great ride for about a minute, and then the pony would stop at the barn.
Mom and Dad had told her over and over that she had to make that pony mind, which she was all for because she wanted to go. She'd pull her feet out of the stirrups (they were too heavy on her feet for what she had in mind) and kick Sassy in the side as fast and hard as she could, her little legs looking like hummingbird wings. Sassy didn't really notice. Dad would find her down at the barn, tired and out of breath, forehead down on the saddle horn, miserable. She wouldn't give up, though.
The last time Sassy thought of stopping at the barn, Dad had worked out a plan. Nik in the saddle back by the house, he went down the driveway and hid in the bushes by the barn with a stick. Nikki said that the ride to the barn that day was the worst ride of her life, because she knew what was coming. When she finally rode down to the barn, the pony slowed… and got a surprise whack on the backside, and the race was on. Dad watched Nikki and her pony ride all over the fields that day, and that pony never went in that barn again. (Well, that last part might be stretching it a bit.)
I was born about that time and Nikki and big brother Mike were so excited to have a little brother. There was a bit of an age gap, but Nikki was all for teaching her little brother how to get into mischief. She was pretty good at it by that point.
We moved to McKinleyville when she was 8, then to what would become our home place for the next 44 years in Arcata Bottoms when she was 11. She had many friends in McKinleyville with horses when we lived there, and at that time you could hardly travel across town on a sunny day without seeing someone on horseback. That someone was often my sister.
Some of her fondest memories of her childhood were of horse trips to the Marble Mountains and the Boulder Lakes in Trinity County. Riding, fishing, camping… swimming her pony across a swift flowing creek and nearly over a waterfall… all were stories she would tell with a smile on her lips and a far off look in her eye.
Nik graduated from Arcata High in 1979, and went to Humboldt to study accounting. She worked as a bookkeeper for several outfits over the years, eventually ending up in the trucking industry. She spent many years with Gosselin Transportation, and I think she was part of a package deal when the company was sold to Customer Truck.
In those years following high school, Nikki found her cowboy. Morris Moxon made her his bride on the 29 of October, 1988. Morris and Nikki had many adventures over the years, many of them horseback. They took trips to the mountains, traveled to rodeos, surrounding themselves with good friends. A couple of those adventures are named Jacob "Jake" and Colton "Cole" Moxon, two sons that have been the center of her universe since the time they were born.
Both boys called home a place just up the road from both sets of grandparents when they were little, but their Mom and Dad wanted them to have the chance to be free on horseback while they were still young enough to create wild childhood memories, so they bought their own home place in Hydesville. This gift to their kids, and to themselves, was one of the greatest to be given. Having the place allowed them to continue doing the things they loved, much of it centered around the boy's raising calves and pigs to show at the county fair. It was those fall days in Ferndale, surrounded by laughing "fair-kids" and barnyard animals, that their friendship with Chris and Dana Warren, and the Harndens, Daryl and Kathy, grew to the point that they became inseparable. In the many years since those days at the county fair, those camp trailers could be found each summer up in Lewiston, with the sound of laughing and stories filling the evening air.
Jake and his lady-love, Marissa, gave her maybe the greatest gift a person can be given as we all get older, a beautiful little grand-son name Walker just last year. I'd love to say that he is the spitting image of his grandma, but it'd be a fib. The boy is all Jake.
Nikki has moved on down the trail, now, leaving her loving family to carry on the traditions that she passed along. She is survived by her husband, Morris, her boys Jake and Cole, and her grandson, Walker. Her Mom Tokie Jones and little brother Erik Jones are still around, as are her sis-in-law Nanette Jones, and her many nieces and nephews… Travis, Tyler, Jordan, Katelyn and Sarah… all Jones'. Morris brought with him, many years ago, his own family, and we have been blessed with having his sister Donna Moxon with us. Morris' oldest son, Doug Moxon, has a loving family of his own to be proud of.
Well, Nik, Dad and Mike are waiting down at the barn. The horses are saddled, and the mountain trails await. Love you.
###
The obituary above was submitted on behalf of Nikki Moxon's loved ones. The Lost Coast Outpost runs obituaries of Humboldt County residents at no charge. See guidelines here.