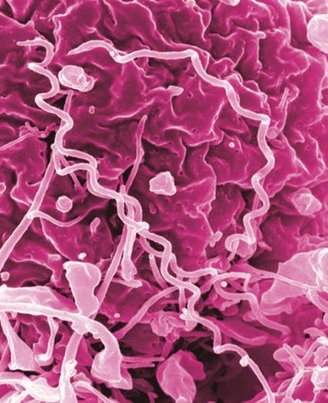 As COVID continues to tear through Humboldt County, the Department of Health and Human Services (DHHS) is concerned about another epidemic that could be affecting the community more than we realize — an outbreak of the sexually transmitted infection syphilis, which if gone untreated can have devastating effects.
Hava Phillips, supervising public health nurse for communicable disease prevention at DHHS, says that in 2021 Humboldt County has recorded two cases of congenital syphilis — a rare and often extremely serious disease caused by a mother with syphilis passing the infection to the baby during pregnancy. And though two cases may not seem like a lot, Philips says that this number is incredibly startling. Humboldt recorded one case of congenital syphilis in 2020 and prior to that the county hadn't seen a single case in more than a decade.

"Congenital syphilis is a really horrible outcome," Phillips told the Outpost in a recent phone interview, adding that the disease can result in serious conditions including low birth weight, birth defects, miscarriage and even stillbirth. "This is a disease public health would like to ensure is prevented in our community."
The rise in congenital syphilis is not unique to Humboldt. The U.S. has seen dramatic increase in cases over the last several years. According to the CDC, 1,870 cases of congenital syphilis were reported in 2019 — including 94 stillbirths and 34 infant deaths — a 477% increase relative to 2012.

Aside from the horrible outcomes, what's troubling about the re-emergence of congenital syphilis, Phillips said, is that it is indicative of a serious outbreak of syphilis in general. Syphilis rates are traditionally lower in women than in men, and even lower in pregnant women. The rate of babies being born with syphilis is lower still, because it can often be prevented with early screening and treatment. So, because of the very low odds of seeing these two cases, public health can assume that the infection is much more present in the community than the test numbers are indicating.

This brings up another concerning factor — the number of STD/ STI tests being administered in the county has drastically decreased during the pandemic, Phillips said. So although indicators like the congenital syphilis cases show that the infection is spreading in Humboldt County, the numbers are not there to back it up and many cases are clearly going undetected and untreated. As people get vaccinated and things loosen up, Phillips expects that to change.

"We are expecting a spike in numbers," Phillips said. "We would see that as a good thing at this point. We would rather be seeing people come in and get tested and treated, rather than simply have indicators that it is present in the community."

Overall STD and STI rates have been on the rise for the last few years, with the CDC reporting an all-time high of 2.5 million cases of chlamydia, gonorrhea and syphilis — the three most common STIs — in 2019. The trend has been the same in Humboldt, with the county reporting an unprecedented spike in HIV and syphilis in 2018.

At the time, public health said that although intravenous drug use is a risk factor in contracting HIV, none of the cases had been contracted that way and were largely connected to unprotected sex arranged through hookup apps like Grindr.

Phillips said that the rise in HIV cases has not been significant in Humboldt County since the 2018 outbreak and that the continuing surge of syphilis cases is currently the primary concern. She also said that recent cases have not necessarily been linked to the use of hookup apps, but they certainly have been caused by unprotected sex, since syphilis is primarily spread through intercourse and not IV drug use.

With this ongoing spike in syphilis cases, Phillips emphasized the importance of using condoms and getting tested regularly. Even during the pandemic, people still need to be getting tested for STDs and STIs. She also wanted to stress the importance of pregnant women getting tested and seeking prenatal care as soon as possible. The serious symptoms of syphilis and congenital syphilis can be prevented with early detection and treatment.

"Anyone who is sexually active, should be tested for STIs," Phillips said. "And it is improtant to let health care providers know what kind of sex you're having. If you're having oral sex, you will need an oral swab. If you're having anal sex, you will need an anal swab. Regardless of your risk factors, just get screened."

If you don't have a primary care provider, the DHHS Public Health branch offers free testing on Tuesdays and Thursdays from 8:30 a.m. to 3:30 p.m. (they are closed for lunch between noon and 1 p.m.) at 529 I Street, Eureka.