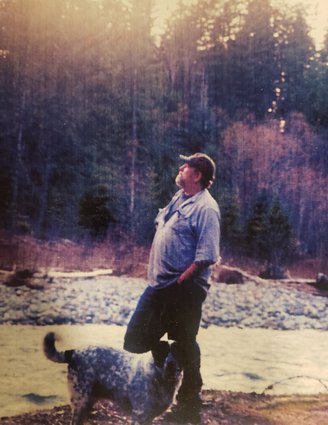 Lloyd Lane Roland, age 67, passed away unexpectedly on August 8, 2021 at his home in Lewiston due to natural causes.

Lloyd was born in Eureka to Carrol and Lyla Roland. He grew up in Freshwater, roaming the woods on dirt bikes, fishing, camping, swimming at Freshwater Park and many more adventures, along with his four siblings and a passel of friends that were thick as thieves. After graduating Eureka High School in 1972, naturally Lloyd went straight to work for the US Forest Service as a Wildland Firefighter. This sparked his passion for a lifelong career in the woods, specifically the timber industry as a log truck driver; which took him on many adventures throughout California, Oregon, Washington and Alaska. For a few years he did drive long-haul, but the woods always called him back where he was always most at peace.
In his down time, Lloyd enjoyed traveling the backroads while jammin' to classic rock, camping, watching old westerns, spending lazy days reading (Louis L'Amour a favorite) enjoying Folger's coffee in his treasured Samoa Cookhouse mug, skipping rocks across the river (master rock skipper!), crack of dawn wood cutting trips, tinkering around the shop, E. Clampus Vitus doin's, and of course spending many hours with all the good friends.
Lloyd was a man with a gregarious nature, easily making friends wherever life took him. His tremendous heart and twinkle in his eye made many lasting impressions, and his ginormous bear hugs legendary. Speaking of legendary, one can't forget his off-tune singing of "You Are My Sunshine" at the top of his lungs to those unwise enough to sleep in after him!! Lloyd also had a huge heart for "critters", as he would say. He lived for the outdoors, and always had a dog by his side hiking through the woods. Many years ago his good boy Sabbath landed in dog jail, so after bailing him out he bought him a big ol' cheeseburger, feeling sorry that Sabbath was subjected to "jail food."
Lloyd was preceded in death by brother Richard "Buckwheat" Roland, parents Doyle and Lyla Strid, Carrol Roland; Grandparents Willis and Nellie Evans; Kenny Cookman, Donnie Cookman, Uncle Ginty, Sabbath and Zipper. Survived by his beloved kitty CaliCat, daughters Cali Roland of Weaverville and Laina Roland of Chico; siblings Dan Roland (Becky) of Coquille, Oregon, LeAnn Roland of Jerome, Idaho, LaNell (Russell Johnson) of Fayetteville, North Carolina, Deborah Beebe of Willow Creek, Tom Cookman (Lavonne) of Freshwater; mother of his children, Judith French, of Weaverville; and numerous nieces and nephews, grand nieces and nephews.
"Papa Lloyd's" legacy continues with his grandsons: Russell Moeai of Chico, Nathan Harlan of Grants Pass, Oregon, and Daniel Roland of Chico.
Lloyd will be laid to rest in the Freshwater area. A celebration of Lloyd's life (respectfully socially distanced) will be held at Freshwater Park, Sunday, November 7, 2021 at 12 p.m., RSVP lainaroland@gmail.com. In lieu of flowers, kindly donate to Trinity County Animal Shelter P.O. Box 1228 Weaverville CA 96093, or take a stroll through the woods in his memory.
###
The obituary above was submitted on behalf of Lloyd Roland's loved ones. The Lost Coast Outpost runs obituaries of Humboldt County residents at no charge. See guidelines here.