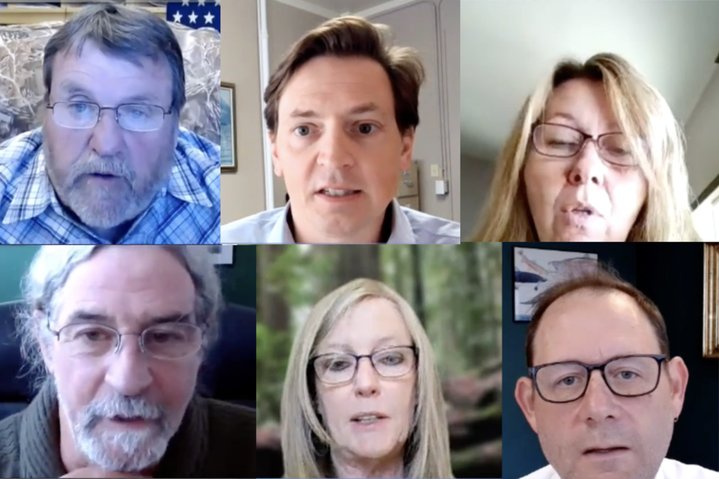 ###
Toward the end of a six-hour special meeting on Tuesday, the Humboldt County Board of Supervisors unanimously approved the creation of a policy that will require all unvaccinated county employees to submit to weekly testing for SARS-CoV-2, the virus that causes COVID-19.
Technically, this approach stops shy of an employee vaccine mandate, an option that drew a stream of vociferous and often ill-informed objections during the public comment period. But neither did the board opt to stay with the status quo of having employees follow the local masking order — this despite hearing from several department heads who urged them to do so.
Staff in the County Administrative Office will hash out the details — figuring out the logistics of how to test hundreds of county employees, for example, and getting sign-off from the various labor unions repping county workers — before bringing the policy back to the board for approval. Once the policy is implemented, employees will have six weeks to comply.
In introductory comments, Humboldt County Health Officer Dr. Ian Hoffman said he and his staff support any efforts to increase vaccination against COVID-19, calling it "our best tool to end the pandemic and get us out of this."
"It is doing exactly what it was intended to do, which is to reduce hospitalizations and mortality from this very deadly disease," Hoffman added, noting that across the state and nation, people who are unvaccinated are 11 times more likely to be hospitalized or die from COVID-19 than those who are fully vaccinated.
Locally, the average age of unvaccinated people who wind up in the hospital with COVID is 57 while the average age among the vaccinated is 75, according to Hoffman.
Third District Supervisor Mike Wilson, who was filling in as chair of the meeting, asked department heads to weigh in with their opinions.
Connie Beck, director of the Department of Health and Human Services (DHHS), urged the board to stick with the status quo, explaining that her department is already short-staffed, with a vacancy rate of 23 percent or 324 positions. She said a vaccine mandate could hurt employee recruitment efforts.
Assistant Director Michelle Stephens said that about 700 of the department's 1,100 employees are already required to be vaccinated or get tested weekly, per the state health officer's order, issued in August. About 50 of those 700 have yet to be vaccinated, so they're getting tested weekly, and another 50 are on leave, Stephens said.
Sheriff William Honsal said the county should be applauded for its handling of the pandemic, and he predicted that eventually the disease "will just fade into just being a normal flu." The CDC explains that COVD-19 and the flu are caused by different viruses. COVID can also cause more serious illness; it can take longer before people show symptoms; and people can be contagious for longer.
Like Beck, Honsal urged the board to maintain the status quo, citing the staffing crisis.
"And so you put this [a vaccine mandate] on us right now, and we will have people that leave our departments," Honsal said. "You're talking about essential workers that pushed this county all the way through this pandemic, that showed up every day to work dealing with this pandemic on the front lines. … And at this point in time the county is going to say, 'Hit the road because we want a vaccine.'" He also said that enforcement could be challenging considering the protections enshrined in the Peace Officers Bill of Rights.
Chief Probation Officer Shaun Brenneman, meanwhile, said he strongly supports vaccination, noting that people come to the courts because they have to, "so we have a real obligation to those people to be safe and provide the most safe environment for them … ." But he also expressed concerns about the logistics of testing and suggested the board refrain from issuing a vaccine mandate.
Public Works Director Tom Mattson, District Attorney Maggie Fleming and Treasurer-Tax Collector John Bartholomew joined the chorus of department heads urging the board to continue with the status quo so as not to harm efforts to recruit and retain employees.
Fourth District Supervisor Virginia Bass said that while they'd heard a lot of anecdotes about people quitting their jobs due to vaccine mandates, state data show that only a small percentage of people under the vax-or-test policy have actually done so.
Honsal countered that his department has received a lot of inquiries from employees of cities or counties that put vaccine mandates in place, saying they intend to find jobs elsewhere.
Second District Supervisor Michelle Bushnell said it seems like vaccinated people are spreading COVID just as much as unvaccinated people.
Hoffman said that while the Delta variant is much more contagious than previous variants of the virus and can be spread by the vaxxed and unvaxxed alike, symptoms among the vaccinated are significantly less, and data suggests that they're 50 percent less likely to spread it than unvaxxed folks.
Hoffman also said that all these deliberations may wind up being moot. He expects the Occupational Safety and Health Administration (OSHA) and its California counterpart to issue their own workplace regulations in the coming weeks.
As alluded to above, the public comment period contained a lot of apocalypse-flavored vitriol, with numerous callers referencing tyranny, citing dubious statistics, falsely referring to vaccines as "experimental" and invoking the authority of both the U.S. Constitution and the Nuremberg Code.
That latter document, for the record, is a set of research principles addressing Nazi war crimes. It does not apply to COVID-19 vaccines, nor is it legally enforceable.
A number of public commenters also brought up the Vaccine Adverse Event Reporting System (VAERS), a government database that compiles unverified, self-reported accounts of symptoms that may or may not be cause by vaccines. It's designed as an early warning system, and the CDC explicitly warns that VAERS is not designed to determine whether a vaccine caused a given health problem.
Of the 37 people who called in to speak on the issue, just five were in favor of a vaccine mandate. On the other hand, only three callers identified themselves as county employees, and two of them were pro-mandate.
After the public comment period, Bass, Wilson and Fifth District Supervisor Steve Madrone said they believe a lot of county employees were too intimidated to call in and voice their opinions. Madrone said he was troubled by the disparaging remarks and threats, including a threat to recall any supervisors who supported a vax mandate.
"These things don't sit well with anybody, and it's really not the way to get your point across," Madrone said.
First District Supervisor Rex Bohn said he came into the meeting leaning toward an employee vaccine mandate with testing for those who opt out. He fully believes vaccines are the best way to get the pandemic under control, but he said he worried about adding testing and enforcement duties to the county workload. He initially suggested waiting for orders from the state or feds.
"I guess we'll just stay status quo until the big guys force something on us, and that's not too far away," Bohn said.
Bushnell was the most vocally skeptical of vaccine requirements. "I don't want to make a choice for someone to get a vaccine and they get an adverse reaction," she said. She acknowledged that such complications are rare but added, "If that one [exception] is your family, your loved one, I don't want that on my shoulders."
Wilson argued that appeals to "freedom" are a bit simplistic given that the county already has other requirements governing health and public safety — coming to work clean and with clothes on, for example.
"We're also not reinventing the wheel here," he said, noting that other government agencies, including the City of Eureka, have passed vaccine requirements.
Madrone wound up making a motion to require either vaccination or regular testing of all county employees along with a recommendation that even fully vaccinated people get tested regularly.
"Nobody's going to require anybody to get a vaccination if they don't want to," Madrone said. "There are options; it's called testing."
Bushnell was still skeptical. She asked Hoffman a number of questions about whether regular testing would really be effective at protecting employees and if so, why not test all employees, vaxxed and unvaxxed alike?
Hoffman said neither the CDC nor the California Department of Public Health recommend surveillance testing of entire workforces, and research shows that vaccinated people represent a much lower risk of spreading the virus.
The supervisors tossed Madrone's motion around a bit, questioning various specifics until Bass, who'd seconded his motion, said she'd prefer to go with an option already spelled out in the staff report — requiring weekly testing for all unvaccinated employees.
Madrone agreed to modify his motion to that option, and after a bit more discussion, the vote to approve was unanimous.
Afterwards, the board briefly considered implementing another policy to require all new county employees to get vaccinated. Wilson advocating for it, but the rest of the board wasn't interested in passing such a policy — at least not yet.
Again, the County Administrative Office will now work out the specifics of the county's vax-or-test policy and bring it back to the board for approval at a future meeting.