More info on "Sugar Bear." | USFS
A harvest date has been set for the Six Rivers National Forest tree selected to be this year's U.S. Capitol Christmas Tree.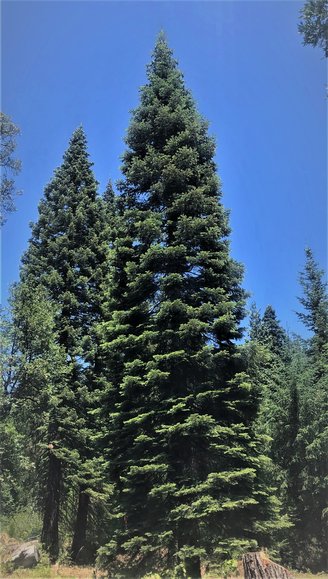 The 84-Foot White Fir nicknamed "Sugar Bear," will be sawed down during a live ceremony broadcast on the Six Rivers National Forest's Facebook page on Oct. 24 at 10 a.m.
"The People's Tree will be harvested using a two-person crosscut saw, which is more eco-friendly and fire safe, as well as celebrates decades of U.S. Forest Service crosscutting tradition," the U.S. Forest Service stated this week.
The tree will then be loaded onto a big rig by crane and trucked 3,300 miles cross-country from Northern California to Washington D.C.
More than 20 towns throughout the U.S. will hold outdoor viewing celebrations during the tree's journey, including Eureka, Fortuna, Willow Creek, Crescent City and Ukiah.
"We are excited that the U.S. Capitol Christmas tree will visit Fortuna on its journey to Washington, D.C.," Fortuna Chamber of Commerce President Renee Lindsay stated. "We invite the community to come by anytime during the event to see the tree from Six Rivers National Forest."
Friday, Oct. 29

9 a.m. – 12 p.m.: Del Norte Visitor Center (1001 Front Street, Crescent City, CA 95531)
4 p.m. – 6 p.m. Eureka Waterfront (Madaket Square Boardwalk, D Street, Eureka, CA 95501)


Saturday, Oct. 30

10 a.m. – 12 p.m.: Willow Creek Mainstreet (CA Hwy-299, Willow Creek, CA 95573)
4 p.m. – 6 p.m.: Fortuna River Lodge (1800 Riverwalk Drive, Fortuna, CA 955340)

Sunday, Oct. 31

12 p.m. – 3 p.m.: Pear Tree Shopping Center (504 East Perkins St, Ukiah, CA, 95540)
The tree's journey will end at the U.S. Capitol Building's West Lawn, where a tree-lighting ceremony will be hosted by Architect of the Capitol Brett Blanton and Speaker of the House Nancy Pelosi in early December.