PREVIOUSLY:
###
A Eureka man accused of opening fire in a McKinleyville bar, seriously injuring a bar patron, pleaded not guilty today to charges of attempted murder and assault with a firearm.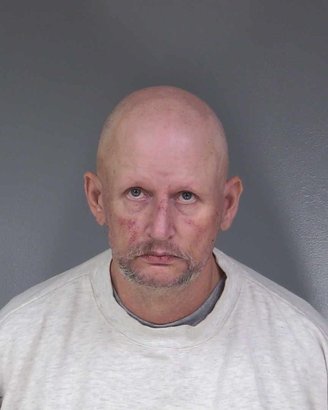 Attorney Kathleen Bryson entered the pleas today on behalf of Sean Timothy O'Brien, who was brought to court in a wheelchair and wearing a red jumpsuit, meaning he is segregated from the jail's general population.
O'Brien is a former jail correctional officer who was fired in 2013 after he allegedly kicked a sleeping inmate, knocking the man out of his bed. He had worked at Humboldt County Correctional Facility for five years.
On Sept. 27 O'Brien allegedly entered Central Station bar and shot Ethan S. Jacobs with a .38-caliber Smith and Wesson. O'Brien, 54, was detained and apparently attacked by other bar patrons. He was flown to a hospital out of the area and at one point was listed in critical condition.
Jacobs, 49, was treated for gunshot injuries to his arm.
O'Brien was arrested on a warrant yesterday at his Eureka home.
After consulting privately with Bryson today, O'Brien agreed to give up his right to a preliminary hearing within 10 days of his arraignment. Judge Larry Killoran set his preliminary hearing for Dec. 5.
In addition to the attempted murder and assault charges, O'Brien faces the special allegations of personally and intentionally discharging a firearm and causing great bodily injury.
O'Brien's bail amount was not discussed today. He is being held on bail of $1 million.
Deputy District Attorney Jane Mackie was in court today for the prosecution.