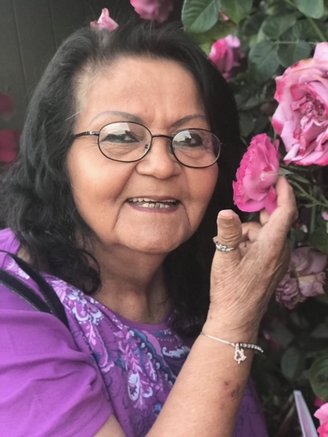 On October 12, 2021, Elsie, lovingly know as Toots or Maamy, started her journey to join her late son, beloved parents and little chihuahua Squirty.

Elsie was born in Yreka, on November 20, 1938, to Hank and Lottie Beck. At her birth she became a member of the Karuk Tribe of California, and the youngest of eight siblings. Elsie was brought from the hospital in Yreka to her family's home in Orleans, where she was raised and spent her life along the river until the age of nineteen when she married Wayne King I and became a Navy wife, starting her first big life adventure, moving for the first time in her life to Los Angeles.
During their marriage Elsie and Wayne moved to many great places and had three beautiful children: Kristen Shirleen, Wayne Francis II, and their youngest Charla Ann. After fourteen years of marriage Elsie and Wayne divorced and she embarked on the next major adventure in her life, with her three children she moved to Sacramento Ca, where Elsie began school at UC Davis to earn her bachelors degree in Native American Studies. She accomplished her goal in 1978 while also being a single parent to three teenagers.
After graduation Elsie went to work as a Park Interpretive Specialist for the California State Indian Museum. While there Elsie met many people whom she considered to be lifelong friends and holding some even as close as family. Elsie spent the next sixteen years educating the public and sharing her cultural knowledge. During this sixteen-year portion of her life's adventure Elsie reconnected with and married childhood friend Darrell "Corky" Gillespie in 1984.
In 1995 Elsie decided to leave the city life behind and embark on her life's next adventure, moving with her now adult children and grandchildren back to her childhood hometown of Orleans. Elsie jumped into this adventure with both feet, joining and eventually taking over the Orleans Community Service Club, where she organized, ran, MC'd and presented trophies for the annual Father's Day Parade. She organized the town "cappers" a town talent show that brought much laughter and excitement to all who attended. Elsie put her degree and interpretive skills to use volunteering at her grandkids school. Elsie never once missed an opportunity to have a booth at Orleans Elementary's Indian Day celebration, teaching countless children to make acorn tops with traditional pump drills. Elsie also spent many years running the snack shack for her grandkids sporting events. Elsie also started a branch of the Northern United charter school in Orleans, teaching her grandson and many other young minds.
Elsie believed in and tirelessly fought for those she knew and loved. She loved ALL animals, taking in many strays and having had many cats, dogs, goats, snakes, and squirrels in her lifetime. Elsie had a laugh that was iconic and everyone who heard it knew that Ma'am was at the party and it was gonna be a fun time. She had a sense of humor that was unmatched and a spirit that made you believe she was far bigger than her five-foot height showed.
Elsie is proceeded in death by her parents Hank and Lottie beck, her husband Corky, Beloved son Wayne King II, sister Barbara Pearson, brothers Oren, Walter and Henry Beck, niece Ruthie McCurdie and nephews Billy "winks" Pearson and Henry "Doomie" Beck.
Elsie is survived by her loving daughters Kristen and Charla King. Cherished grandchildren; Harold "Sonny" Mitchell (Tawnia), Wayne "Bubba" King III (Rena), Sereena King (Kelly), Kristofer "Papa" Mitchell (Mariah), Travis King, Eric Logan, Ruby, William, Vanessa, Chloe and Violet King. Treasured great-grandchildren; Javon and Jaliya Mitchell, BellaAnn and Wayne King IV, Kristofer "KJ" Mitchell Jr., Kion King, and DaVonte "Hankie" Mitchell. She is also survived by her partner in crime Christopher Mellon. Elsie is also survived by her brother Ran Beck (Helen), and far too many nieces, nephews, and cousins to name one by one.
Our Mama/Maamy has left a lasting legacy of unconditional love, family strength, empathy for justice and equality and a great sense of humor and resilience that started all those years ago with the "Four Musketeers."
A celebration of her big and wonderful life will be held in the spring when her Snow Drops, Fawn Lilies and Red Bud flowers bloom. In lieu of flowers to show love and respect for Elsie please consider making a donation in her name to Miranda's Rescue, because there wasn't a stray on earth that Elsie wouldn't take in or help.
###
The obituary above was submitted on behalf of Elsie Gillespie's loved ones. The Lost Coast Outpost runs obituaries of Humboldt County residents at no charge. See guidelines here.