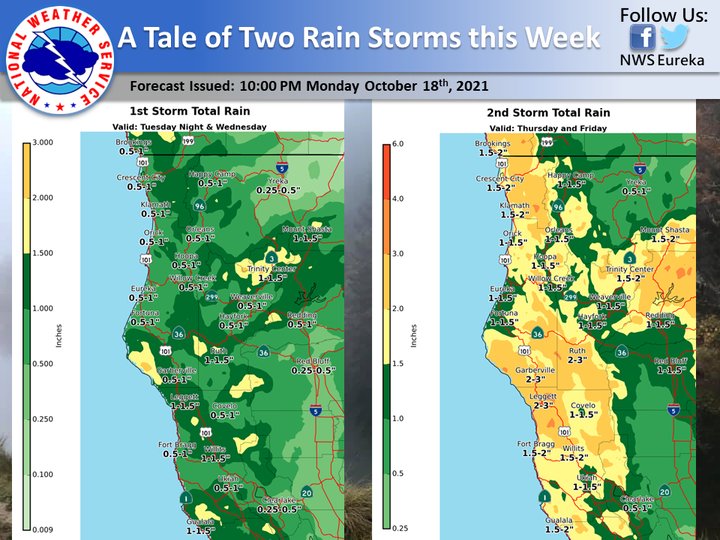 A series of storms are expected to drop several inches of rain along the North Coast this week.

The first round of rainfall begins tonight, as La Niña conditions have officially developed in the Pacific.
"Two storm systems will impact our area this week, with two doses of substantial beneficial rainfall, followed by even another round of rain over the weekend," the National Weather Service stated. "The first front will pass through Tuesday night, with the steadiest rain from late Tuesday evening into early Wednesday morning. Another front will pass by around Thursday night, with the steadiest rain starting late Thursday and perhaps lingering into early Friday. The second system will have greater potential for a period of heavier rain."
These storms will bring the first significant rainfall of the La Niña season, which NOAA announced last week, is already underway.
"La Niña conditions have developed and are expected to continue with an 87 percent chance of La Niña in December 2021 - February 2022," NOAA stated.
Meteorologist Jonathan Garner with Eureka's NWS office told the Outpost that this is the most October rain the North Coast has received in several years.
"The rainy season is starting as we speak," Garner said. "The past couple of years, the falls have been drier. I think the last really rainy October was in 2016."
###
PREVIOUSLY: NOAA Predicts 70 Percent Chance of Rainy La Niña Weather Across the Pacific Northwest This Fall, Winter