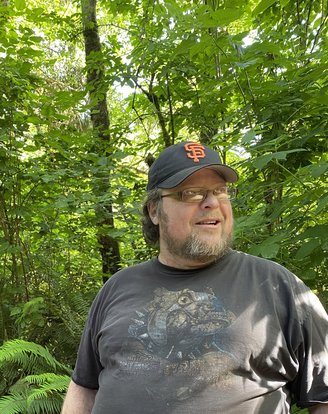 Robert Lee Matlock
October 11th, 1970 – October 18th, 2021
On October 18, 2021 at the age of 51, Robert Lee Matlock stepped into God's Kingdom after a long battle with congestive heart failure and other health issues.
Robert was born on October 11, 1970 in Eureka to Harry Van Matlock and Nancy Carol Matlock. He attended McKinleyville High School and at the age of 28 on February 20, 1999 married JoAnna Ruth Matlock. Together they had a daughter named Olivia Jean Matlock.
As a child he loved to play baseball and go hunting with his father, Harry. He played baseball for several years and his father coached once as well. His favorite thing to do as a child was getting out into nature. He and his brother Benjamin Jacob Matlock or cousin Karl Matlock or one of his many friends would spend hours at the beach or in the woods together.
In high school he loved auto shop class. He learned many useful skills and developed a passion for cars. This passion lead him to a career in the car industry. He started out washing cars for North Coast Auto and eventually made his way to Service Advisor. A position he held at several different auto shops such as Isaacson Motors and Leon's Car Care Center. After his tenure at these different shops he began working for Lithia Automotive as a Service Advisor where he remained for over a decade. While he worked at Lithia he made many friendships that lasted him the rest of his life. A dream of his was always to be a Service Manager and for a short time before his health declined he was the Service Manager at BMW of Humboldt Bay. There he had many amazing experiences that he always held on to.
Outside of work he had several hobbies. When he was younger he would go sailing with his brother and loved to ride motorcycles. He was also an amazing cook who always had a dream to open his own restaurant. Though that dream never came to fruition the people in his life were always able to experience his wonderful cooking. Later in life he found a passion for wood working, specifically lathe work. He made beautiful pieces that friends and family have in their possession now. He had a natural talent for lathe work and it showed in each of his pieces. He made everything from salad bowls to gun stocks. He and his family were always so proud of the work he made.
An important part of his life was Free Masonry. He became a third degree mason in Humboldt Lodge #79 after his daughter and wife had joined the organizations related to the Masonic Family. It taught him valuable life lessons that he adhered to each day of his life. It also gave him a second family who loved him like their own brother. He was also a member of The Order of the Eastern Star which is a concordant body of the Free Masons for both men and women. He and his wife and daughter belonged to Camilla Star Chapter No. 63. The people in these organizations and the values taught were always near and dear to his heart.
He is preceded in death by his father Harry Van Matlock. He is survived by his wife JoAnna Ruth Matlock, daughter Olivia Jean Matlock, mother Nancy, and brother Benjamin Jacob Matlock (Christine Matlock).
His memorial service will be held on October 30, 2021 at 2 p.m. for friends and family. It will be held at the Humboldt Masonic Lodge on 517 G Street, Eureka. It will be a potluck, so please bring a dish of your liking.
###
The obituary above was submitted on behalf of Robert Matlock's loved ones. The Lost Coast Outpost runs obituaries of Humboldt County residents at no charge. See guidelines here.