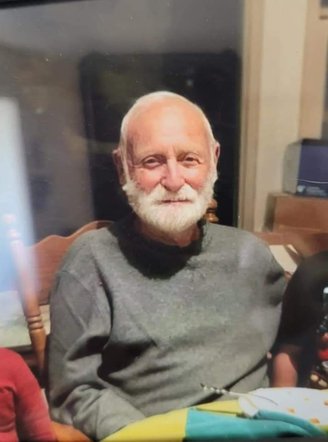 On the morning of July 30, 2021, Dr. William L. (Bill) Shapeero passed away peacefully at home, as his loving wife was by his side, holding his hand. His daughter, Valerie Carey, and caregiver Alexis McAlister, were near.

Bill had been diagnosed with Alzheimer's almost six years ago. His body gave out before his memory did. Although he forgot many things he remembered each person that came to visit and was always so happy to see them.
Bill was born in Los Angeles on March 17, 1930 to Elias and Lillian Shapeero. He grew up there and went to the Los Angeles Junior College until he entered the army during the Korean War. He was a medic for two years before being honorably discharged. He soon married Joan, whom he spent 32 years with, raising their two sons, Michael and Patrick. Bill met his second wife, Linda, in 1987 and spent the rest of his life with her, adding her children, Valerie, Kenneth and Sara to his family.
After leaving the army, Bill continued his college education, following his true passion for nature, and earning his PhD in Marine Biology at the University of Oregon. He then taught biology at colleges in Washington and Oregon. His final position was as a biology professor at College of the Redwoods, where he taught for 27 years before retiring in 1997. Bill delighted in seeing his past students around and about in the community.
After retiring Bill loved to spend time on his 13-acre property in Wolverton Gulch near Hydesville. This property was his sanctuary. Wolverton Creek ran through it, and he had a very large and deep pond put in. He loved sharing his property with others. Each spring he would spend many hours preparing the land for the Annual Wildflower Walk, where CNPS docents would take small groups from the community around the property to tell them about the many beautiful wildflowers that were marked there by name. Bill even hosted classes from CR, Fortuna High and nearby elementary schools to come out and have hands-on science lessons at his property.
In his last days, Bill spent much of his time reminiscing. He said he loved teaching at the college level, but his greatest joy came from volunteering in classrooms at the different elementary schools in Humboldt County, where he shared his love for science with the children. He always said he just loved the children and their enthusiasm for learning.
Another great joy for Bill was his extended family. He enjoyed having everyone over for Thanksgiving dinner. We often had about 30 friends and family members eating, walking on the property and playing games well into the night. His love for family was so great, we recently started an annual campout on the property, where the family would put their tents or trailers up near the pond and camp out for a weekend each summer.
Bill had so much fun with each grandchild. They often requested he tell them his Harry Buzby story one more time! Morgan and Taylor even had him share it in their classrooms when they were in about 3rd grade. He also told that story to his children as they were growing up.
On September 1, 2020 Bill left his home of 42 years in Wolverton Gulch and moved into an apartment in Eureka to be closer to his family and doctors. It was very sad and difficult for him at first, but he grew to appreciate being able to have friends and family drop in often to visit.
Bill was a very kind, gentle loving man. His biggest regret was that he had to leave the world in such an environmental disaster for his grandchildren.
Thanks to Visiting Angels, hospice, his daughters Val, Sara, and son Pat, Bill was able to stay in his comfortable home surrounded by loving care before he passed. Due to COVID-19, there will be no services. A private family service will take place near Bill's birthday in March.
Bill is survived by his wife Linda. His brother in law Richard Tolleson. Children, Michael (Emma) Shapeero, Pat Shapeero, Valerie Carey (Thomas Elsea), Sara (Matt) Ockerberg Snyder, Kenneth (Lenore) Ockerberg ,& Hatsumi (Kinichi) Watanabe. His grandchildren, Dhyana Wallace (Kenneth Meth), Jordan Rohanna (Will Burner), Taylor Carey (Andrew McGarry), Morgan Carey, Shasta Ockerberg, Starla Ball, Serenity & River Ockerberg, Emily Shapeero, Mashiro & Mayuki Watanabe, Jacob Snyder and great grandson, Bentley Sloan.
###
The obituary above was submitted on behalf of Bill Shapeero's loved ones. The Lost Coast Outpost runs obituaries of Humboldt County residents at no charge. See guidelines here.