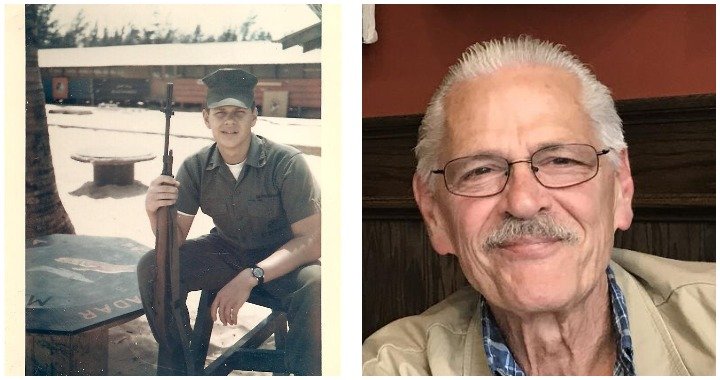 David passed away on October 20, 2021 at the age of 73.
He bravely battled multiple cancer diagnoses — prostate cancer, lung cancer, and most recently breast cancer and brain cancer (glioblastoma). Although glioblastoma has a terminal prognosis, he chose to treat with chemotherapy and radiation in the hope of more time with his family. In his fourth week of treatment he came down with pneumonia. Cancer didn't take him, but pneumonia did. I share this to remind people that even though our soldiers come home from active duty alive, many spend their lives fighting for their lives from the residual effects of chemical exposure, PTSD and life altering injuries.
David was born in Ann Arbor, Michigan to Richard and Jeanne Prendergast on February 13, 1948. His father was an Admiral in the Navy and moved the family to San Diego in his youth.
At 17, David enlisted in the United States Marine Corps. He served in Viet Nam from January 1967 to February 1968. David was fiercely patriotic. He loved this country, the USMC and his brothers in arms.
After an honorable discharge from the Marine Corps, David graduated from University of Southern California in 1975 and graduated from law school in 1979. He had a private practice in Los Angeles until moving to his wife's home county of Humboldt in 1989. David had a private practice in Eureka where he practiced mainly criminal defense work.
In 2007 David took a position with the Riverside Public Defender's office for a couple of years and represented several high profile criminal defendants. His second year there, he received the Public Defender of the Year award, which was a highlight of his legal career. He returned to Humboldt County with his family in 2010.
David loved to travel and fish. Cabo and Paris were his two favorite destinations. In Cabo he fished every day. His two daughters were conceived there. Lots of sunshine, fresh air and damn good tequila!
In Paris they took day trips into the country, cooking classes and walked for miles. One trip to Paris he arranged for a personal shopper to take his girls school shopping for clothes.
David loved his Wednesday morning coffee guys and all the camaraderie and story-telling they shared.
David leaves behind his wife, Jackie, daughters, Sara Christensen (Justin), Jessica Prendergast, grandson, Clayton Christensen, three siblings, nieces and nephews and three children and grandchildren from his first marriage.
He has also left behind his devoted service dog, Cleo, who is lost without her favorite human.
He is loved. He is missed.

Special thanks to Connie and Dick Clark for their friendship and support, Dave Main for his friendship and for doing all the man things around the house David could no longer do, and all the doctors and staff at the Eureka VA Clinic and the VA Hospital Fort Miley for their care, compassion and honesty.
###
The obituary above was submitted on behalf of David Prendergast's loved ones. The Lost Coast Outpost runs obituaries of Humboldt County residents at no charge. See guidelines here.