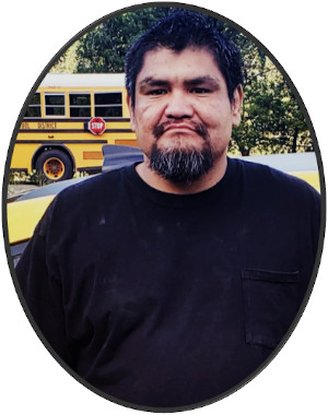 Roger Allen Bibancos
Jan. 13, 1978 - Sept. 23, 2021
The youngest child of Sharon (Rosie) and Augustine (Gus) Bibancos, Roger is a Hupa Tribal member born January 13, 1978, and raised here in Hoopa all his life. He passed on September 23, 2021. Some of his favorite hobbies included hunting, fishing, and spending time with his daughters.
He left us all too soon, and will truly be missed by all who knew him. Roger was the type of guy that if he seen something needed to be done, he would jump right in to get it done. He would often help out by cutting and stacking wood, yard work, or just about anything that needed to be done. He was the guy to ask when every you needed help. He had four beautiful daughters that put a sparkle in his eye. He loved them with his whole heart, and when they were old enough to play sports, you would often find him watching them with the biggest smile. Some of his proudest moments were getting to see his two oldest daughters graduate from high school, and one from college. He would often check in on elders throughout the day to see if he could help out in anyway. He was gifted with the ability to make a person laugh and he will surely be missed.
He is survived by his children, Ruby, Emerald, Jewely, and Diamond Bibancos, along with his forever close friend Misty Knight; siblings Darren V. Randall (Abner), Leonard Bibancos (Super), Dion James Bibancos (Hamster), and Kaylene Bibancos (Kay-Kay); and aunt Mildred Montgomery, and Lauren (Moto) and uncle Willie Houglin; and close friends Linda, Robert and Dianna Masten, nieces and nephews Jessica and Dennis, Erika, Gus, Dion Jr., Brandon, and Lorraine, Robert Jr. Zackary, William, Justy, Pricilla, Hailey, and Olivia.
Roger is proceeded in death by his parents, Sharon (Rosie) and Augustine (Gus) Bibancos; brother Marvin Bibancos; grandparents Josephia and Woodrow Montgomery, Pearl and George Randall; and aunt and uncle Floyd, Russell, Sandra, Carl, Allen, Ester, Dorothy, Tiny, Katherine, Martha, Clarence, and Oliver. The family would also like to thank Connie Flores, Celena Donahue, Linda Bussell, Bessy Ann Bussell, Marilyn Martin and Victor Knight for their support during this time.
The wake was on Wednesday, September 29, at the Assembly of God Church. The funeral was at the Assembly of God Church, followed by the burial at the Randall Family Cemetery. Food was provided at the Assembly of God Church kitchen. Please wear a mask and practice social distancing when possible.
The family would like to thank Food Distribution, Plant Management (Adam Robertson), Paul's Chapel and the Hoopa Valley Tribe for all their support during this difficult time.
Pallbearers: Clinton Houglin, Augie Montgomery, Paul (Ewee) Donahue, Timmy Bussell, Augustine Bibancos, Rudy Colegrove, Robert Masten Sr., and Philip Donahue.
###
The obituary above was submitted on behalf of Roger Bibancos's loved ones. The Lost Coast Outpost runs obituaries of Humboldt County residents at no charge. See guidelines here.