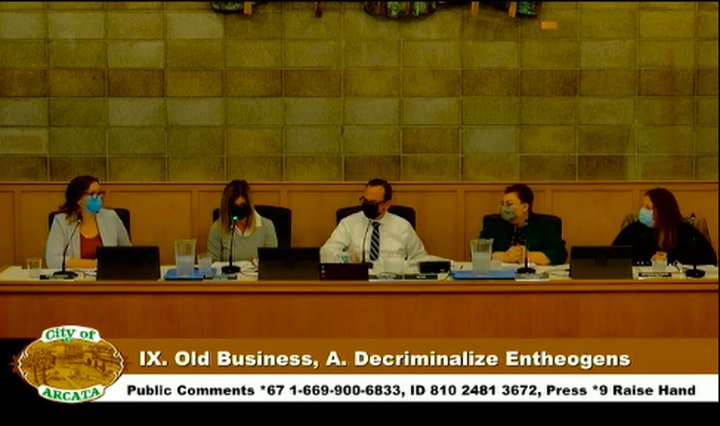 ###
Arcata residents 21 and older can now use magic mushrooms, ayahuasca, mescaline and other psychedelic plants or mushrooms without fears of legal repercussions. During its Wednesday night meeting, the Arcata City Council unanimously and enthusiastically passed a resolution that decriminalizes the use of entheogenic plants and fungi in the city.

The resolution, drafted by city staff and members of local working group Decriminalize Nature Humboldt, states:
The City Council of the City of Arcata hereby declares that the investigation and arrest of persons for planting, cultivating, purchasing, transporting, distributing, engaging in practices with, or possessing Entheogenic Plants and Fungi or plant compounds which are on the Federal Schedule 1 list shall not be a public safety priority for the City of Arcata; and that only limited City funds and resources be used to investigate, detain, arrest or pursue prosecution for an alleged violation of State and federal law regarding the use of Entheogenic plants by a person twenty-one (21) years of age and older when other code violations are present such as a public disturbance, driving while under the influence, use in the presence of minors, or jeopardizing public safety.
Arcata City Manager Karen Diemer began with a little bit of background on the subject, explaining that in recent years some scientists and individuals have been attesting to the therapeutic benefits of the use of entheogens.

"Psychedelics were broadly banned under the 1970 Controlled Substance Act," Diemer said to the council. "More recently, scientists in places such as John Hopkins University, New York University, UCLA Medical Center have conducted smaller studies that suggest the use of several of these plants and fungi — guided by trained professionals — really do have the potential to relieve many mental health illnesses and struggles for individuals."

Several other cities, including Oakland and Santa Cruz, have recently decriminalized psychedelics and moves have been made for decriminalization at a state level with SB 519, which was pulled prior to the recall election, Diemer explained. Diemer added that she did believe the bill will eventually return to the assembly and will likely be passed in the future.

The council's unanimous decision comes as a little bit of a surprise after the resolution failed to pass during the council's July 21 meeting — with council members Sarah Schaefer and Emily Goldstein in support and Brett Watson and Stay Atkins-Salazar voting against. Both the councilmembers who opposed said that they were not necessarily against decriminalization but had some concerns about community safety.

But during Wednesday's meeting, Watson and Atkin-Salazar made it clear that their reservations had largely been put to rest.
"I was one of the people that was hesitant the first time around," Atkins-Salazar said. "I felt like it was just coming at us fast and perhaps the public wasn't fully aware of what we were doing. I just wanted to be sure that the public had a chance to digest the information and that this was a good fit for our community."

Atkins-Salazar added that the changes in language made to the resolution since the last meeting, the recommendation made by the city's Public Safety Committee and Decriminalize Nature Humboldt's public education efforts had helped ease her fears.

Mayor Watson, however, still had some concerns over the potential repercussions of people using psychedelics without proper guidance or dosage. At his request, the council agreed to add language to the resolution stating that entheogens should be consumed "in a therapeutic setting and with proper guidance."
Close to a dozen people joined the Zoom meeting to comment on the item, all of them in support of the resolution. Danielle Daniel, lead organizer of Decriminalize Nature Humboldt, thanked the council and community for its support and tried to alleviate some of the council's safety concerns.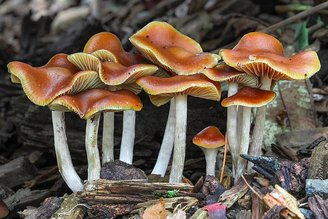 "I understand the concerns of people taking too much and maybe getting overwhelmed by the experience of a strong psychedelic," Daniel said to the council on Wednesday night. "But what we have been trying to do is teach people how to take these in a good way and in a safe way. And with decriminalization we will have more abilities to teach people how to take these in a good way and provide safe spaces for people to take these in a therapeutic way."

In the end, the council passed the resolution, 5-0. It was the first time the item had come before newer councilmember Meredith Matthews, who wanted to say how much her views on this subject have changed over the years.

"As a mother and someone who was raised at the height of the 'just say no to drugs' campaign… I just really want to appreciate how far the science has come and I really appreciate the science-backed research that has been done," Matthews said. "It's been a lot for me to unpack personally, just from my age and where I am. But folks have done a great job."

###

PREVIOUSLY: