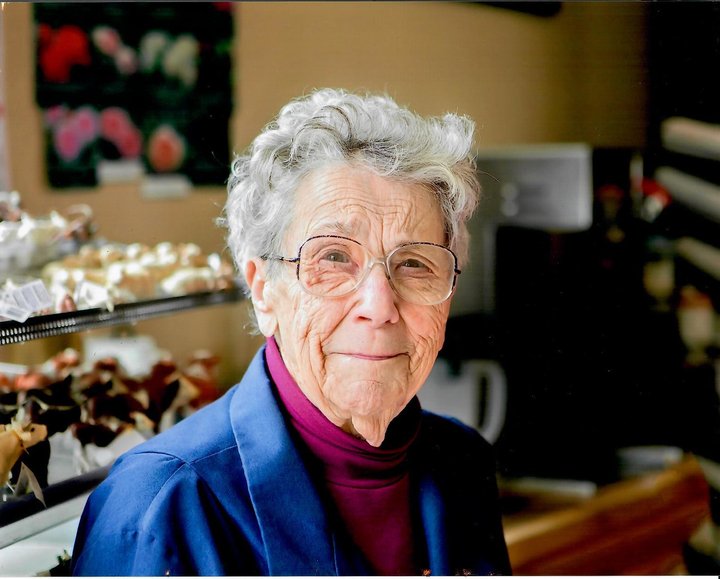 Julia Scalvini Bass was born May 14, 1924 in Ferndale, and passed away on September 5, 2021. Her parents were George Scalvini, Sr. (born in Bagolino, Italy – came to America in 1909) and Angelina Bettiga Scalvini (born in Colico, Italy). She was the second of five children (Albert, Julia, George Jr., Florence and Guy).
Julia attended Grant Union and Centerville School (the Little Red School House) and graduated from Ferndale Union High School in 1942. She was a high school volunteer for Civil Defense, a plane watcher at Centerville Beach, during World War II. She went to a business college in Eureka and later became a bilingual telephone operator for PacBell in Richmond, California, during World War II. She worked as a telephone operator with her friend from Ferndale, Alma DaOro Sukacz. It was during this time working as a telephone operator that she met her future husband, James Bass, Sr. They were married April 14, 1947 in Ferndale at the Assumption Church. They first lived in Richmond, California and later moved to Ferndale where they had their own dairy. James later worked on other dairies in Ferndale and Loleta.
Having grown up on a dairy she developed a love of animals and always had a cat or dog and took care of her son's chickens. For years you would find her delivering eggs to people in the Ferndale area.
One of her many jobs were working in the Bakery for Primo Marca frying doughnuts. Later she and James owned the Western Shoe Store on Main Street in Ferndale for six years. Julia ran the shoe store and James later became an insurance sales person for AAA in Eureka.
During the flood in 1964 she volunteered her time working at the Nilsen Feed store as she was familiar with farming and knew all the farmers. Her volunteer time turned into a full time job and you could still find her at the Nilsen Feed store on Saturday and Monday mornings until she really retired at age 94. When she first started working at the hardware store she would bring home screws, nuts, bolts and plumbing parts and study them. She wanted to know what they were used for so she could help her customers find the right item for the job they were doing. Her knowledge of hardware was amazing.
Julia had been a volunteer at the Ferndale Museum for many years, only retiring her position a year ago. She also volunteered at the Veterans Breakfast, and was a long-time member of the Pedro Club. While her children attended the Assumption School she was an active member of the Catholic Ladies Guild. She was a fan of all Ferndale Wildcat Sports. She and her brother George Scalvini were Booster Club King and Queen. Julia was a daughter, a sister, a wife, a mother, a Nonie (grandmother), a great grandmother, a Zia (aunt), a friend, and a PROUD citizen of Ferndale.
Julia loved to travel, garden, and was always there when someone needed help. She was the tractor driver when hay was being hauled and she was known for her large pots of soup that were on the stove for one and all.
Julia was preceded in death by her husband James Bass Sr., her mother Angelina, father George Scalvini Sr., brothers Albert, George Jr., Guy and sister Florence.
Julia is survived by her two children, James Bass Jr. (Nadene) and Juanita Bass Petersen (Dale). She has six grandchildren Regina Bass Byrd, Phillip Bass (Tina), Garrett Petersen (Sandi) and Grant Petersen. She is great grandmother to Hayley and Jayden Byrd, Vincent and Luci Bass and step great grandmother to Mattea, Caiden and Gunner Bertain. She is also survived by many nieces, nephews and cousins.
The family is so blessed to have had her in their lives for so long. She will be dearly missed.
In lieu of flowers memorials can be made to the Ferndale Museum or the charity of your choice.
###
The obituary above was submitted on behalf of Julia Bass's's loved ones. The Lost Coast Outpost runs obituaries of Humboldt County residents at no charge. See guidelines here.