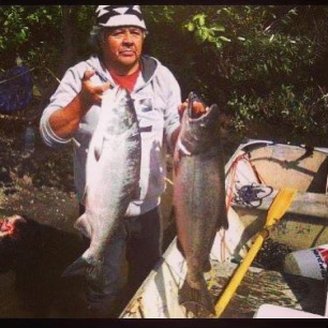 Frank Rodney Dowd
September 1, 1954 - September 9, 2021
Roddy Dowd, legally named Frank Rodney Dowd, was born in Hoopa on September 1, 1954. He started his journey to the other side on September 9, 2021 in Crescent City. He was 67 years young. He was living in Klamath at the time.
Roddy was one of seven children born to Nummy and Puzzy Dowd. He began his life living in Klamath. After the 1964 flood, they made their way to Crescent City where he spent most of his life. He moved around to different spots in his early life but would always make his way back home to Fresno St.
He grew up being active in boxing, playing sticks, fishing, hunting and running a muck.
Roddy began his own family early and kept his genes going strong for generations, having children ranging from 50 years old to 24 years old. "Chief Roddy" was married twice and was blessed with 9 children, 20 grandchildren, and one great grandson. His love for his family was undeniable. He had a unique relationship with all of his kids that they will always hold dearly. He had a true love for watching his family grow. Always excited for a new grandchild, niece or nephew; because that meant more babies to hold and more kids to tease. He would try his best to make it to watch his kids and grandkids play sports. He had a tight knit relationship with his seven siblings and their children as well. His nieces and nephews had a special soft spot for their "auntie" Roddy.
Roddy spent his life doing numerous jobs and was always on a hustle. He did labor work jobs such as construction on the bypass and the Klamath rock query. He was also active in the cannabis movement. But most notably he was a fisherman and gatherer. He spent every minute he could on the Klamath River gill netting for salmon or just having a good time. He learned to fish from his dad and his obsession for the river was indisputable. He was always outside and had a lot of knowledge about the land he grew up on. He enjoyed gathering indian tea, seaweed, berries, acorns, willow and spruce roots, and hazel sticks. He took honor in that he could help supply these things for his people to use to make baskets, to eat and to heal. Roddy was a proud member of the Yurok tribe; coming from the descendants of Weitchpec and Pecwan.
Roddy lived a full life. We have to admit that. He was the epitome of the saying "if you never slow down you never grow old." Anyone who knew him knew that he was a "fungi" with a hell of a lot of charisma. He was someone who would make you laugh and always have a joke or a wild story to tell. He was a smooth talker and a dancing fool. He could make friends with anyone and never passed judgement. He was good about helping people when he could and had friends all over the map. Many people can speak on his healing hands as well; being able to give healing massages. He could brighten up any room and would just randomly show up anyplace at any time. He was a car ass who enjoyed cruising and listening to music. Didn't matter where you were going, he was down to ride. Roddy enjoyed going to the casino and gambling with his friends and family. He was always ready to play crib or dice. With all of Roddy's radiant energy he also had a calming demeanor for people. He was a great listener and confidant. He was someone who would always be there for you if you needed him. Roddy was the type of person who if you met even once left a lasting impression.
Even though we feel that our Dad, Roddy left us a few years too early, he'd say "I would rather owe it to you then cheat you out of it."
Roddy Dowd you will be forever missed by so many. The stories are endless. We will see you on the other side Pops, have the crib board ready. Chuu' Until we meet again.
Roddy is survived by his love Angela Evenson. Children Israel & Kandis, Spaghe & Czarina, Rocky, Moonchay & Timber, Madison & Jake Flynn, Roxann, Nikki & Jeremiah, Guy & Marissa. Mother of his older children: Debra Earls. Grandchildren: Ryan, Justin, Collin, Ethan, Cecilia, Vinny, Dayton, Damian, Danner, Draiden, Myah, Farah, Autumn, Brody, Quespin, Little Rocky, Zaiden, Sa-miah and Jo-noah. Great-grandson Emile. Brothers & Sisters: Rhonda, Kathy, Ricky, Gary, Susie. Nieces and Nephews: Ch-mook, Sah-sep, Little Ricky & Rachel, Keshan, Numikoy, Thomas "Kahno" & Jessica, Kesi, Jake, Chelsea, Derek, Janie, Anita, and Jesse. Great Nieces and Nephews: Kit-Kah, Kagama, Range, Gerald, Phoenix, Alonzo, Nateya, Sueveya, Addie, Johnnie, Tara Grace, Estelle, Eliza, Nummie, Eli, Denise, Kylnn, Kyha, Josie, Aaliyah, London, Brylynn, Ashley, Lynnea, Levi, and Jiriayah.
He is preceded in death by his parents Frank and Venola Dowd. His brother Davy Dowd. His daughter Misty Dowd. His granddaughter Waukela Dowd. Nephews Gerald, Tyler, and Kaget Dowd. And Niece Tara Gordon.
Pallbearers: Gary, Ricky, Izzy, Spaghe, Rocky, and Guy Dowd. Jeremiah Swain, Jake Flynn Timber Scott, Johnny Provolt, Little Ricky Dowd and Thomas Gordon.
Honorary Pallbearers: Ch-mook Dowd, Donald McCovey, Phillip Vigil, Don David Valenzuela, Billy McCovey Sr., Robert Kinney Sr., Santee Martin, Bull Calf Donahue, Ted Pearson, Danny Mitchell, Kylee Ortman, and Jack Swain.
Services will be held Wednesday, September 15, 2021. His last boat ride will commence at 8 a.m. at Requa. A viewing will follow at Requa from 12-3 p.m. Graveside services will be at Crescent City Cemetery at 4 p.m. Arrangements are being held by Wier's Mortuary Chapel.
Please wear a mask and stay socially distanced.
###
The obituary above was submitted on behalf of Frank Dowd's loved ones. The Lost Coast Outpost runs obituaries of Humboldt County residents at no charge. See guidelines here.