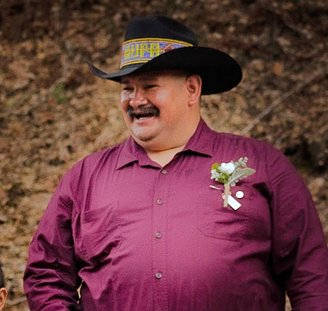 Arlen Wayne Reece-Doolittle Sr. was born on March 9, 1971 and began his journey to the other side on September 10, 2021.

Arlen was a proud Hupa tribal member and was well known for his loud, contagious laugh, deep voiced jokes, and his good, loving spirit. He was a compassionate husband, son, father, grandfather, great-grandfather, brother and uncle. A jack of all trades, if there was a need, Arlen was there. He was a great cook, handy-man, mechanic, you name it. Arlen truly enjoyed his time on the river, fishing and swimming alike. His love for time in the mountains will forever be admired and missed. He was an avid hunter, and skilled woodsman. He loved a good challenge and thrived off of providing to those in need.
Arlen took pride in his years of coaching soccer and baseball for his children's teams. One of his greatest joys was the time he invested in coaching traditional stick games (hand-picked and mentored by Roy Jones). In turn, he mentored and guided many of our local boys and young men not only teaching them how to play the game, but also how to be respectful and to live in a good way, always looking out for one another. Arlen was a very selfless person and had many friends, near and far. Wherever he went, he made new friends. He loved to talk and make jokes almost as much as he loved to dance. There is a Hopi saying that truly resonates with the memories of Arlen Doolittle Sr, "To watch us dance, is to hear our hearts speak." If you had the pleasure of knowing Arlen you know of his heart of gold and love for dancing. His pride and passion for his family and his traditional ways of providing not only for his family, but for his people.
He is survived by his wife Monda Doolittle, his mother Fern Doolittle-Rogers, his father John Rogers Sr., his uncle Kenny Doo, his children: Roseanna Aubrey (Frank Surber), Antone Aubrey IV, Arlene Doolittle (Jimmy Sanders), Virgil Doolittle, Starlene Bussell (Isaac Bussell), Arlen Doolittle Jr. (Melissa Phines), Raven Doolittle, Freddy Doolittle, Waterphall Doolittle (Lorenzo Rogers), Renee Doolittle, Kenneth Doolittle, Wes Marshall (Rindy Marshall), Shan Davis, & Mickela White, his siblings: John Burr Rogers Jr., Cinnamon Rogers, Ginger Rogers, Loretta Doolittle, Craig Reece,​ Soccer Reece, Filomena Harvey, Viola Marshall, Filmore Harvey Jr., Kachina Cossey. His 30 grandchildren, his many nieces & nephews & his Great-granddaughter Millie Blake all of whom, he loved sincerely.
He is preceded in death by his first wife Rachel Saxon, daughter Angel Aubrey, son Issac Saxon, nephew Roman Scott, Auntie Corrine O'neal, Auntie Mary Doo, cousins; Rachel Doolittle, Frank Doolittle, Fran Doolittle, Rodney Doolittle, Grandfather Reatus Doolitte Sr., Grandmother Virginia June Spencer, father-in-law Filmore Harvey.
Arlen Doolittle Sr. was an only child for his first twelve years of life and felt a strong desire for siblings. Because of that feeling he wanted to make sure his own children were never alone. That they always had one another to lean on. Family is everything. He will be missed dearly. His love went beyond his family, it's important to mention his precious baby "Minnie," the loyal black daschund, who misses him tremendously.
The wake will be held on Friday, September 17, 2021 at 6 p.m. at Arlen's residence on Tish-Tang Road.
Graveside services will follow on Saturday, September 18, 2021 at 9:30 AM on Fern Doolittle Rogers' property, Doolittle Flat. COVID-19 safety precautions are expected. Please wear your masks when in close proximity of others. If you do not have one, we will have masks and hand sanitizer on site.
Honorary Pallbearers: Kenny Doolittle, Eugene "Yogi" Saxon, John Rogers Sr., Thom Cooke, Virgil Blake Sr., Virgil Pole Sr., Robert Blake, Benjamin Spencer Jr., Mikey McCovey, Freddy Brown, Doug Brown, Sylvester Brown, Jason Rakestraw, Dwight "Corky" Vanpelt, Ralph Peters, Eddie Leach, Thomas "Smitty" Branham, Marion "Buck" McCovey, Filmore Harvey Jr., Robert Jackson, Bill Taylor, Greg Moon, Raymond "Guy" Baldy, Frank Ames, Warrior Sanchez, Abe Camez, Michael Gabriel, Melvin Marshall Jr., Perry Lincoln, Genuh Lincoln, Sots Lincoln, Owan Lincoln, Shisholuk Lincoln, Doug McCleode, Michael Robertson, Raymond Ferris, Delbert O'neill, Raymon Hayden, Charles Hayden, Robert Masten Sr., Billy Colegrove, Wes Crawford, Moses Hurley, Loren "Gizz" Colegrove, Rocky McNeal, Dean Powell, Greg Nelson.
Pallbearers: Virgil Doolittle, Arlen Doolittle Jr., Freddy Doolittle, Kenneth Doolittle, Shan Davis, Wes Marshall, Lorenzo Rogers, Antone Aubrey IV, Isaac Bussell, Burr Rogers, Blaze Carpenter, Craig Reece, James "Little Guy" Doolittle, Lonnie Wilson, Sebastian Ferris, Duane "Roogers" Carpenter, Jimmy Sanders, Doug Branham, Fabian Ruiz, Gabriel Anderson, 'A'de:ts Rogers, Julian Rogers, Cade Rogers, Aiden Rogers, Ryon Markussen, Daniel Masten, Jacob Gayton Jr., Tic-mil Ashley, Russell Marshall Jr., Frank Redhat, Klinton Hunsucker, Andrew Hunsucker Sr., Frank Surber, Damon Martin, Lawrence Hostler, Kimit Peters, Trout Peters, Sammi Jones, Josh Moon, Eagle Moon, Shawn Navarro, Leonard Smith, Robert Kelsey, Whits Marshall, Darvin Davis, Jess McGlaughlin, Sonny Jones, Mario Rangel, Timmy Bussell, Nolan Begay, Ronny Robbins, Harold Marshall.
###
The obituary above was submitted on behalf of Arlen Reece-Doolittle's loved ones. The Lost Coast Outpost runs obituaries of Humboldt County residents at no charge. See guidelines here.