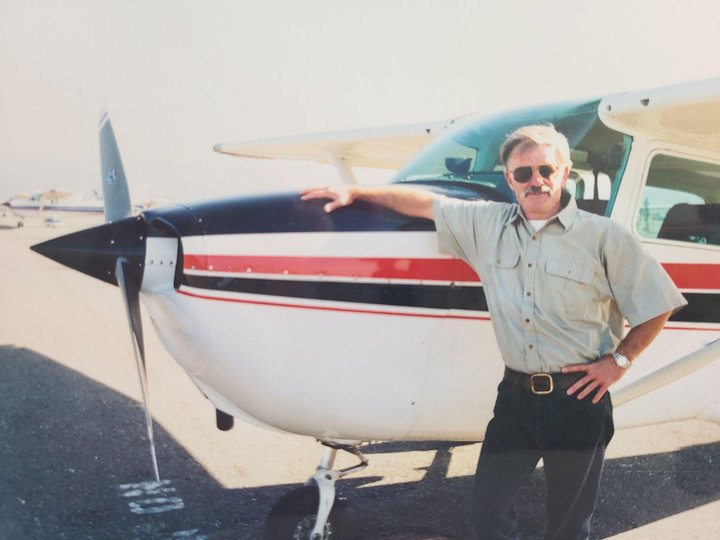 Our beloved father, Larry Jean Beattie, born June 6, 1947, passed away on August 24, 2021 after battling with COVID pneumonia for nearly a month.
At the age of 13, Larry started working for Fresh Freeze Enterprises, until he graduated from Eureka High School in 1965.
Just two days after graduating, Larry went on to join the United States Air Force where he was assigned to the 4392 Civil Engineering Squadron as an electrician in airfield lighting, base dispatch, and housing. He was later assigned to the 555 or Triple Nickel Combat Control Center Operations assigned as a Prime BEEF (Base Engineer Emergency Force) Member; he was to be shipped out anywhere in the world within a 24 hour notice; one of these stations included the Spy Ship Pueblo in North Korea.
Larry was also assigned to the 394th S.M.S (Minuteman) ICBM (Intercontinental Ballistic Missile) as an electrician in the Silo's.
Larry attained the rank of sergeant at the age of 19, the youngest of 38,000 troops. He became a ground safety non commissioned officer the last six months of service and was awarded the Outstanding Unit Citation from President Johnson and a while later was honorably discharged. Upon his return from the service, he worked for Wolverton Mobil in Eureka and Wallace Security in Samoa. While attending college, he worked for Simpson Plywood, eventually building a career with the Georgia Pacific Pulp Mill (later turned into Louisiana Pacific Corporation). In those 25 years, he worked at the power plant and was trained for 14 different positions.
Larry was diagnosed with Alpha One Antitrypsin Deficiency, a genetic form of emphysema in 1994 and had to retire from Louisiana Pacific. At that time, he was given a prognosis of just a year to live. He went on to defy the odds and lived an additional 25 years. Before his diagnosis, he loved to hunt and fish with his sons. Some of his other hobbies included building black powder guns, clocks, and model airplanes that he would fly out at Table Bluff with his children.
Larry loved to garden. He had a green thumb and grew a multitude of vegetables that he handed out to all of his family, friends, and staff at Home Infusion. He was famous for his jams and homemade applesauce.
Larry was a member of the Eureka Elks Lodge and enjoyed dancing with his wife Rose and cooking his own steaks on 'cook your own steak night'. When his illness limited him and he was not able to get out to dance, he would go and just enjoy visiting with good friends and watch others dance. He also enjoyed going to The Redding Air Show and admiring all the planes.
He loved family get-togethers with his kids and grandkids and was always telling jokes or tickling the kids until they squealed. One of his favorite things to do was going out to Petrolia for their annual barbecues at the Matol, a family tradition since he was a child that he carried on with his children and grandchildren.
Larry is survived by his wife Rose Beattie and step children William, Jennifer, James and Melanie, his three children; Troy Beattie, Aaron Beattie, and Emily Manfredonia; as well as grandchildren Mason and Madilynn Beattie, Austin and Connor Beattie, and Nicholas and Breauna Manfredonia; and Justin Benton, followed by great grandchildren Daniel Jr. Maxwell, Matthew Maxwell, Blaike Prigmore, and Bryleigh Prigmore, of whom he absolutely cherished; as well as his dog Dex and many other friends and family.
He is preceded in death by his parents Simon L. Beattie and Lucille L. Werts (Bishop), Grandparents Mr. and Mrs. Simon Lewis Beattie Sr. and Mr. and Mrs. Leonard Werts, as well as brothers Dennis M. Beattie, Jim L. Beattie, and Kim L Beattie.
The family would like to thank all of the staff at St, Joe's Home Infusion for not only caring for our father over the years during his treatments, but also the friendship and compassion that they showed him.
We would also like to thank the staff at St Joseph Hospital and Stanford Hospital for caring for dad during his many stays; he truly loved the visits from all the nurses and Doctors that cared for him.
In lieu of flowers donations can be made to the Alpha Association.
We will be having a celebration of life on September 26, from 2-4 p.m., at the Elks Lodge in Eureka for anyone that would like to come share your memories. In accordance with local laws, facemasks will be required.
###
The obituary above was submitted on behalf of Larry Beattie's loved ones. The Lost Coast Outpost runs obituaries of Humboldt County residents at no charge. See guidelines here.