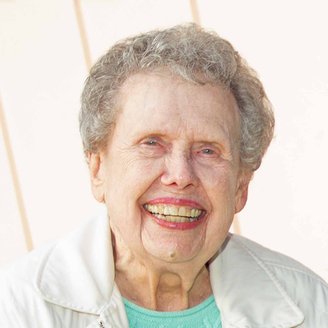 Carol Jean Dillon passed away surrounded by her daughters on September 13, 2021. She is survived by her husband of 71 years, David Dillon; her daughters Deby Wiley (Gary) and Cyndi Hovis (Bill); grandchildren, Sarah Williams (Jon), Paul Wiley (Geri), Leah Bierwerth (Guy), Joel Wiley (Emily), Samantha Hovis, and Clark Hovis; and great-grandchildren, Olivia, Madeline, Minte, Ellington, Ethan, Benjamin, Joshua, Addison, Hudson, and Gabriel.

Carol was born on January 16, 1929, in Salem, Oregon, to Herman and Lois Miller. She was the oldest of three girls, and the Miller sisters were very close throughout their lives. Her father took a new job and the family moved to Olympia, Washington, where she graduated from high school in 1946. As was family tradition, Carol enrolled at Oregon State University in Corvallis and joined Alpha Xi Delta sorority. During a Christmas visit back home in Olympia, she attended a DeMolay and Rainbow Girls party with her middle sister, Norma, where she was introduced to David Dillon and they began dating. In June, 1950, Carol graduated from OSU with a degree in Home Economics. She and David were married in August of 1950 on David's birthday. He always boasts that the best birthday present he ever had was marrying Carol.
Following their wedding, Carol started teaching home economics in Tenino, Washington. One of her favorite memories was that, during her second year of teaching, sister Norma moved in with David and Carol and started teaching at PE at the same school. The sisters shared a can of Campbell's soup everyday that year trying every flavor the company made. The couple moved to Olympia, Washington, where their first daughter, Deby, was born. The next move was to San Francisco where daughter Melanie was born and David was working in the banking industry.
After receiving a promotion at Crocker bank, Carol and David moved to Humboldt County where he served as the bank manager at several locations. While in Scotia, they welcomed their third daughter, Cyndi. Carol was known for being a delightful host and throwing amazing Christmas parties in their home. Sadly, in 1961, daughter Melanie died in an accident. During the famous flood of 1964, they opened their home to other residents trying to escape the fierce floodwaters of the Eel River.
In 1966, the family moved to Arcata, and Carol started working for PG&E as a home economist. She toured county fairs and provided cooking demonstrations and school programs, focusing on the new technologies and appliances of the time. Carol told her grandkids about being one of the first women in the area with a microwave and teaching others how to cook different foods with it. As Carol's career advanced at PG&E, she hosted a television program segment on KEET called "Cooking with Carol." Her youngest daughter Cyndi remembers being the guinea pig for all of her new concoctions that she would eventually showcase on the program. At that time, Carol was a local celebrity, and her phone would famously ring off the hook at Thanksgiving time as she fielded questions about turkeys and stuffing. Her love for cooking and helping women spend less time in the kitchen made her an incredible force in the community.
In 1976, Carol and David moved to Eureka. The couple began hosting exchange students through the Rotary International program. It was their joy to open their home for over 20 years developing close relationships with the students, their families and other Rotary clubs. As the exchange students had their own families and jobs, they would often come back to Humboldt county to visit Dave and Carol. These visits were precious to Carol and showed the impact she had made on their lives.
After retiring, Carol and David traveled extensively around the world. They especially loved their visits to Hawaii enjoying the flowers and sunsets. Annual cross-country treks to visit their children, grandchildren, and great grandchildren were a must, and they tried to hit a different route each time. When Carol arrived, she would pop the trunk and pull out boxes of homemade apple sauce and jams. The grandchildren recall that it was always a treat to see which flavors she had made that year! Carol and David never missed a milestone for the grandchildren: no high school/college graduation, wedding, or birth was missed. Carol made quilts for each grandchild when they graduated from high school, making sure to incorporate fabric patterns that showcased their hobbies and talents and favorite colors. Throughout the years, Carol never missed sending birthday and Christmas cards to family, exchange students, and friends.
Besides traveling, Carol was an active member of Quota International and PEO (Chapter TD), participating in church events, leading 4-H and Camp Fire groups and leading the Women's Quilting Guild at the Presbyterian Church. Throughout the years, she generously donated her time to making baby quilts, sewing pillows, and many other needlework projects. When she wasn't busy volunteering, she was happily humming in her garden tending to her beautiful roses.
Carol will be greatly missed by her family. Her giving and loving heart touched many people throughout the years, in the local Humboldt area and abroad. Proverbs 31:28-29 states "Her children rise up and call her blessed; her husband also, and he praises her. Many women have done excellently but you surpass them all." Carol's thoughtful and perfectly timed cards, warm smile and generous demeanor are the legacies she leaves behind. In lieu of flowers, please donate to the Sequoia Park Zoo Foundation, PO Box 123, Cutten, CA 95534 or the Humboldt Botanical Gardens, PO Box 6117, Eureka,CA 95502.
The family wishes to thank Dr. Paul Shen at St. Joseph's Hospital and Larona Farnum and her staff for their kindness and loving care.
A memorial service is scheduled for October 16, 2021 at 4 p.m. at First Presbyterian, Eureka. The family requests attendees come in Hawaiian/bright colors to celebrate Carol's life.
###
The obituary above was submitted on behalf of Carol Dillon's loved ones. The Lost Coast Outpost runs obituaries of Humboldt County residents at no charge. See guidelines here.