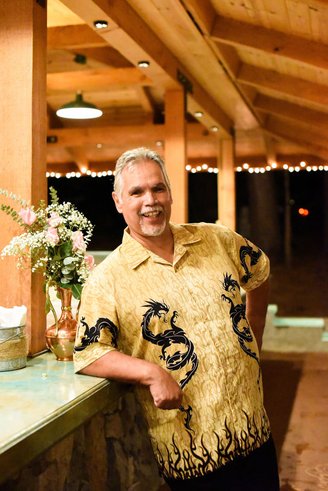 It is with a very heavy heart we announce that on September 4, 2021, Michael (Mike) Gaspar Anaya (61) passed away at St. Joseph's Memorial Hospital in Eureka. Michael, or Mike, as he was affectionately called, was born in Los Angeles on January 6, 1960 to Henry G. Anaya, Sr., and Delores Anaya (Nee Valenzuela). Mike spent most of his life in Fortuna. He liked to joke that he was the "middle child," as he had five siblings before and five after him. Being one of 11 siblings was both rewarding and difficult at times, but Mike always valued and prioritized his family, and kept in touch with them all, going to as many weddings and events as he could, always the first to offer help when they had fallen on hard times.

Mike was working for the CCC when he met the love of his life, Tina Barnett, whom he married on April 30, 1983. They welcomed their first child, their daughter Amber, in July 1982 and then Michael (Mikey) Jr. a short while later in June 1983. Being a father was Mike's self-proclaimed "best thing he has ever done." The adoration he had for his children was comparable only to the love he had for his wife. When he wasn't working, he spent his days teaching his kids martial arts, earning his second-degree black belt with Mikey earning his first-degree black belt beside him. He also loved working on and restoring classic cars, a passion he also passed on to his son. They were known in their small community by the beautiful Chevelles and Camaros they would drive around town and in the Fortuna Auto Expo every year.
If you didn't know Mike as a member of the large "Anaya Family," you likely knew him from his lifelong career as an engineer in the power and mill industry. He began working for PL in 1987, now Humboldt Saw Mill Power Plant, and stayed with the company for 30+ years. His co-workers valued him as a hard worker who treated everyone with respect. The men on his crew found themselves lucky to have him as their leader, saying he would "work his fingers to the bone to help anyone he could."
Growing up Mike always welcomed his family out to their beautiful home in Carlotta. His nieces and nephews have fond memories of driving out to his home in the summer to visit him and his many pugs, walking down to the local store for popsicles. Mike loved animals, he always had dogs and cats, and would feed the deer that would flock to his backyard every morning. He was always making people laugh, Mike had a distinct and contagious sense of humor that could easily break the ice and brighten the stiffest of gatherings. He was fun, he was kind, generous and loving, a real "gentle giant." He didn't get involved in any gossip or bickering, something that is bound to happen in large families, and never chose sides. He was there for each and every family member equally and to the end.
Mike was just a wonderful man, a wonderful husband, father, uncle, son, brother, and – of course - his favorite title, "papa." Watching his daughter become a mother was such a blessing for Mike, and becoming a grandpa changed his life; the sun rose and set on Dominic, he treasured him and was his biggest fan, celebrating every milestone he conquered and accomplishment he made. Since he couldn't be there in person, the wonderful staff at St. Joseph Hospital provided a tablet for him to watch his son, Mikey, get married to his beautiful wife, Jessica, shortly before he passed. He was so happy for him to experience this new chapter in life. He was confident Mikey will be the loving husband and attentive father that he raised him to be. He beamed when he spoke of his children and his grandson, he knew how lucky he was, and never took it for granted.
Mike is preceded in death by his mother, Delores Anaya and father, Henry G. Anaya, Sr., and brother, Steven Alan Anaya. He is survived by his wife, Tina, his daughter, Amber (Peter Guerrero), and their child, Dominic Guerrero, as well as his son, Mike Anaya Jr. (Jessica), his nine brothers and sisters: Henry (Denise), Jack, Hope (Kit King), Tim (Suzie), Dorothy, Faith (J.R. Rosales), Rick, Tina (Logan Twitchell), and Ray (Michelle). He also leaves behind a large extended family, with many nieces and nephews and great-nieces and nephews.
We would like to extend our gratitude to the doctors, nurses, and staff at St. Joseph's Hospital in Eureka. We are so grateful for the care they provided Mike, we know they did all they could under the circumstances and appreciate the kindness, compassion and comfort they provided in his final moments. We would also like to thank everyone who has sent their condolences, we feel the love you are sending every day, please know it brings us comfort to know how much light and joy Mike brought to the world and to everyone who had the gift of knowing him.
A memorial for Mike will be announced and held at a later date, as his family mourns for the future they expected, and grieves the passing of a wonderful man gone far too soon.
###
The obituary above was submitted on behalf of Mike Anaya's loved ones. The Lost Coast Outpost runs obituaries of Humboldt County residents at no charge. See guidelines here.