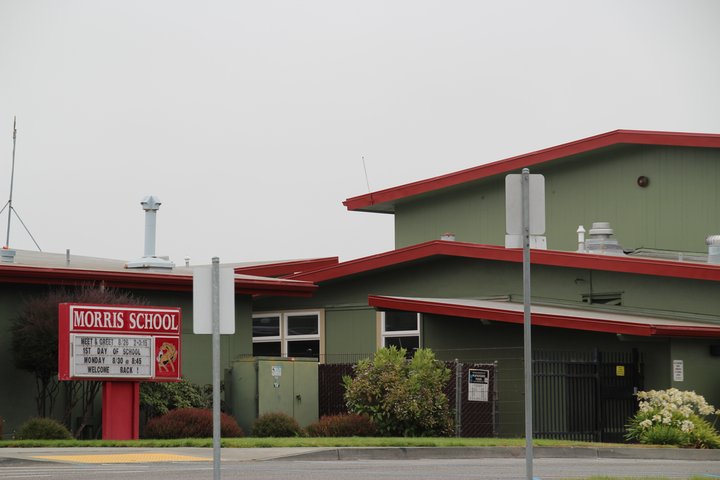 ###
It's back-to-school season, and for some of Humboldt's 18,000-ish elementary and high school students, that means back to campus for the first time in 18 months.

"School is alive and well," McKinleyville Union School District Superintendent Heidi Moore-Guynup told the Outpost. This week is MUSD's first week back.
"Kids are happy to be back, teachers and staff are happy to serve their students and there is a general feeling of relief on the part of all. Our parking lots were full of eager families dropping their children off, some of which for the first time in over a year. Our McKinleyville Schools are certainly the hub of energy in McKinleyville at the moment."
But some parents, especially those of young students who can't be vaccinated, are feeling the opposite of relief. Sending their kids to "normal" school during Humboldt's most devastating surge is pushing these parents' stress levels to an all-time pandemic high.
"I feel like I'm about to send my son to the lion's den," one mom, whose 10-year-old son attends school in McKinleyville, told the Outpost. (This person asked for her name not to be printed; we'll call her Stella.) "It's just a situation where we're actively still in a pandemic and our numbers are way worse than they ever were before, and here we're going to open everything back up," Stella said. "I think that it's insane."
Regardless of whether local schools agree that opening up is insane — though none have indicated they do — it isn't a choice. California law mandates in-person instruction this fall, with an independent study option for those still wary of going on campus. It replaces last school year's distance learning, which usually involved live remote video classes. Independent study is less interactive and places more responsibility on parents, and, in most cases, it's not an option for students with an Individualized Educational Plan (IEP).
Stella's son can't learn through independent study because he has an IEP. "It's in his best interest to be in person and have that hands-on learning, but these children are not old enough to be vaccinated," Stella said. "Am I the only person worried about this?"
She doesn't think it's worth it.
Full campuses are a huge change following the 2020-2021 school year, when COVID had most school districts offering fully online or hybrid models at a fraction of a normal year's instructional minutes. Back then, choosing whether to reopen was up to individual districts.
From learning loss to mental health, last year's challenging learning conditions left lawmakers determined to safely reopen classrooms. If safety measures — like vaccination of those eligible, masking, proper ventilation, disinfection and screening testing — are properly layered, the risk of spread in schools is low, the Centers for Disease Control and Prevention claims. Transmission levels in students are generally less than or equal to community transmission rates, according to CDPH.
Humboldt's case rates are higher than ever, and open schools around the county have already had a few positive cases and sent students into quarantine to prevent in-school transmission.
"I think we will definitely see an increase in cases from the schools," County Health Officer Ian Hoffman said at a media availability last week. But "almost all of these are gonna be kids who are getting it outside of school. We really haven't seen any in-school transmission across the state."
That's been the case at Ferndale Unified School District, which offered in-person instruction throughout the 2020-2021 school year. The district did need to quarantine a couple of elementary cohorts but had no secondary transmission, said Superintendent Beth Anderson. "That's a good indicator that our protocols are working," Anderson said. "I'd say we were extra extra careful last year."
Aiming to keep students in the classroom, CDPH developed "modified quarantine" prior to the beginning of the 2021-2022 school year, which allows potentially exposed students to continue attending classes in-person if they were masked when exposed to the COVID-positive individual, have no symptoms, and test twice weekly over the 10-day quarantine period.
Social distancing protocols for schools have also changed dramatically since last school year. The CDC does recommend an attempt to distance indoors by three feet, but recognizes the unlikelihood of that in a full classroom — which is more important, it says — and suggests compensating by layering other safety measures.
Parent Johnny Kell told the Outpost he thinks the recommendations "seem to be written for the wrong variant."
Elementary schools are "unguarded reservoirs of unvaccinated individuals," said Kell, who works as a nurse for the Northern Humboldt Union High School District. "I have made the very difficult decision to keep my two kids under 12 home until vaccinated, which couldn't come sooner."
Stella is afraid that the safety measures will be impossible to enforce. She worries that kids will take off their masks or wear them improperly; that there won't be enough surveillance in bathrooms or during breaks, recess and lunchtime. "Kids are gross. I could probably use better language, but they pick their nose, touch the door handle," she said. "It's really alarming."
She thinks transmission will happen in schools.
This summer's delta-driven spike has not overlooked the county's school-aged population. Though kids continue to be at the lowest risk for serious illness, kids, like adults, are more susceptible to delta than other variants. For both the 0-9 and 10-20 age groups, nearly 25 percent of total positive cases have been in the last month (total case numbers 555 and 921, respectively). Four locals in the 10-20 age group have been hospitalized, two in the last month. A third to half of eligible teens are fully vaccinated, and kids under 12 are still waiting on their vaccines, which have no solid approval timeline.
Humboldt schools have implemented most recommended safety measures, but many continue to evade one practice supported by the CDC and CDPH.
Screening testing, or surveillance testing — regularly testing several students at random in an effort to prevent outbreaks — is a safety measure available to California schools thanks to state and federally funded programs that supply tests and test-administration training. Because screening testing is not a requirement and is challenging, most local schools aren't utilizing that option. On top of needing parental consent, schools lack the infrastructure and personnel to mass administer tests to students, a few administrators told the Outpost in May.
In May, though, the county was in a very different place COVID-wise, and most schools only had a fraction of their student body on campus at a time. Considering what's changed since then, some guardians wish schools would start screening testing students now to prevent an outbreak.
"We should be as proactive as we can," said Carl Young, whose 11-year-old granddaughter Emily goes to school in Fortuna. He corresponded with the school district's superintendent over the summer, asking for the implementation of on-campus surveillance testing, without any luck. "Schools are trying to operate within the confines of their physical buildings," he said. "It's a lot of kids. I don't know if it's possible."
But Emily loves school and doesn't want to learn through independent study, so she's back in the classroom alongside most Humboldt County kids. "Things seem to be going pretty good," Young told the Outpost. He's comforted by California's teacher vaccination or weekly COVID test mandate, and kids seem to be following the rules and keeping their masks on, including Emily. "She is a full-on mask wearer, which is great," Young said. "In fact, I can't get it off of her."
But because Emily's grandparents are raising her, anxiety lingers in the Young household. "Anything that happens at school could be brought home to us," Young said.
Very few of Humboldt's 30-plus districts outline an intent to implement screening testing (or any on-campus testing for students) in safety protocols on their websites.
Rachel Price, whose two kids are fully vaccinated, opted to enroll her 12-year-old son in independent study. "I do not feel that we have a handle on this virus enough to risk letting him go to school in person," she told the Outpost. "Half of the people here are kinda being careless and willy nilly with their day-to-day life like the virus does not exist."
Price let her daughter, who is a senior in high school, decide to go to school in person. But two days in, her daughter came home with stories of non-compliant students and decided to transfer school districts. "I have a feeling she will be right back to distance learning anyways. I predict that schools will shut down again," Price said.
The four families we spoke with share doubt about whether opening schools is safe, but Humboldt's communities have some parents who feel the opposite. In Ferndale, Anderson said that quite a few parents have resisted the mask mandate, arguing that masks are harmful to social-emotional health and young kids' ability to learn phonetics. Moore-Guynup, superintendent of McKinleyville Union School District, told the Outpost that one parent filed a formal complaint about masking.
But "most families are super appreciative to have their children back in school and have been very cooperative with our COVID-19 safety protocols and expectations," Moore-Guynup said.
"It is good to be back in person. As proud as I was of our ability to offer a high-quality distance learning program, nothing beats the joy of seeing student learning in person that is also real-time."