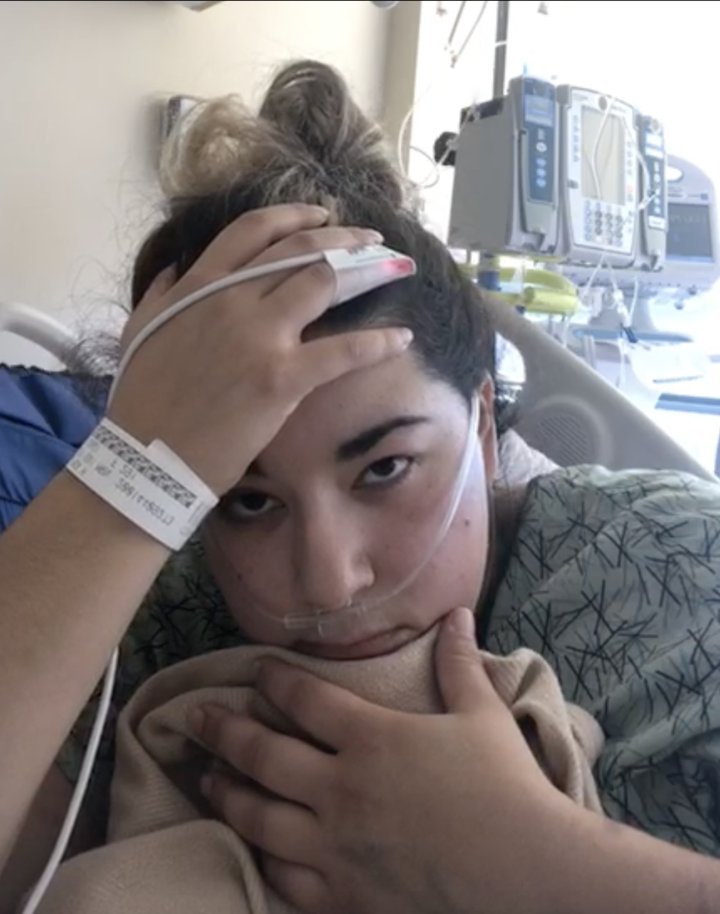 ###
Linda Urbina, a recently engaged, 29-year-old mother of four, has been posting videos of herself from her bed at Eureka's St. Joseph Hospital, speaking directly into the camera between ragged breaths as she struggles with COVID-19.
She's posting the videos to Facebook and urging people to share them as documents of what can happen if you don't get vaccinated. She wants to speak to the community despite how hard it is to talk, despite the heart pains caused by complications from the virus and despite the constant anxiety she feel separated from her family, unsure whether she'll even survive.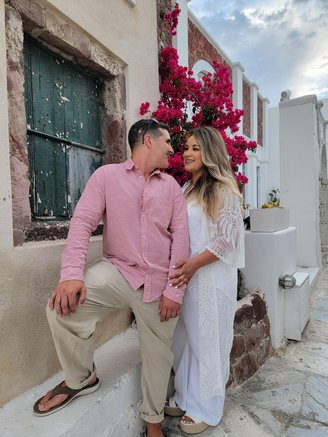 "It's important so everyone can see," she says in a video posted Thursday. "Nobody documents this shit. Why not? All you that have been sick with it, how come you guys don't post how you felt? It would definitely help others."

In the videos, Urbina talks about her painful conversations with her worried family, her dreams of starting a tequila business with her dad and the symptoms racking her body.
"I feel like I'm in a fucking boxing match — round 50," she says in one video, immediately before suffering a coughing fit. When she recovers she says, "I'm fighting so hard, you guys."
The Outpost reached out to Urbina on Thursday night via Facebook Messenger and asked what she would like to tell the community. Our interview with her, below, has been lightly edited for length and clarity. You can also scroll down to see one of her recent videos.
###
Lost Coast Outpost: What would you like people to know?
Urbina: To get vaccinated. This is horrible. What it is like to be alone feeling hopeless with kids at home.
LoCO: How long have you been hospitalized?
Urbina: Since Tuesday. Ambulance brought me from Weott. I live in Weott. Grew up in Scotia.
LoCO: How many kids do you have? How old are they?
Urbina: Four. Two 13 yr olds, a 7 year old and 1 baby. [The] baby is 1 year 6 months.
LoCO: What's your status? Are you getting any better or worse?
Urbina: Complications every day! I feel good then all of a sudden something happens. I am having heart problems now due to covid. I am passing clots also. Through my urine. All covid related.
LoCO: That sounds scary. Why did you choose not to get vaccinated?
Urbina: I was pregnant and scared [that the vaccine would harm the fetus]. I ended up having a miscarriage on aug 17th and covid hit my house Labor Day weekend.
[Note: The CDC recommends COVID-19 vaccination for all people 12 years and older, including people who are pregnant, breastfeeding, trying to get pregnant or might become pregnant in the future. Read more here.]
LoCO: May we download your videos? They're very powerful and I think they could do a lot of good.
Urbina: Yes. I want to try to save lives! I am 29 years old!!!
LoCO: What are the doctors telling you?
Urbina: I have to be here 3 more days to finish treatment. But I will be on oxygen tank for a while. This is going to be a long recovery. I'm trying so hard
LoCO: You've been struggling to breathe?
Urbina: Yes! Breathing is the worst. I cannot be without the oxygen. Now anxiety is hitting. Being here alone is so difficult.
LoCO: Is anyone else in your family sick?
Urbina: We all had it. Six of us. Everyone had it for 1-2 days. I was the last and worst.
LoCO: Do you have any underlying conditions?
Urbina. No. Healthy girl my whole life. Never thought I would get it like this.
LoCO: We are grateful to you for sharing your story.
Urbina: I hope Humboldt listens.
###
This morning she sent photos of Post-It notes filled with a list of her medications: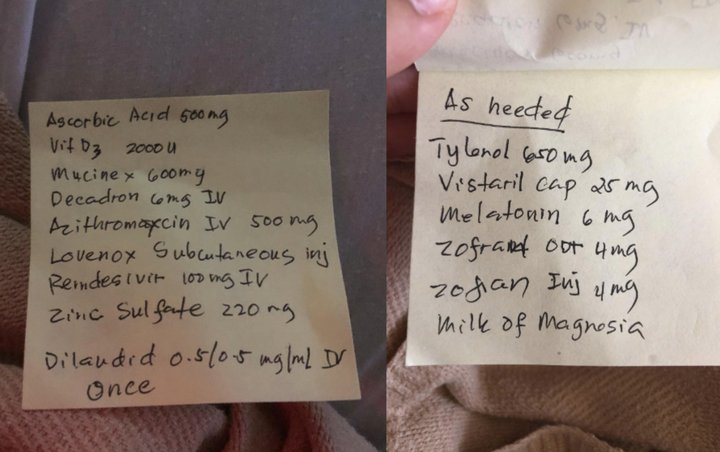 She doesn't know how her body will react to all of them. "It could harm my organs for sure, the treatment," she said.
You can see more of Urbina's videos on her Facebook page and read another story about her experience on Redheaded Blackbelt.