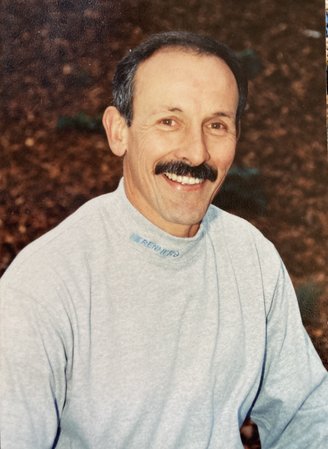 Steven John, loving husband, dad, brother, grandpa, uncle, and friend passed away on August 31, 2021, from complications following surgery. Steve was born to Alfred and Belle John on April 18, 1947, in Oakland.

Steve started working at a very young age doing various jobs, including washing dishes at a local hospital and a tire shop. His work ethic was exemplary from the beginning and he appreciated every job he had and gave it his all. Steve was self motivated and extremely curious about how things worked. When Steve was in 7th grade he decided he wanted to learn how to swim so he could join his friends at the local public pool.
Steve checked out a book at the library and taught himself how to swim by reading that book from cover to cover. This is just one example of how Steve faced a challenge. After graduating from St. Elizabeth High School in 1965, Steve planned on attending Seattle University, but after his dad suffered a disabling injury, he decided to enroll at San Francisco State to be closer to home during his dad's recovery. While at SFU, Steve majored in Civil Engineering and played basketball for one year as a "Gator."
In the spring of 1966, Steve was set up on a blind date by a good friend. This is where he met his loving wife, Ann Cerruti. That fall, like many of his close friends, Steve enlisted in the Marine Corp. He was stationed in Hawaii before his tour of duty in Vietnam. During his time in the service he and Ann wrote to each other and after Steve returned home, they knew they were meant to be together.
After returning home, Steve enrolled at Chabot College in Hayward to complete his AA while Ann was completing her BA at College of Notre Dame in Belmont and would then pursue a teaching credential. During this time, a childhood friend of Steve's mentioned a trip to Humboldt State that he had taken for homecoming. He spoke of the "beautiful" weather and the amazing scenery. This sparked Steve's interest. He could complete his degree and Ann could earn her credential. Following their engagement in the winter of 1969, they drove up to visit the area with Ann's grandpa, Louis Bertain. Ann's family was very rooted in Humboldt County and it seemed to be the perfect place. Following their wedding in 1970, they loaded up their VW beetle and headed north. Shortly arriving in Eureka, they attended the 7 o'clock mass at St. Bernards Church. It was there that the pastor introduced them to several young couples who would become some of their life long friends.
The summer they arrived it rained, and rained. Once they got used to the weather, they settled in and finished their schooling at HSU. Ann started her first teaching job and Steve took 24 units each semester to complete a new major in Social Welfare. Steve hoped to be a juvenile probation officer, but after interning he was disappointed in thesystem and decided to pursue different paths. Steve's first job in Humboldt was working at the tire shop at Montgomery Wards. From there he went to work for Mendes Supply and acquired a Commercial license.
Steve and Ann started their family in 1976 with the birth of Matthew. Katie and Michael followed in 1978 and 1979. Ann quit her teaching job after the birth of Matthew and she thanked Steve daily for the opportunity to be a stay at home mom. The next years were busy with school and sporting events for the kids. Every weekend was traveling for games, tournaments, and wonderful family time in the famous "Barney" blue bus. During these early years, Steve worked for Ken Bareilles Logging. For many years there was a log truck parked in front of the house and the kids accompanied Steve on many truck rides out to log decks and to the shop. Working for Ken allowed Steve to work around his family schedule. Working very long days didn't stop Steve from attending every sporting event or school function. Steve was always thankful to Ken for giving him the opportunity to be his own boss. Steve loved the outdoors and driving a logging truck gave him the chance to be outside and see parts of Humboldt County that many rarely get to see. While working for Ken, Steve learned to weld, honed his mechanic skills, and learned how to repair almost any piece of equipment. Steve and Ken continued to work together throughout the years and Steve especially enjoyed going up the ranch or working in the field at the bottom of "O" Street with both Ken and his brother, Paul.
During the kids' high school years, Steve was part of the Crusader Athletic Board. He enjoyed being around the kids, parents, and especially loved the Sunday bingo games. He always came home with a story to tell. He could often be found in the snack bar during Babe Ruth games, Crusader football games, and barbequing during soccer games. As the kids got older and started their own journeys, he volunteered his time and skills to Soroptimist of Eureka, Humboldt Botanical Garden, Main Stage Humboldt, Freshwater School, and to anything else that Ann volunteered his services for. He never said no and would help anyone. If you were family, a friend, a friend of a friend, or a friend of his kids, he would offer his help without hesitation.
Following his time in the logging industry Steve became a full time diesel mechanic for the next several years. He worked at Roebucks, Cummins West, and Redwood Reliance Peterbilt and really enjoyed time in the shop with his fellow mechanics. Upon his retirement in 2011, Steve continued to work in many different capacities. He was a carpenter, electrician, plumber, painter, chauffeur, handyman extraordinaire, and the first one to offer help. Steve was the MacGyver in the family and could fix any problem. Retirement allowed him to put even more work into their Victorian on Buhne Street. Every nook and cranny of their home has his magic touch. Most of his skills were self taught and his handy work is shown throughout his home as well as many others. Anyone who had the pleasure of knowing Steve would say he was an amazing listener.
He was famous for running a quick errand and arriving home an hour later. It never failed that he would run into someone he knew and catch up on their latest family news. He genuinely cared about people and every conversation mattered to him. We can only guess that Steve knew more about others than they did about him. He was selfless and humble and didn't feel like he needed to be acknowledged for his gifts. To him, that is just how everyone should be.
Steve was blessed to be able to see his grandchildren grow and was affectionately known as Pops. He was ever present and fully in the moment when they were together. He spent many hours on the floor playing games, attending school and sporting events, and simply enjoying their company. He was a master Playdoh sculptor and his artistic skills will go down in history.
Steve loved being outside. He looked forward to the summers when he could take his bike and canoe to Whiskeytown Lake and enjoy a day in the sun. Steve, Ann, and the kids spent their summers camping around Humboldt County and making trips to the Bay Area to visit family. He started skiing again when he was 61, and was able to share that with his kids and grandkids. He loved to be up on any mountain and really loved skiing because it gave him the opportunity to meet people on the lifts. He never met someone he didn't like. Steve had the opportunity to enjoy many things with his children including attending professional soccer games, concerts, hikes, road trips, and even a cross country trip by train. Steve didn't need much to be happy or to enjoy himself. All he needed were some laughs, some sun and the people he loved.
Steve took care of those he loved in a way that is hard to put into words. He put himself last and everyone else first. He anticipated everyone's needs and was often "just in the neighborhood" right when help was needed. He took great pride in his home and could be seen in the early morning hours picking up litter in front of the house, or painting over graffiti that appeared overnight. Steve was an amazing and attentive husband to Ann. He took care of her and the kids with true intention and purpose. His nature was to support others. He didn't judge. He was grateful for what he had and never wanted for anything.
Steve is preceded in death by his parents Alfred and Belle John. He is survived by his best friend and wife of 51 years, Ann, his children, Matt John (Robin) of Eureka, Katie (Joe Hall) of Arcata, Michael John of Granite Bay, grandchildren Sabine John, Amelia and Ruby Hall, and Zeke and Izabella John, sister Rosemary Thierolf of Seattle, numerous nieces, nephews and cousins. He also leaves behind a large extended family including the Bertain, Cerruti and Davi families. Steve also leaves behind his dear friends Ken and Paul Bareilles who meant so much to him and never ceased to make him laugh.
The immense grief we are feeling over this loss is at times unbearable. We would like to thank everyone that has reached out to us over the last few weeks. It has brought us comfort to read your words and to know you share in our love and admiration for such an amazing man. Memorial donations can be made in Steve's name to the Wounded Warrior Project (support.woundedwarriorproject.org) or Tunnel to Towers (t2t.org). A celebration of life will be announced at a later date.
###
The obituary above was submitted on behalf of Steven John's loved ones. The Lost Coast Outpost runs obituaries of Humboldt County residents at no charge. See guidelines here.