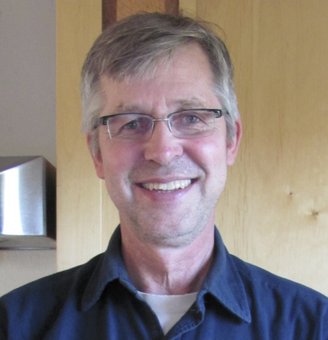 John David Olson
September 25, 1956 – August 16, 2021
John was born in La Grange, Illinois and attended Cossitt Elementary School and Lyons Township High School. He was a journalist for the high school newspaper, played intramural basketball and had many friends. John was active in Boy Scouts through grade school and high school. He developed a lifelong passion for camping and spending time outdoors on the many camping trips with his family and his Boy Scout troop.
John studied forestry for two years at the University of Illinois, then travelled to Alaska for a gap year. Spending a winter washing dishes in a hospital in Fairbanks inspired him to return to college. John graduated from the University of Illinois in 1981 with degrees in Mechanical Engineering and English, then headed west in search of work and adventure. He worked at Silicon Valley start-ups, including Agile and Sherpa, where he was valued for his quick intelligence and strong interpersonal skills. He was frequently sent to troubleshoot problems in the field that required the combination of technical skills and the ability to communicate with people at all levels of the clients' organizations. During this period John lived in Sunnyvale, Palo Alto, and San Jose. In his off time John found adventure skiing, backpacking, and traveling, including trips to Nepal, France, England and Italy.
John was community oriented and loved volunteering. In San Jose, he was active in the preservation of historic buildings and was very involved in his Naglee Park neighborhood. John married Kathleen Carlson in 1998 and they moved to Bayside in 2003. They later divorced but remained friends.
After moving to Humboldt County, John became involved in the local beekeeping club and the Humboldt Amateur Radio Club (HARC). Dear friends from HARC, Rod, Gail, and Wyatt Ledbetter helped John feel at home in Humboldt. John communicated with the ham radio group to coordinate event security, medical, and staff at many races and festivals. His favorite event was the Kinetic Sculpture Race. John was always delighted to be out talking to people and was often accompanied by his friendly dogs, Tug and Magill, who lured people into John's conversational orbit. He was a volunteer at the Bayside Grange pancake breakfasts and a devoted Crabs baseball fan.
In 2009, John used his skills with sound recording to help create the documentary film, "Tricky Bidness", and developed a new friendship with film maker, JoAnn Schuch. They had a wonderful time attending film festivals and celebrating with local people who participated in making the film. Later John assisted in the creation of Redwood Coast Village, a local group that coordinates volunteers to help seniors stay in their own homes.
John was diagnosed with colon cancer in 2009. Through cycles of chemotherapy and radiation, he lived with grace for 12 years, continuing to be a part of the Humboldt County scene. John kept an eye on Eureka's old town and was a fixture of the Arcata evening scene, meeting with friends in Humboldt Brews and The Alibi Restaurant. He especially enjoyed the hospitality of the folks at Libations Wine Bar and Shop. Nursing a glass of wine, John would chat with people, watch activities on the Plaza and do his New York Times crossword puzzles.
A true pleasure was his Thursday Night Trivia group. John loved the humor, fun, and twisty puzzles. This raucous group was a huge comfort and support to John, especially during the pandemic when they were able to continue online.
John Olson made lasting friendships that stretched from his hometown to every place he lived and worked. He loved being a tour guide and welcomed visitors. Wherever he went he touched many lives. John was a true gentleman: thoughtful, compassionate, intelligent, soft-spoken, and loyal to friends and family, a man who was genuinely interested in other people. He will be sorely missed.
Preceded in death by his father, Irving Olson and mother, Claribel Olson, John is survived by his sister, Jane Olson and her husband, Frank Isaacs of Philomath, Oregon, his niece Wren Isaacs and nephew Eric Isaacs.
The friends and family of John Olson would like to thank the staff at St. Joseph Hospital Oncology, the nurses of the Outpatient Infusion Center, and the people of Resolution Care. The family asks that any donations be made to the Redwood Coast Village in John's name.
###
The obituary above was submitted on behalf of John Olson's loved ones. The Lost Coast Outpost runs obituaries of Humboldt County residents at no charge. See guidelines here.