###
To the delight of many and the chagrin of some, Eureka will embrace a more sustainable way to move about and explore the city this spring with a new e-scooter system.

The City of Eureka entered into a contract with Bird Rides Inc., a Santa Monica-based electric vehicle company, late last year to launch a one-year e-scooter pilot program.
"Our mission is to improve the quality of life in cities by reducing traffic congestion, improving air quality, and providing affordable and reliable alternative transportation options," Bird representative Michael Covato said during a presentation to the Eureka City Council on Tuesday. "The way our system works is very similar to some of the bike-share systems you might already be familiar with."
To access the scooters, users will download the Bird app on their smartphone, create an account, watch a brief safety tutorial video and scan a QR code to unlock the device. Those without smartphones will be able to access the device through Bird's text-to-unlock feature.
"At the end of their ride, the user is required to photograph the scooter to prove that they have parked it appropriately," Covato said. "Part of our technology includes a real-time [artificial intelligence] feature that can detect whether the scooter is actually in frame within that photograph. If an individual tries to pull a fast one and snap a photo of their feet, the system will actually kick them back and oblige them to take a photograph of the scooter itself."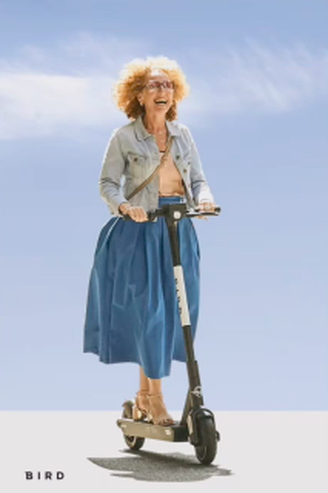 The scooters cap out at 15 mph and are equipped with a headlight and brake lights to ensure high visibility during low light conditions. They are also subject to geo-fencing technology that determines where the scooters can and cannot go.
Bird will employ a local fleet manager with an annual salary of about $70,000 to oversee the day-to-day operations of the 100 scooters and make necessary repairs.
To further incentivize safe riding behavior, Bird introduced the industry's first "helmet selfie feature," which provides a credit to the user's next ride if they snap a pic while donning a dorky helmet.
"This is done in combination with an ongoing helmet campaign that we have throughout the entirety of the United States, where any of our users can request — right from our company website or right through the mobile application — to have the helmet shipped directly to their door for no cost other than $9.95 shipping and handling," Covato said. "I'm a little biased, but I think they're pretty cool."
One hundred scooters zipping around Eureka might sound a little overwhelming, but fear not: Bird plans to deploy the scooters in increments during the initial rollout.
"On an average day, you could expect to maybe see somewhere between 65 to 80 out," Covato said. "That number, again, will fluctuate, but the city will have access to all that information and a live map of where those vehicles are and how many are alive at any given time."
Best of all, it's free (to the city)! The agreement will automatically renew for another 12 months unless either party provides non-renewal notice before the end of the term.
"Functionally what this is is a public transportation network," Covato said. "Given the analysis that we've done long-term and given the sheer volume of microtransactions we can be profitable, meaning that we will not be requiring any subsidy from any party within the city of Eureka."
Turning to questions from the council, Councilmember Natalie Arroyo asked about the rate of theft of e-scooters and how the company handles vandalism of its devices. The rate of stolen, or "churned," vehicles hovered between 0.42 and 0.44% throughout 2021, Covato said, noting that the company has developed a "sophisticated set of parameters" to mitigate the risk of theft.
"What that means for a fleet the size that we're looking at for Eureka is you might not lose a single device throughout the course of the entire year," he said.
Councilmember Scott Bauer said he's ridden the scooters while visiting Sacramento and enjoyed the experience so much that he actually bought one. "I love the service," he said. "…I'm sure I'll still use scooters when they come up."
Councilmember Kim Bergel asked where the scooters could be ridden since vehicles are not allowed on public sidewalks or along the Waterfront Trail. City Manager Miles Slattery noted that motorized vehicles with combustible engines are not allowed on the trail, but said electric scooters are good to go.
"These are supposed to be used just like a bicycle," he said. "They're not supposed to be ridden on the sidewalk and they follow the same rules and regulations as it relates to a bicycle."
Covato acknowledged that every city is unique and said the company would be willing to make adjustments to Eureka's fleet to best suit the city's needs.
"I think it is important for us to make sure that we are approaching Eureka from a fresh perspective and making the adjustments based on the riding behavior once we see a little bit more of that transportation data," he said. "We are, as I mentioned, operational in over 400 cities globally, so we can take some of the experiences that we've had from 100 million-plus trips to make sure that we introduce as much as possible to the implementation."
During public comment, Colin Fiske, executive director of the Coalition for Responsible Transportation Priorities, raised concern that the scooter fleet would detract from efforts to create a regional bike share system with the City of Arcata and CalPoly Humboldt.
"The research shows that for these micro-mobility options to be most effective in diverting car trips, they really need to be integrated with transit," he explained. "I hope that the city will do whatever it can to encourage and incentivize the integration of both this system, as well as a bike-share system, with the transit system."
Fiske asked how the scooter fleet would impact parking in Eureka, noting that geofencing technology "has not yet grown enough" to differentiate between parking on the sidewalk and a parking space.
"I think that the city needs to figure out some method if there isn't one already for ensuring that the public access on the sidewalk isn't blocked, particularly for people with disabilities or people who have vision issues where that can be a major issue," he added.
The council did not vote on the item as the City has already entered into an agreement with Bird. The launch date has yet to be determined but Bird said the scooters will roll out sometime this spring.
You can learn more about the e-scooters in the informational video below.