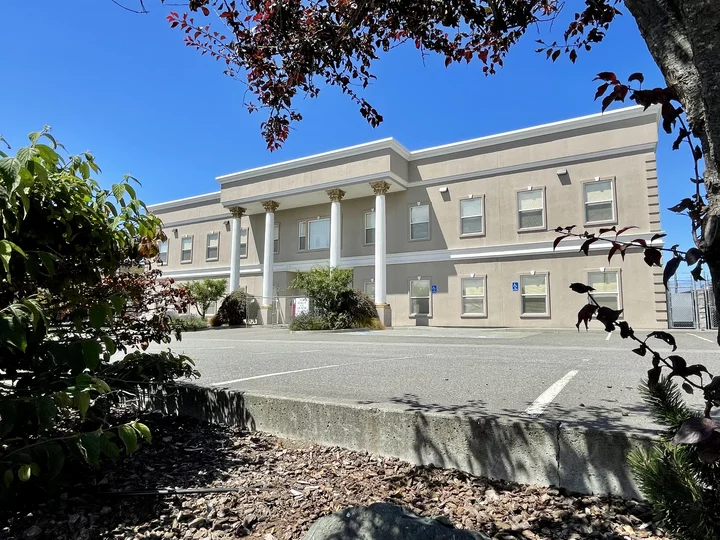 ###
The local real estate market has been hot lately, and the County of Humboldt wants to invest in some property.
At tomorrow's Board of Supervisors meeting, staff is requesting approval to negotiate terms for the purchase two Eureka office buildings, along with the parcels they sit upon. While the purchase price remains to be finalized — and the deals could conceivably fall through for any variety of reasons — the properties are listed for a combined price of $3,895,000.
The larger of the two, pictured above, is home to a two-story, 8,760-square-foot office building whose architect apparently tried to mask its bland boxiness by slapping a few incongruous, faux-Greek columns out front.
Formerly home to a tax accounting firm, the building is in "very good condition for the local market and would require relatively minimal work to be occupied by County of Humboldt staff," according to a staff report. It's listed for sale at $2.4 million.
What does the county want this thing for? Deputy County Administrator Sean Quincey said the specific future use remains to be seen, but there are a number of county buildings in need of remodeling or replacement, including the Public Defender's Office at 1001 Fourth Street, the aging Clark Complex on Harris between H and I streets (home to the Planning and Building Department, among others), and the Public Works Department, which is currently housed in trailers near the Adorni Center. This building could function as "swing space" while remodeling or redevelopment projects are under way.
Long-term, the county is working to realize a vision contained in its Facilities Master Plan — namely, grouping related services together in a series of "campuses" for public convenience. Quincey said this Fourth Street property could play a role in that transition.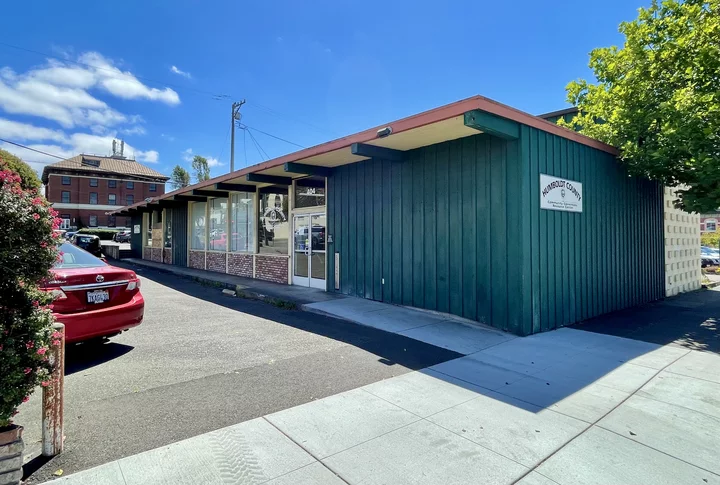 ###
As for the other property, located at 404 H Street, the county is already renting the single-story, 7,334-square-foot building, with the Probation Department using it to house its Community Corrections Resource Center, which is billed as a "one-stop-shop" for meeting the diverse needs of high-risk residents under county supervision.
Staff from the Probation Department as well as the executive committee of the Humboldt County Community Corrections Partnership (HCCCP) want the county to look into buying this property, now that it's on the market (listed at $1,495,000). A staff report says, "The potential to own a building that is currently being leased would be an investment in county facilities for the greatest public benefit."
Perhaps so, but does the county really have the money for such investments right now? Less than six weeks ago, as you may recall, the Board of Supervisors adopted a hiring freeze because a backlog of delinquent fiscal reporting had left administrators with such glaring blind spots in the books that they were unable to complete the annual budget.
Quincey pointed out that the items on tomorrow's agenda don't lock the county into actually purchasing these properties. Instead, they would allow Public Works staff to negotiate terms. Meanwhile, he said, Interim Auditor-Controller Cheryl Dillingham has been working to complete the county's overdue fiscal reports.
"We're still in the process of cleaning up our books," Quincey said. "Cheryl is doing a great job over there, but at the same time we need to continue setting things in motion so we can pounce on opportunities when we have more clarity."
The County Administrative Office has approved use of the 2020 Finance Plan funds, which Quincey described as a line of credit, for the purchase of 1315 Fourth Street.
The HCCCP, meanwhile, has approved spending $20,000 from the Public Safety Realignment Trust on "preliminary investigations and negotiations" regarding the purchase of 404 H Street.
Both items are on the consent calendar for tomorrow, meaning they're set to be approved without specific deliberations from the board.