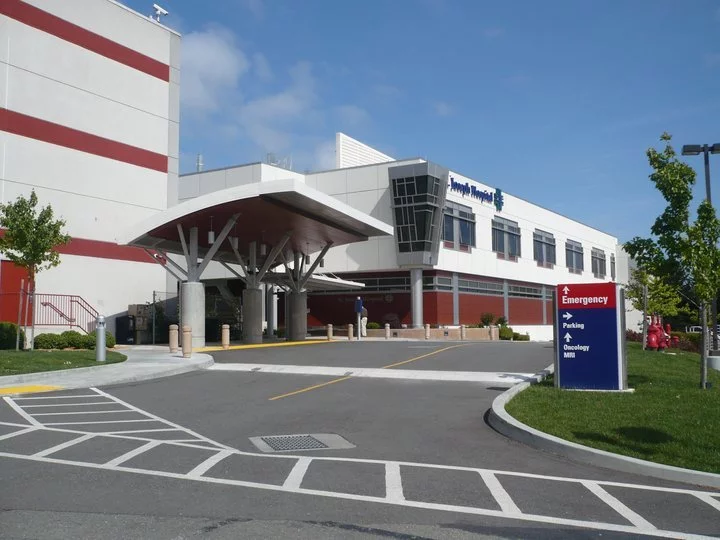 ###
Hundreds — if not thousands — of caregivers at Providence hospitals throughout Northern California say they have not received adequate pay for the last month due to a widespread error in the hospital's new payroll system.

Members of the National Union of Healthcare Workers (NUHW) have reported "reductions in base pay, missing or unpaid paid time off (PTO), unpaid hours of work [and] missing retirement contributions" among "many other errors" since the new payroll system went live at the beginning of July.
During a press conference this morning, Meredyth Diehlmann, a lab assistant at Redwood Memorial Hospital in Fortuna, said the payroll gaffe is "the last straw in a series of poor administrative choices that have squeezed our health care workers to a breaking point."
"The truth is Providence would be unable to run the hospital and the medical centers that our communities rely upon without our caregivers, which is why we're unable to understand how a multi-multibillion dollar company is unable to pay its workers fair wages for fair work in accordance with our contracts," Diehlmann said. "For over six weeks, workers throughout the Providence Northern California region have experienced pervasive and crippling problems with their paychecks, severely impacting our daily lives and our ability to care for ourselves, our families and our community."
On July 8, immediately after the payroll system was implemented, Patricia Flippen, a surgical technician at Redwood Memorial Hospital, noticed her paycheck was missing 137 hours of on-call pay. Flippen said she immediately contacted human resources but "didn't hear from anyone for over a week."
"Then on the following paycheck of July 22, I was missing another 82 hours of on-call pay and still hadn't been paid the previous wages that I had been shorted," she said. "At this time, I was very frustrated, stressed and the financial strain was spilling over into the rest of my life. …I had to make some hard choices like skipping bills to ensure that I could cover my children's basic necessities."
After weeks of being "stonewalled of all information" and being "completely ignored and lied to," Flippen said she decided to start traveling. "I couldn't continue to wonder when I would get paid."
Under the union contract, Providence is required to fix payroll errors within 48 hours, according to the NUHW. Union members have filed class action grievances in the time since. Rather than fixing the problem, NUHW said Providence administrators have asked employees to submit "tickets" to address payroll errors.
Lesley Ester, Chief Nurse Representative for the California Nurses Association (CNA) and registered nurse at St. Joseph Hospital, asserted that Providence is "resolving [the tickets] without actually fixing the payroll errors or providing our health care heroes with their missing pay."
"They currently have within the system over 20,000 unresolved tickets, and a single ticket can actually cover a problem that is impacting hundreds of employees," Ester said. "I myself have put in over 10 [human resources] tickets representing 200 nurses at St. Joseph Hospital in Eureka and Redwood Memorial Hospital in Fortuna. After six weeks of this folks are really fed up and don't know how much more we can take."
In addition to local Providence hospitals, the payroll error has impacted Santa Rosa Memorial Hospital, Petaluma Valley Hospital and Queen of the Vally Medical Center in Napa County.
Christian Hill, communications manager for Providence of Northern California, offered the following response to the pay discrepancies:
In early July, Providence implemented a new enterprise resource planning system to improve administrative processes, such as human resources, supply chain, finance, timekeeping and payroll. Previously, we had been using multiple systems, including some outdated technology, that created a fragmented experience and required manual processes.

Since going live on the new system, the vast majority of pay checks that have been issued are correct. However, there are some that have shown incorrect or partial pay. In most cases, this is due to routine issues, such as timecard correction forms submitted after the deadline, or no time submitted on a timecard. There have also been discrepancies related to recent changes to modernize the compensation program across the Providence family of organizations. In addition, there are some data configuration adjustments that need to be made to account for the nuances in the pay structure at various Providence locations.

Providing accurate and timely pay is one of the most fundamental roles that Providence plays as an employer, and we take any discrepancies in paychecks or missed pay incredibly seriously. Our caregivers work selflessly to provide the care that our communities depend on, and we are deeply sorry that we have missed the mark for some individuals or that we created any kind of hardship or anxiety for caregivers and their families.

We have been resolving these issues as quickly as we can by researching each discrepancy and running off-cycle paycheck batches, one to two times a day, with the correct retroactive pay. As of Aug. 5, most issues have been resolved and correct pay has been provided.
However, there are some discrepancies that we are continuing to investigate, particularly related to data configuration of shift differentials. In Northern California, we have identified a group of caregivers affected by this issue and are providing an immediate, one-time mitigation payment in the form of $500 for each of the 207 affected caregivers. This payment will be made today, Aug. 9, so caregivers have funds while the root cause is addressed.

We are absolutely committed to doing everything we can to resolve the remaining outstanding issues as quickly as possible. We also remain profoundly grateful to our caregivers for their patience and for all they do to serve patients in need.
Registered nurses at Providence St. Joseph Hospital are planning "an informational picket" on Thursday afternoon to protest ongoing payroll issues and "unsafe staffing" at the hospital, the California Nurses Association (CNA) announced this morning.
"In addition to the unsafe working conditions that jeopardize patient safety, nurses have been contending with egregious payroll errors since June 19, 2022, when Providence implemented a new payroll system, touted as an upgrade to the previous system," according to a news release from the CNA. "Hundreds of nurses have been affected by these errors, which include missing pay for shifts, incorrect pay rates, incorrect deductions, and errors in paid time off. Since the new time-keeping system was implemented, Providence has received more than 77,000 HR requests systemwide from employees."