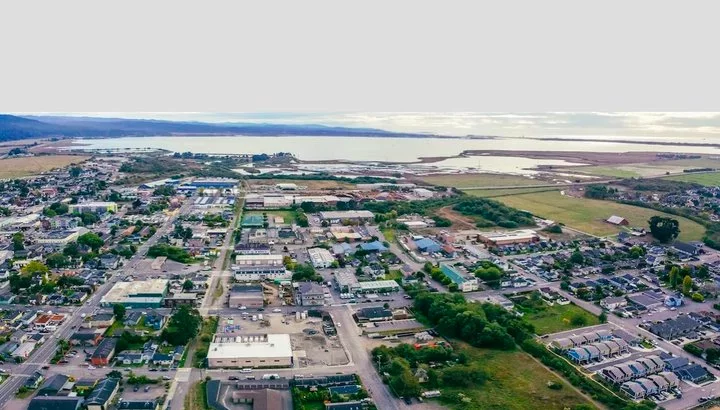 ###

Mark your calendars, Arcata! There are several important public meetings coming up for the controversial Gateway Area Plan this month, one of which is tonight.
Why are these meetings so important, you ask? These conversations are going to set the stage for the big City Council/Planning Commission study session where a lot of significant decisions are going to be made about the Gateway project. If you have concerns about the project, now is the time to tune in and let city staff know before the big meeting on Aug. 23.
If you're not up to speed on the plan, here's a quick rundown: The Gateway Area Plan is a big housing initiative by the City of Arcata designed to create lots and lots of housing to accommodate the town's natural growth and the anticipated influx of people associated with the Cal Poly Humboldt transformation. The city plans to rezone a 138-acre chunk of underutilized land directly west of downtown Arcata, including and surrounding the Creamery District, to make way for high-density housing and mixed-use development for the next several years and decades.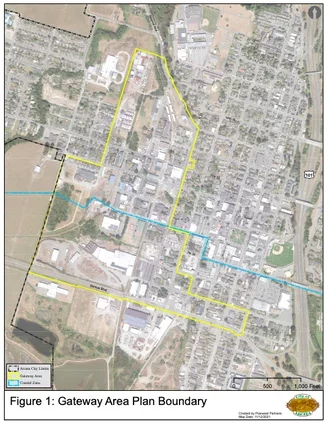 (For additional information, scroll to the bottom of this post where you can find about a dozen stories LoCO has written about the Gateway Area Plan in the last year.)
During tonight's meeting, the Arcata Planning Commission will consider a request from a group of concerned community members, dubbed Responsible Growth Arcata, to form an advisory committee in an effort to improve communication and public participation as the Gateway Area planning process continues.
"We're just wanting to do what we can to help," Chris Richards, a member of Responsible Growth Arcata, told the Outpost in a recent interview. "Staff is working their tails off and we really have a lot of respect for them. Getting the community involved has always been my main focus. People are busy or they don't care. There are people I've spoken to who don't even know this is happening!"
When asked about specific concerns with the draft Gateway Area Plan, Richards acknowledged that each member of the group has their own opinions about the proposal but emphasized that the group is "all for infill [housing]; we're just trying to get some details worked out that weren't in the draft plan."
Fred Weis, on the other hand, sees a range of "gigantic to tiny issues" throughout the draft plan. Weis has written extensively on the subject on his website arcata1.com.
"There's been lots and lots of outreach from the city staff but … no real information that would help anyone make a decision," Weis told the Outpost in a recent interview. "This plan has lots of holes in it. … There are many people who feel that it can't possibly deliver on its aspirations. I believe the [Responsible Growth Arcata] group is asking the city to be more realistic."
Jennifer Dart, Community Development deputy director for the City of Arcata, acknowledged the concerns of both Weis and members of Responsible Growth Arcata but said, "I think a lot of those concerns will be addressed here very soon during the City Council and Planning Commission study session later this month."
The Arcata City Council will be tasked with final approval of the proposed advisory committee. If approved, Dart said the item will be added to the Arcata City Council's agenda for Wednesday, Aug. 17.
During tonight's meeting, the Planning Commission will also consider minor changes to the Arcata General Plan, which the city is currently updating as part of its 20-year planning period, to accommodate the Gateway Area Plan.
"Most General Plan Elements only require minor updates to be consistent with current planning law or community value," the staff report states. "Some elements are new. The Gateway Area Plan is one such element." There is no vote required for the item but commissioners will have the opportunity to provide comments and recommendations on the proposed changes.
Commissioners will also consider an update to the city's Land Use Element to "strengthen existing policies, particularly related to infill housing development," according to the staff report states.
The agenda for tonight's Planning Commission meeting can be found here. The meeting will take place at Arcata City Hall at 6 p.m. You can find instructions for remote attendance in the agenda packet.
###
What's next? Arcata's Community Development Department will host another informational webinar surrounding the next steps in developing form-based code for the Arcata Gateway Area on Tuesday, Aug. 16 at 6 p.m. (Here's a link to the previous webinar.) The big joint study session will take place at 6 p.m. on Tuesday, Aug. 23.
You can email commissioners with your questions, comments and concerns, and be sure to copy Community Development Director David Loya to make sure that your email goes on the record. You can find all those email addresses at this link.
PREVIOUSLY: