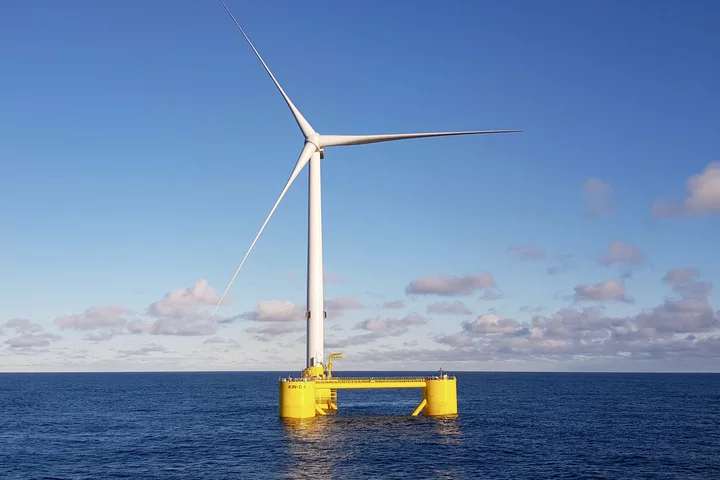 ###
We have our winners!
The Bureau of Ocean Energy Management (BOEM) just announced the provisional winners of the first-ever offshore wind energy lease auction on the West Coast.

California North Floating, LLC, a subsidiary of Copenhagen Infrastructure Partners, and RWE Offshore Wind Holdings, LLC, a German multinational energy company, placed the winning bids for two lease areas in the Humboldt Wind Energy Area (WEA), which spans more than 132,000 acres approximately 20 miles west of Eureka.
When the auction ended just before noon today, the swath of watery real estate went for more than $331.5 million, with California North Floating, LLC bidding $173.8 million for 69,031 acres and RWE Offshore Wind Holdings, LLC bidding $157.7 million for 63,338 acres.
BOEM also auctioned off three leases further south, off Morro Bay. Those leases were awarded to Equinor Wind US, LLC, Central California Offshore Wind, LLC  and Invenergy California Offshore, LLC for a total of $425 million.

"The offshore wind project for Humboldt is a game-changer for how California can shift to a more sustainable way to provide critical energy and reliability while fighting against climate change," Assemblymember Jim Wood said in a prepared statement. "The importance of state and federal agencies investing in this region, and the community benefits that will be gained, can't be underestimated."
Today's lease sale also included a 20 percent credit for bidders who committed to workforce and domestic supply chain investments, as well as a five percent credit for a Community Benefits Agreement (CBA) with "communities, stakeholder groups, or Tribal entities whose use of the lease areas or use of the resources harvested from the lease areas" and five percent credit for a General CBA with "communities, Tribes, or stakeholder groups that are expected to be affected by the potential impacts on the marine, coastal or human environment from lease development," according to BOEM.
Now that the provisional winners have been announced, BOEM will return the non-winners' bid deposits and the Department of Justice will initiate an antitrust review of the auction. All winners are considered provisional until they sign the lease, provide financial assurance and pay any outstanding balance of their bid.
As soon as that's all sorted out, the lease agreement will be executed and the leaseholders will draw up a plan and begin the design phase of the project. A rigorous environmental and public review process will soon follow.
We're certain that local folks and other governmental agencies will have lots to say about this highly anticipated announcement. We'll add their statements below BOEM's release, which arrived shortly after this morning's announcement.
###
Press release from the Bureau of Ocean Energy Management:
WASHINGTON — The Department of the Interior today announced results from the Bureau of Ocean Energy Management's wind energy auction for five leases offshore California. The lease sale represents the third major offshore wind lease sale this year and the first ever for the Pacific region. Today's sale drew competitive high bids from 5 companies totaling $757.1 million, well exceeding the first lease sales that were held in the Atlantic.

"The Biden-Harris administration believes that to address the climate crisis head on, we must unleash a new era of clean, reliable energy that serves every household in America. Today's lease sale is further proof that industry momentum – including for floating offshore wind development – is undeniable," said Secretary Deb Haaland. "A sustainable, clean energy future is within our grasp and the Interior Department is doing everything we can to ensure that American communities nationwide benefit."

The interest and success of today's sale represents a significant milestone toward achieving President Biden's goal of deploying 30 gigawatts of offshore wind energy capacity by 2030 and 15 gigawatts of floating offshore wind capacity by 2035.

"The innovative bidding credits in the California auction will result in tangible investments for the floating offshore wind workforce and supply chain in the United States, and benefits to Tribes, communities, and ocean users potentially affected by future offshore wind activities. This auction commits substantial investment to support economic growth from floating offshore wind energy development – including the jobs that come with it," said BOEM Director Amanda Lefton. "These credits and additional lease stipulations demonstrate BOEM's commitment to responsibly grow the offshore wind industry to achieve our offshore wind goals."

BOEM's lease sale offered five lease areas covering 373,268 total acres off central and northern California. The leased areas have the potential to produce over 4.6 gigawatts of offshore wind energy, enough to power over 1.5 million homes.
The lease sale included a 20-percent credit for bidders who committed to a monetary contribution to programs or initiatives that support workforce training programs for the floating offshore wind industry, the development of a U.S. domestic supply chain for the floating offshore wind energy industry, or both. This credit will result in over $117 million in investments for these critical programs or initiatives.

The auction also included 5% credits for bidders who committed to entering community benefit agreements (CBAs). The first type of agreement is a Lease Area Use CBA with communities, stakeholder groups, or Tribal entities whose use of the lease areas or use of the resources harvested from the lease areas is expected to be impacted by offshore wind development. The second type of agreement is a General CBA with communities, Tribes, or stakeholder groups that are expected to be affected by the potential impacts on the marine, coastal or human environment from lease development.

Under stipulations in the leases, lessees are required to engage with Tribes, ocean users, and local communities that may be affected by their lease activities. Lessee engagement must allow for early and active information sharing, focused discussion of potential issues, and collaborative identification of solutions. These communication and engagement activities must be routinely reported to BOEM. These lease stipulations are intended to promote offshore wind energy development in a way that coexists with other ocean uses, addresses potential impacts and benefits, and protects the ocean environment, while also facilitating our nation's energy future for generations to come.

More information about today's sale, including a map of the lease areas and requirements regarding the bidding credits, can be found on BOEM's website.
###
Press release from the Redwood Region Climate & Community Resilience (CORE) Hub:
UNCEDED LANDS OF THE WIYOT PEOPLE — This Wednesday, California North Floating, LLC and RWE Offshore Wind Holdings, LLC won two offshore wind energy area leases, auctioned 21 miles off Humboldt Bay, totaling 132,369 acres and the potential for 140-170 megawatts (MW) of power with existing transmission infrastructure. Once fully built out, the Humboldt and Morro Bay offshore wind projects could power more than 1.5 million homes. While this makes significant progress towards state and national clean energy goals, more investments and protections for Tribes, the environment, fisheries and local communities are needed to prepare the North Coast for this new industry.

The auction was the Bureau of Ocean Energy Management's (BOEM) first for the West Coast, and the first in the U.S. for floating offshore wind, including two leases off Humboldt Bay and three off Morro Bay. This auction is pivotal for meeting the Biden-Harris Administration's goals of 30 gigawatts (GW) of offshore wind by 2030, and the Newsom Administration's goals of 25 GW by 2045.These lease areas total over 373,000 acres of ocean waters and at least 4.5 GW of capacity for offshore wind.

Sufficient port infrastructure is key to the viability of this new industry on the West Coast, with the port in Humboldt Bay playing a key role. Offshore wind assembly includes turbines measuring approximately 500 feet in height, which are anticipated to grow to more than 800 feet by 2035. In October, the Humboldt Bay Harbor District announced a new partnership with Crowley Wind Services to develop the Humboldt Bay Offshore Wind and Heavy Lift Marine Terminal, which could support the offshore wind industry all along the West Coast. This impending development presents tremendous changes for this rural region, both bringing economic opportunities and requiring additional investments in local infrastructure.

Securing community benefits for the region that will host this industry remains a top concern for North Coast leaders and residents. Bryna Lipper, CEO of the Humboldt Area Foundation, explained: "Residents are excited for the new jobs and climate benefits this project may offer, however, the region currently lacks the housing, transportation, and other services to support this budding industry. Additionally, many residents have a strong connection to the natural world, and want assurances that marine mammals, fish, and birds, as well as cultural resources will be protected. Investments in local infrastructure, following the leadership of Tribes, mitigation efforts for fisheries and environmental protections are critical for the North Coast region, which struggles with a legacy of underinvestment and harms from previous boom and bust industries, like timber and gold."

"Unfortunately, the local component of the bid credits and lease stipulations in the final sale notice and auction falls short of the investments needed for equitable wind energy development, meaning that local communities and Tribal Nations won't have the resources needed to address the impacts of this new industry, or actually benefit from it," cautioned Lipper. She noted that "the auction today totalled only 5 percent bid credits for a community benefits agreement with fisheries users, 5 percent for a general community benefits agreement, and 20% for workforce and domestic supply chain investments." This is below the 50% local leaders and the state of California have advocated for in letters to BOEM. It is likely that community benefits agreements with offshore developers will not be negotiated until after leases are issued, which is expected to take place sometime after March 2023.

Over the last year the Redwood Region Climate and Community Resilience Hub (CORE Hub) convened the North Coast Community Benefits Network ('the Network'), a group of Northern California Tribal Nations, local governments, community leaders and institutions, community-based organizations, environmental groups, and academics to advocate for local investments through BOEM's leasing process. Unlike the timber, oil, gas, and geothermal industries, offshore wind lease revenues are not split with local governments, but rather go directly to the U.S. Treasury. The Network, along with the state of California, asked BOEM for "50% bid credits" for local workforce investments, equity and resident-focused community benefits, Tribal investments, and environmental protections.

BOEM's lease terms and today's auction were just two of many opportunities for local residents and leaders to shape the buildout of offshore wind. There are several steps from lease award to wind farm development, which can take up to or more than five years, and includes advancing a site assessment plan and then a construction and operations plan through the permitting process. Katerina Oskarsson, Executive in Residence with the CORE Hub added: "The Network will continue to closely watch these projects. During the leasing and permitting process, the CORE Hub will continue its engagement with BOEM to ensure the meaningful adoption and implementation of any terms and conditions that are laid out in the final sale notice. At the same time, we will continue supporting and growing the capacity of the North Coast Community Benefits Network to collectively advocate as a region."
###
From Rep. Jared Huffman:
Congressman Jared Huffman (D-San Rafael) applauded the completion of today's historic offshore wind auction held by the Bureau of Ocean Energy Management (BOEM), which includes two leases off the coast of Humboldt County in the second Congressional District.


"The completion of today's auction is a tremendous step forward in the Biden administration's offshore renewable energy goals and will bring significant economic benefits to California's rural North Coast," said Rep. Huffman. "Developers who have secured leases will play a critical role in our sustainable energy transition and ensuring that projects are thoughtfully constructed with mitigated impacts and strong community benefits agreements. I look forward to working with community and industry partners as these projects move forward."

The Bureau of Ocean Energy Management's auction included two leases off the coast of Humboldt County and three leases off the coast of Morro Bay totaling 373,268 acres. Leases off the coast of Humboldt County were secured at auction for a combined $331,500,000 and include opportunities for workforce and supply chain development and community benefits agreements. Moving forward lessees must complete state and local permitting processes, federal and state environmental reviews, and submit design reviews, construction and operations plans, and bidding credit information to BOEM in order to proceed with a planned project.
###
From a bunch of local environmental organizations:
The Environmental Protection Information Center, Humboldt Baykeeper, Northcoast Environmental Center, Coalition for Responsible Transportation Priorities, and Friends of the Eel River welcome provisional winners RWE Offshore Wind Holdings and Copenhagen Infrastructure Partners to Humboldt County.

It is imperative for our climate, wildlife, and local community that we work together to ensure that floating offshore wind energy development off our coast is successful, with the least impacts on the environment and the most benefits to our community. Floating offshore wind offers the potential for 1.6 gigawatts of clean, renewable energy generated locally, offering our contribution to the global efforts to address the climate crisis.

Moving forward, we will be working with project developers to ensure robust wildlife monitoring, transparent data sharing, and effective avoidance, minimization, and mitigation of impacts to wildlife. Success in our local communities will demand investment in local infrastructure and in historically disadvantaged communities, particularly local tribal nations.
###
PREVIOUSLY: