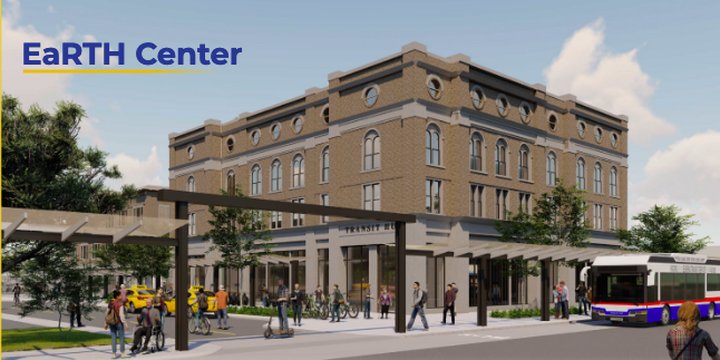 ###
As part of the City of Eureka's plans to convert a bunch of City-owned properties into affordable housing, the Eureka City Council will consider releasing a batch of properties to be used for development, including two parking on lots on Third Street – behind the Lost Coast Brewery – to be developed into a large transit center surrounded by housing units.

The Eureka Regional Transit & Housing Center, or EaRTH Center, was proposed by the Humboldt Transit Authority (HTA) last year. During a meeting on Nov. 16, the council entered into an agreement with HTA to collaborate on the development of housing and a transit center on the site. According to an informational flyer sent to the Outpost by City Manager Miles Slattery, the proposed project would include two buildings and hold a transit hub, businesses and 31 residential units – 15 or which would be four-bedroom apartments used for student housing, 4 one-bedroom apartments for "traveling nurses and doctors" and 12 one-bedroom apartments for other members of the workforce.

"The EaRTH Center will provide apartments for Eureka's workforce and student residents," the flyer states. "These apartment units will give much needed support to Eureka's Regional Housing Needs Assessment and the Colleges and Universities that serve our Community."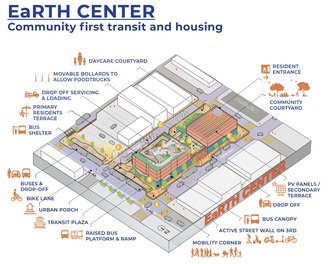 The transit hub would include bus stops with dedicated routes to Cal Poly Humboldt, taxi loading/unload zones, rideshare (such as Uber and Lyft) loading/ unloading, Zipcar carshares, car rental facilities and secure bike storage, bike rental and repair. The proposal also includes plans for a childcare center, on-site pharmacy, a pedestrian plaza with outdoor dining and space for food trucks and a rooftop terrace.

Many different companies and groups will contribute to the project, including HTA, Schatz Energy Research Center and property development and management company Servitas, which has built student housing for colleges across the country. Financing for the project will come from a combination of grant funding obtained by HTA and "private matching funds from a tax-exempt bond," which will be obtained by Citi.

You can check out the full notice about the proposed project here and attend a public meeting to provide your feedback on Wednesday, Feb. 9 at 6 p.m.
In addition to the Third Street Parking lots, the council will be voting to release eight other city-owned parcels to be developed into housing to meet the city's regional housing needs assessment outlined in the General Plan. Four of these sites – one at 1200 West Harris and three near Fairfield between Harris and Henderson – were recently obtained by the City through a land swap with the Pierson Company, approved by the council last month. Two of the sites – one at 1808 Sixth Street and another on Broadway and McCullans – are vacant lots owned by the city, and two of the sites are parking lots on the corner of Fifth and D Streets and Sixth and L Streets.

Eureka Art & Culture COVID Grant Program
In other business, the council will also consider the creation of a Eureka Art & Culture COVID Grant Program, which will provide funding to art and culture related entities that have been economically impacted by the pandemic.

Funding for the program will come from $130,000 in American Rescue Plan Act (ARPA) funds set aside by the city. The program will provide up to $7,500 to nonprofit organizations, museums, movie theaters, live performance venues, art galleries or performing art organizations to fund their continued operation.

To be eligible the business or organization must be able to demonstrate a 20 percent reduction in income due to the COVID-19 pandemic, which will be verified by comparing tax documents from 2019 and 2020. Read more about it here.

Eureka Small Business Rent Relief Bridge Program
Using additional ARPA funds, the City is also looking to establish a small business rental relief program. This program also can provide business owners in Eureka with up to $7,500 in funding to help continue operations. But, unlike the art and culture grant, this is geared toward financial impacts from the more recent surge in COVID cases. Using $500,000 of ARPA, the money will be allocated to small businesses in Eureka to cover unpaid or pending rent from January 1, 2022 through April 30, 2022.

For-profit businesses or a non-profit business that have been negatively affected by the pandemic may apply if they have had a 20% or more reduction in revenue resulting from the pandemic, are located in Eureka, if the business owner lives in Humboldt County, the business has 20 or fewer full-time employees and have been in business since March 1, 2022. Learn more about this grant program here.

###
The Eureka City Council will discuss these and other important issues tonight (Tuesday, Feb. 1) at 6 p.m. You can view the full agenda and directions on how to participate in the meeting here.
CORRECTION: This article has been changed to reflect that the parcels traded to the City by the Pierson Company are between Harris and Henderson, not Harrison.