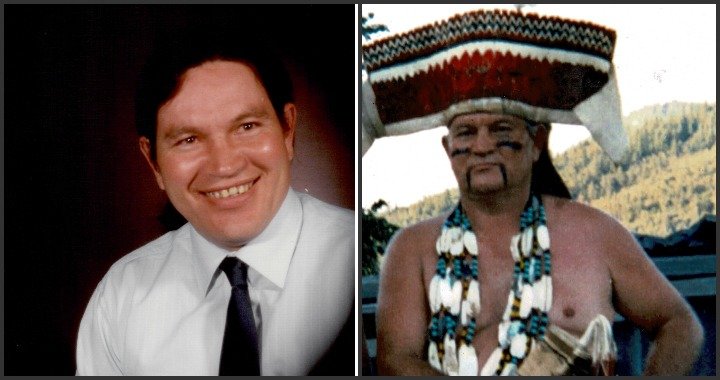 Henry Boyd McCullough was born in Hoopa on October 25, 1956 to Henry Lee McCullough and Darlene "Cyd" Colegrove. Henry Boyd is proceeded in death by his great-grandparents, Ned and Lousia Jackson; grandparents, Eugene Colegrove Sr. and Charlotte Jackson-Colegrove of Hoopa and Meyburn and Carol McCullough of Mississippi; his father Henry Lee McCullough; his brothers, Leonard and William McCullough; his sister Darla Lee McCullough; and his niece Lottie Nez.
He is survived by his mother Darlene "Cyd" Colegrove; his uncles Alex Pratt and Carl Colegrove; his auntie Mary Colegrove; sisters Sherlette Colegrove and Carol Ann McCullough; Cousin Dana Rose Colegrove, children Shane Boyd and Jacqueline McCullough, Tausha McCullough, Jason McCullough, Mandee McCullough and Michael "Bro" Beck, Nicole McCullough, Stormy Blake, Summer McCullough and Anthony Henry, Leonard McCullough, Robert McCullough, Shayna McCullough, and Chanelle McCullough; grandchildren, Hannah, Abigail, Colton and Emmalia McCullough, Jade Euan, Arrow Nelson, Jason Jr. and Bessie McCullough, Kayla, Karlee, and Kelsie Beck, Kaydence McCullough, Shiah and Harley Henry, and Jackson McCullough.
Henry Boyd graduated from Hoopa High in 1974. While at Hoopa High he was a great pass-catching tight end on the football team. It was on the baseball field, however were he really excelled. He starred in the outfield and at first base and was known as a gifted fielder and an outstanding left-handed hitter. He later became an original team member of the Hoopa Big Red Machine that went on to dominate in softball. He then transitioned and became coach of a women's national softball team, that eventually placed fourth at the national tournament. He encouraged all his children to play ball and coached many of his kids, which brought him great joy.
Henry Boyd was very active in his cultural dances, taught by Rudolph Soctish and his uncles. He packed rock and jumped center. He was the family's leader and provided great insight and wisdom when needed most. He often talked about the great importance and responsibility given to him and his family, and was very cautious and serious to do things the "right way." He would lean on his elders to give him guidance, in which he would then pass along to his family.
Henry Boyd was a wildland firefighter for over a dozen years. He enjoyed firefighting and built many friendships that lasted his whole life. He then decided he wanted to work for Hoopa Forest Industries (HFI) and finished his working career 20 years later in the woods. He was trained by and worked along his great friends and enjoyed being in the hills and providing for his family. He was a great saw man, and he enjoyed taking his family with him to cut wood and pick mushrooms. He loved to fish and he taught his sons to set net, and showed them some good honey holes. He truly loved being in the outdoors and enjoyed the things the mountains and rivers provided.
His greatest lasting legacy are his children. He was a great father and loved his kids so much. He loved being a father, and taught his kids so many things that will last forever. He proudly adorned his living room with a trophy as "#1 Father". He was so excited to be a grandpa and persuaded his kids to give him more and more grandkids. He was a very sincere and kind man that truly enjoyed to see people happy. He often wept during movies, and even wept watching someone win a million dollars on wheel of fortune, because he was so happy for them.
Henry Boyd was truly a remarkable man and will be missed by all those that knew him.
Pallbearers: Leonard McCullough, Arthur "Artie" Jones, Arther Lee Turner, Shawn Turner, Eugene Colegrove, Anthony "Tony" Risling Jr., Kevin Colegrove and Daniel Pratt.
Honorary Pallbearers: Bro Beck, Anthony Henry, Damon Pasalich, Garrett McElroy, Douglas McCloud, Carlisle Colegrove, Don Sugi Colegrove, Robert Colegrove, Carl "Ziggy" Colegrove Jr., Rudy Colegrove, Mack Robinson, Rod Squires, Junky Gray, Bud Gray, Shane Shady Calvin, Norman Lewis Sr., Clarence Lewis Jr., Norman Lewis Jr., Bronson Lewis, David "Hootie" Lewis, Jamie Lewis, Leonard "Spam" Ferris, Mike Ferris, Tyke Billings, Rick Billings, Karl Norton, Alan Norton, Kenny Norton, Loren Norton Sr., Jack Norton, Virgil Pole Sr., Virgil Pole Jr., Aaron Pole, Amos Pole, Nathan Delbert Pole, Sylvester Brown, Oscar Brown Sr., Oscar Brown Jr., Freddie Brown, Derrick Moon, Minot Moon, Alex Pratt, Raldo Pratt, Sonny Hescock, Panther Colegrove, Wolf Colegrove, Christian Colegrove, Jess McLaughlin, William Frank IV, Jeff Hodge Sr., Max Hodge, Robert Buckman, Loggie Jackson,Jeff Hodge Jr., Alex Hodge Sr., Michael Hostler, Jude Hostler, Stevie Hostler (Special Brother), Merv George Jr., Brian Colegrove Jr., Nolan Colegrove Sr., Alphonso Colegrove, Billie Colegrove, Everett Colegrove Sr., Everett Colegrove, Lyle Baldy Sr., Lyle Baldy Jr., Abe Camez, Eddie Coleman, Sergio Martinez, Marion "Inker" McCovey, Russell Hurley, Ronnie Nulph, Rod Mendes, Gary Dempewolf Sr., Curt Dempewolf, Glenn Moore, Gary Dempewolf Jr., Rodney Vigil, David Vigil, Ralph Peters, Ralphy Peters, Richard Moon, Bruz Aubrey, Glenn Sanchez, Harold Campbell Sr., John Leech Jr., Thomas Mosier, Gary Colegrove, Gary Colegrove Jr., John Robbins, Rowdy Robbins, Ronnie Robbins, Corky VanPelt, Merwin Clark Jr., Louis Mitchell, Timothy "Goobie" Perry, Hank Masten, Dan Ammon, Emil Marshall, John Marshall, Gary Risling, Lonnie Risling Jr, Kenny Lucas, Israel Ammon, Macky McCullough, Troy McCullough.
###
The obituary above was submitted on behalf of Henry Boyd McCullough's loved ones. The Lost Coast Outpost runs obituaries of Humboldt County residents at no charge. See guidelines here.